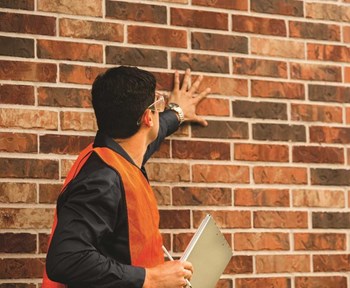 Brick, stone, steel and glass…the exteriors of New York's co-op and condo buildings are as recognizable as the skylines they form. Keeping them current and shapely is the responsibility of the boards and managers who oversee each residential building. Law dictates that they ensure the facades not only look good but function well, protecting the structures they cover, and are safe, protecting the thousands of pedestrians who pass by them each day.
In addition to the legal and safety considerations, façade inspections are the building's equivalent of an annual check-up. "It is essential to a building's general upkeep to perform façade inspections," says Matthew Providente, director of operations and compliance for AKAM Associates and Project Management Group, formed to handle large-scale repairs, capital improvement work and greening management. "It is during these general inspections that property issues can be identified before they become a more severe problem, thereby allowing for an appropriate action plan to be put into place."
Knowing where existing and potential issues lie can be a significant advantage in ensuring not only the safety and aesthetics of a building but its value also—something of special importance in New York where people's largest investments are most often those made in their homes.
Exterior inspections can be a major responsibility but when done consistently and with the help of a qualified expert, it's one that is more than manageable.
When and How
According to Alexander Schnell, a spokesman for the New York City Department of Buildings (DOB) press office, "The law requires that buildings greater than six stories in height undergo a hands-on façade inspection at least every five years by a professionally qualified exterior wall inspector, (QEWI)." This inspector must be either a New York State Registered Architect (RA) or New York State licensed Professional Engineer (PE) with at least one year of experience.
The facade law is Local Law 11, enacted in 1998, and applicable in New York City for all co-ops, condos and residential as well as commercial buildings. Local Law 11 (now called the Facade Inspection Safety Program) superseded Local Law 10 of 1980, which mandated that only the front façade or street level facades of buildings six stories or taller had to be inspected. That changed when the back exterior of a building collapsed, taking other portions of the structure with it. The law was then changed to require all sides of a building's facade would be inspected, not just the front.
One of those experts, Brian Sullivan, a principal at Sullivan Engineering, Inc. in Totowa, New Jersey, suggests an even more rigorous schedule than the five-year interval mandated by the law. If the building is in good condition, then the inspection should be done every five years. "If it's in fair condition, then every two to three years," he says. "And if it's in poor condition, then every year."
To conduct these extensive examinations, Sullivan says these inspections should be done only by qualified engineers or architects. "Someone specializing in building envelope restoration," he says.
Before a board or manager signs any contracts to begin inspections, it is important to make sure that the individual is licensed by the state of New York.
In an effort to stay ahead of the curve, Sullivan suggests keeping eyes on the building throughout the year. "We always recommend having the superintendent or custodian inspect the envelope of the building quarterly with changes of season," he says. This is to see what harsh winter ice and cold or brutal summer heat and rainstorms may have done to a façade or its underlying structure.
Providente agrees. "Building staff should absolutely perform their own visual check of the property's exterior," he says. "Particularly after the winter's 'freeze-thaw cycle,' an examination of the most vulnerable locations of a building's exterior should be undertaken by practical means of close-up inspection, where possible, and binocular inspection."
What to Look For
Given the size of so many of the co-op and condo buildings in New York, the job of inspecting facades can be an enormous one. Inspectors are looking to determine the status of a building, classified in one of three ways by the city, says Schnell.
A building can be deemed "safe," meaning the façade has no problems and is in good condition or "safe with a repair and maintenance program," also known as SWARMP, which means that the façade is safe but requires repairs and maintenance. The third category is "unsafe," meaning the façade has problems or defects that pose a threat to public safety. These designations and reports must be certified by the inspector and filed with the New York City Department of Buildings.
Engineers and architects are looking at a broad range of factors when making those determinations. The process begins with an examination of the exterior via binoculars. "We then try to get out onto fire escapes and roofs," Sullivan says. His team will then erect scaffolding or use a man-powered lift to take a close-up look at the building. "We're looking all over the façade—above windows, at decorative elements, parapet walls, window lintels." The examination is designed to be an exhaustive one, taking into consideration all potential points of distress or failure.
Among the indicators sought by the engineers and architects are cracked or spalled masonry as well as efflorescence, which is a white deposit found on the surface of masonry or concrete. When found, it can indicate the presence of moisture going in or coming out of the concrete.
"We also look for bowing or rusting lintels," says Sullivan. "Cracked masonry under the lintels may be signs of water getting in or causing steel to rust."
While any evidence of water intrusion or other breakdowns in the façade materials will need to be reported and repaired, there are certain red flags that can indicate the need for immediate remediation. Those include vertical and horizontal cracks in the masonry, which can be a sign of significant rust in the steel underneath. Other issues such as loose bricks, shifted stone, or other materials that could fall and injure passersby also must be repaired immediately.
Once the inspection is completed, a report will be written with the issues clearly and plainly stated so everyone can understand them without the need for an engineering degree. The report is given to management who then share it with the board for discussion and implementation.
The report will identify immediate concerns to be addressed within a year or sooner and "include other more comprehensive plans for three to five years," says Sullivan. The report also will include photos, sketches and a construction budget based on past projects.
The engineers and architects also will weigh in on plans of action. For example, if animmediate repair needs to be made but there's a window right below that spot that needs its sealant repaired, "then we'll suggest we do it all at once to reduce redundant costs down the road," says Sullivan.
For those more routine inspections conducted by building staff, the examination sites are similar. To ensure consistency each year and across the board, Providente's team provides visual inspection forms customized for each property they manage for the specific purpose of assisting with routine inspections by building staff. Those lists include inspection sites such as "parapets, roof base flashing, window sills and the related setting beds, joints above window lintels, stone ornamentations and any areas where known existing conditions should be monitored for change," Providente says.
Footing the Bill
When the final reports from expert inspectors come in, or even when the more run-of-the-mill repair issues are determined by building staff, management and board members will need to find the money in the budget to make those repairs. Sometimes the repairs are minor, but other times, the investment could seem overwhelming.
"Routine repairs are typically worked into a property's budget plan," says Providente. Ideally, funds for the rest of the repairs will have been worked into the co-op or condo's long-term budget considerations, especially since façade inspections are on such a rigorous and standardized schedule.
And once that year's projects have been tackled, it is time to begin planning for the next round. "After working with the board to conclude exterior project needs, we develop a status report and educate the board on the specific repairs needed to maintain the recent investment in the building's exterior on both a short- and long-term basis," says Providente.
Management also will help boards and residents understand the cyclical nature of the repairs and the need for ongoing diligence. "We educate the board on the expected lifespan of their investment, and the appropriate maintenance needed to maintain the investment in the most cost-effective manner," Providente adds.
Façade inspections are of benefit to everyone involved, from the board and management to the residents to the people passing by the building. The inspections ensure safety, protect structures, guard investments from harm, and potentially help save lives. They let shareholders and unit owners know that the building they call home is in good shape and being cared for in a way that will ensure its long-term health and well-being.
Liz Lent is a freelance writer and a frequent contributor to The Cooperator.