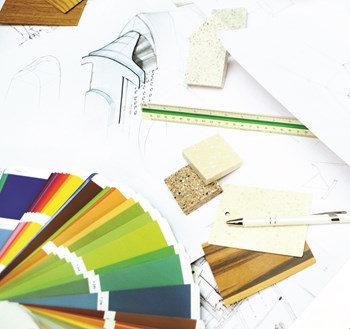 Every decade or era has its own design "˜look.' Remember the shag carpeting and wood paneling of the 1970s or the chrome-and-glass overkill of the 1980s and early "˜90s? Thankfully, those trends had their moment and have since been put out to pasture, but like the fashion industry, there is always something new lurking around the corner - such as a bold new color scheme for paint, or an exotic flooring material.
So far, there hasn't been an identifiable "look" to the 21st century - no iconic lava lamps or carpeted walls - and according to designers, that's a good thing. "Today, we're designing a more personalized, eclectic style," says Marjorie Hilton of Marjorie Hilton Interiors in Manhattan. "The days of the signature designer stamps are gone - that was part of another era. However, there are still people around who perpetuate their own look, and there are people who attach themselves to a look."
New Yorkers are also simplifying their decorating schemes too, says Bob Goldberg, co-owner of Interior Design Force in New York. "We're all about getting away from the truly fussy and overly decorative styles - it's all in the finishes, with maybe one or two special items that make statements. You are always going to have the traditionalists who will want to show more and more and clutter every inch of the wall. That's classic - almost like a black dress. But today, if you're looking for a trend, New Yorkers are paring down. They don't have items like the heavy drapery treatments. You can still have trim and detail, but it's subtle and sophisticated."
Enduring Elegance
Personalized, eclectic and simple doesn't mean, however, that New Yorkers have tossed away elegance. In fact, says Tanny Farah of Tanny Farah Interiors on Manhattan's East Side, designing for today's New Yorker still means elegance, but with a stronger emphasis on comfort.
"My clients want comfort," says Farah. "They want to use every room in their apartment, and they want to maximize space and make it more organized, but they still want it to look elegant."
Maximizing space also means finding room for high-tech toys like big-screen and flat-screen televisions. New Yorkers want their media, and rooms designed with a television as the focal point are becoming more popular. Flat-screen televisions, however, have offered a more decorative look, often hanging over fireplaces like pieces of art, and saving space for the homeowner.
On the Floor
According to a study by the National Association of Home Builders (NAHB), more and more homeowners are going for hardwood floors - not carpeting - and are turning to exotic and renewable materials to create a unique and environmentally-friendly flavor to their homes. Today's off-the-beaten path flooring products present a distinctive array of renewable, earth-friendly alternatives. Unique materials such as cork, coconut palm, bamboo, and even leather are becoming popular alternative flooring materials, particularly for their mold-resistant, hypoallergenic properties.
"Exotic flooring is the biggest trend today," says Naomi Weinman, president of HardwoodDirect.com in Woodstock, New York. "Dozens of exotic materials that were mostly used as accent pieces in flooring - such as borders - and furniture are now being used for entire rooms."
However, according to Goldberg, some of these exotic floorings have limited applications. "If it's meant for show, that's one thing, but you need to consider the practicalities of these materials and understand how you live and maintain your apartment."
Laminate flooring - a more durable option - was a trend several decades ago that had once faded. Today, it's resurfaced with a fresh look and a surge in popularity. For those who enjoy a more antique-looking floor, specialty companies are now harvesting and re-milling old barn planks.
Hardwood floors are even being used in the kitchen. "It's softer on the feet than a stone floor, which is especially important for my clients who have children who could fall on a stone floor and chip a tooth," says Farah. "And wider planks, not the usual 2-1/2 inch planks are more popular as well."
And remember linoleum? It's baaack! Homeowners have recently been struck with nostalgia, and while the 1970s and "˜80's have made a fashion comeback, the retro look is also hitting the interior design market. According to Builder magazine, the Armstrong flooring company - which stopped making linoleum flooring when vinyl flooring became a less expensive alternative - re-entered the residential market early last year with its Marmorette sheet and tile products made of, you guessed it; linoleum.
Off the Wall
Color is still in, but it doesn't just have to come out of a paint can. "I started putting fabric on the walls in the late 1970s and 1980s and I do find it's coming back," says Farah. Wallpaper - out of favor the last couple of decades - is also making a strong comeback, but what's hot today is a far cry from the fussy foil-stamping and lurid florals of the past. The latest trends include wall murals and coverings that provide an aged, textured or even distressed feel. Texture gives the illusion of depth - an important decorating concept in undersized city apartments.
Painting is still popular, and a more flexible way of decorating a room, since it's easy to change. "We still texture the color with rag painting, and faux finishes can give a painted surface a different look," says Farah.
"Colors are becoming clear and pure, and are driven by a need for more white, lights and translucents," says Jay de Sibour, president of the Color Marketing Group, or CMG. Based in Alexandria, Virginia, the CMG is an international, not-for-profit association of 1,500 color designers who forecast interior color trends one to three years in advance for all industries, manufactured products, and services.
In April 2002, the CMG forecasted clear, therapeutic and nurturing colors like soothing, tranquil blue-greens, a new direction for neutrals, rich, saturated reds, and fresh, clean greens as the hot home colors for 2004. The projected palette is exotic without being shocking - vivid, yet sophisticated.
Look to the Light
The right lighting can make a room seem bigger, smaller, dynamic, or cozy. Sconces can highlight a piece of artwork, and a grand chandelier can become a room's primary focal point. According to a recent article on design trends published by the Sheffield School of Interior Design in New York, recessed and track lighting are on the way out in favor of clean, sophisticated lighting fixtures that are as much a part of the overall room design as the wall treatments and furnishings. Translucent window blinds and shades - white for a crisp, daylight look, tinted for warmth and depth - have become standards, and gone are the days of heavy brocade lampshades and harsh high-wattages.
DIY Design
For all the projections and suggestions, most pros agree that if you're itching to update the look of your living spaces, forget the trends. Start by looking at what you already have, and work from there - at least at first. For example, just rearranging the furniture can change the entire look of a room. Then you might just need to add a few live plants or a splash of color on one or two walls. If you have a fireplace, consider adding an accent border around it to make it a focal point of the room. Other little details that can transform a room include changing lampshades, putting down new area rugs, or adding new colorful sofa pillows to brighten a darker room.
Want to refresh the kitchen? Consider simply changing cabinet knobs, or switch up the tablecloth and chair pillows for something more current - perhaps a new color, or an interesting textured fabric. You can redecorate a hallway by hanging decorative mirrors in multiples, or creating a photo montage with different, eclectic frames. In the bathroom, consider changing the towels, or updating the throw rugs, and remember: shower curtains have come a long way, too.
Finding Your Inner Stylist
But what about those of us in a quandary about where to even start with a redecorating project? To find out what styles suits them best, Hilton has clients look through magazines and catalogs and cut out appealing pictures. "From this meeting, I can see what they like, and I can generally tell how the job is going to go," she says.
Goldberg reminds his clients to choose décor with their lifestyle in mind. "The function of the room and what's required in the space must be considered," he says. "Also consider any architectural challenges, so you can get the optimum use of your space. For example, where should you put the television for maximum viewing?"
Once you have decided what styles you like, Hilton also recommends that you formulate a decorating plan. This plan outlines exactly how you want the room to look, and the items you need to accomplish that goal. But don't spend money on decorations that are scattered all over the house. Instead of trying to decorate an entire house at once, concentrate on one space and take it item by item until your plan is complete.
Calling in the Pros
If you truly want to redecorate, your money might be well spent on the services of an interior designer. Don't be fooled into thinking that hiring someone to help realize your vision is a luxury reserved only for those with money to burn. Many designers charge by the hour, and in just a short period of time, they can help you plan and focus your project, and provide inexpensive ideas on how to pull it together.
A good interior specialist will be responsive to your needs and requests, will listen attentively, and respect your likes and dislikes. You can often find a reputable designer through recommendations of friends, or at local design shops. You can also ask real estate agents who regularly use interior designers to decorate model apartments in new residential buildings. The Cooperator's Official Directory of Co-op and Condo Services, which can be found on the Web at
http://directory.cooperator.com/directory
is also a good reference guide.
Parting Wisdom
Also, remember that what's popular design in one part of the country isn't necessarily popular in another. What makes mouths water in New York City is very different from what does it for them out West or in the South.
But what if you absolutely must have that to-die-for candy-pink wall treatment, or that sour-apple green carpeting?
"Use it in a limited way," advises Goldberg. "Use it as an accent color that can be replaced in a few years. If you want to make a bold statement, use the paint on one wall, or to accent trim, or moldings, or frames - but keep the fabrics and the rest of the room neutral. The walls can be painted when the trend ends - keep the things that are harder to change as a constant."
Most designers agree that the bottom line about being trendy is to not be, and they encourage their clients to forget the trends. "Unless you can afford to change it, in two years it will be over," says Goldberg, and you'll be stuck with a dated look that's well past its sell-by date. "I always like to design something that's classic. Good designs should be timely and shouldn't look like a particular date. Unless you can afford to be cutting edge and current, don't get caught up in it."
And that's good advice, whether you're talking about a haircut, a suit of clothes, or the place you call home.
Lisa Iannucci is a freelance writer living in Poughkeepsie, New York.