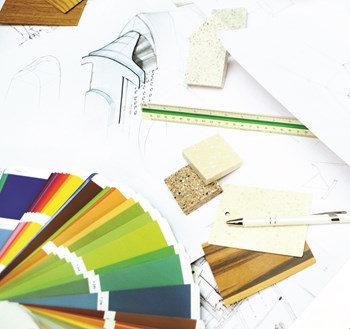 Just as the entrance hall of an apartment welcomes and sets the tone for the rooms beyond, a lobby creates an instant impression for anyone who enters, including guests and potential buyers. A lobby is a building's best foot forward and must be designed and maintained to reflect the character and personality of those who live there.
On my first visit to our building in 1983, I walked through the lobby thinking, Who would want to live here? The terrazzo floors and marble columns hadn't been polished in years, and the walls were covered in a red flocked velvet wallpaper that gave the impression of a Victorian bordello. All the mouldings were covered in thick glossy black paint, and dreary lighting and tarnished brass handrails completed the sad appearance.
Underneath it all, however, the building was quite handsome. It had been neglected and mis-decorated. The colors, finishes, and furnishings were grossly inappropriate for the structure. Five years after I first saw it, we undertook a complete renovation, stripping and cleaning the wax build-up and dirt off the floors and buffing them with a polisher. The marble columns were cleaned of grease and restored to their former shine by a professional restoration firm. The bordello wallpaper was removed and the mouldings were stripped and repainted a cream color, to fit in with the new color scheme. The dismal lighting turned out to be easy to fix; we simply substituted two bulbs in the overhead fixture, in place of one. Finally, the brass handrails were brought back to their original glory by cleaning and redipping the brass.
We did the best job we could afford, and after withstanding six years of abuse, all it needs today is new window treatments and new covers for the sofas. A very important bonus is that despite the stories of gloom and doom in the real estate market, our apartments have turned over quickly during these past six years and are currently selling for higher prices than ever before.
The lobby, canopy, entrance doors and elevator cabs are the most important public areas of a building. If well planned, they will require less maintenance and wear longer. Just as our apartments need occasional re-painting, weekly dusting, and so on, so does the lobby. The most successful lobby renovations are planned by boards who want to keep the spirit of the original design and create a positive image for themselves as well as those they wish to attract as neighbors.