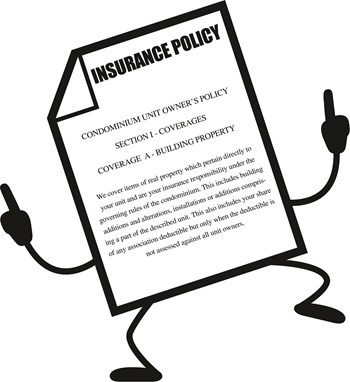 When it comes to insurance coverage, whether for your health, your possessions, or your home itself, the question is not should you have insurance, but rather, what policy best meets your specific needs? The same question applies to collective properties. To this end, boards and managing agents are charged with the all-important task of determining what insurance coverage is required, while understanding how their community's common policy will intersect with residents' homeowner policies.
Some Basics
According to Stuart Cohen, owner of the Somers, New York-based City Building Owners Insurance Program, the majority of multifamily offering plans submitted to the New York State Attorney General's office typically include bylaws, a description of the corporation, and an insurance clause that specifies the minimum coverage that every condo and co-op should carry: what's to be insured and what's to be maintained by the entity.
"At a bare minimum, these usually require property coverage for fire, water damage, and vandalism; general liability for the property; and coverage for directors and officers," says Cohen. "Depending on the building size and the structure of its bylaws, the corporation may need additional coverage like crime, fidelity, workers' compensation or an umbrella policy, but those aren't the basics." He adds that if the Attorney General's office thinks the insurance offering plan is not adequate, "They'll throw the offering plan back at you and not approve it."
In an effort to not only comply with the attorney general, but to ensure baseline coverage, Eric McPhee, executive vice president and director of risk management for the New York City-based Orsid Realty Corp. says co-ops and condos should have the following eight insurance bases covered:
1. Property Insurance (written on an Agreed Value Replacement Cost basis).
2. General Liability Insurance with primary limits of not less than $1,000,000 per occurrence and $2,000,000 in the aggregate.
3. Director's and Officer's Liability Insurance with primary limits of not less than $1,000,000.
4. Umbrella/Excess Liability (written on a "follow form" basis), which covers both excess General Liability and Director's and Officer's Liability. Limits range from $25,000,000 to $200,000,000 (and up).
5. Fidelity/Crime Insurance with minimum limits sufficient to cover continuous cash operating and reserve balances depending on what financial controls are in place.
6. Pollutant Cleanup and Third-Party Pollution Liability coverage of $1,000,000 (If a risk has an oil tank or a cooling tower they should also be carrying both).
7. Social Engineering and Cyber Liability insurance.
8. Statutory coverages (e.g., Worker's Compensation and State Disability Insurance).
"Worker's Compensation and Disability Coverage are statutory coverages,' says McPhee. "The property and casualty coverages are necessary, but not mandated as a matter of law, per se. They're generally contractually required by mortgage lenders and corporate/organization governing documents. Social engineering and cyber liability coverages are more considered best practices, although they are becoming more important."
To better educate his clients, Cohen offers a "commercial planner guide," which allows boards and managing agents to understand industry terms and jargon. For instance, it explains the difference between 'water backup' versus a flood, as well as terms like 'risk transfer of workmanship' so that when contractors are hired, any damage attributable to their personnel or work would be paid their insurance, not the building's.
"They also have to request the proper insurance from the unit owners. Individual owners have to have their own insurance because the master policy of the building does not cover the improvements or contents of the units," says Cohen. "Some unit owners may not understand that their units are not part of the building policy."
Additional Covered Property
While McPhee and Cohen explain some fundamental, baseline insurance coverages, every property is different, and therefore requires a unique insurance profile. For instance, amenities such as pools or golf courses usually call for more liability insurance.
"There are many coverages available for various amenities," says Richard J. Lippin, senior vice president for the White Plains, New York-based office of SterlingRisk. "Some may be endorsed onto a current policy, such as an additional Covered Property endorsement to accommodate paved surfaces and pools. There are also extensions of coverage available on third-party liability policies, such as herbicide and pesticide applicators liability."
"Depending on the amenity or operation, a separate policy may be necessary," Lippin continues. "An association should maintain a list of their amenities and operations and update it regularly, so that it can be provided to their broker on an annual basis to ensure that all coverage options are being appropriately considered."
Aside from ensuring proper coverage, annual insurance coverage reviews also allows a building or association to receive the proper credits for any upgrades experienced over that year term.
"Let's say a building has stores on the grade level," says Cohen. "If the occupancies change, the annual review needs to update the insurance to reflect the current occupancies. If you replace a restaurant with a tailor, for instance, the risk profile improves because there's no cooking, and therefore no exposure to heat and flames. We also recommend that boards do a comparative shopping experience every three years, just to make sure they're in the correct place in the market. But there has to be an annual review to make sure the coverage is current."
Geography plays a role in insurance coverage as well. For example, co-ops and condos located in the New York metro area may have requirements and/or restrictions on the types of insurance policies they can obtain.
"The Metro New York City area does lend itself to some challenges that do not impact other regions both within and outside of the state. Insurer carriers have limited capacity for terrorism within certain areas of New York City, which affects both the amount of coverage that may be available, as well as the cost of that coverage," says Lippin. "Also, New York State's Labor Law is such that an association must have diligent risk transfer procedures in place when contracting with any service providers. If an insurer determines that the risk transfer is inadequate, they may not offer coverage or, if they do, it may be extremely limited."
Superstorm Sandy also underscored the issue of flood insurance in New York City. Buildings with $2 million policies—and thought their coverage was more than adequate - in some cases sustained $5 million in damages. As a result of the storm, flood maps were re-drawn expanded further inland, which created problems for those buildings newly enveloped by the map's borders," explains McPhee.
"Really any policy where there is real exposure can be difficult to obtain and expensive. The other side of the coin is poor claims history," he says. "Even on insurance policies that are typically not difficult to obtain, but where buildings have a poor loss history, they can often find themselves paying much higher premiums for less extensive coverage."
Mind the Gap
Those who have traveled via the tubes in England are familiar with the phrase "mind the gap." This verbal warring reminds passengers not to misstep when walking from subway car to platform. But what happens if an insurance gap is found at a building or what is currently a policy line item requires revisiting?
"Regular communication between the association and their broker and/or insurer will hopefully eliminate any potential coverage gaps," says Lippin. "As far as those extra extensions of coverage, a carrier typically will advise the annual cost for those items. An association can then determine how the premium cost compares to the potential cost of self-insuring an exposure. Another option a broker may suggest to save money is higher deductibles. This allows for some premium savings while still protecting the association from a catastrophic loss. HOAs do need to be mindful when taking on a deductible, as they will have to build in a mechanism – such as assessing unit owners—to fund it."
What defines coverage gap is relative to what the gap is, explains McPhee. As generally not-for-profit entities, co-ops, condos and HOAs have a low tolerance for risk. As a result, he says these entities tend to not retain much in terms of risk in the form of high deductibles and self-insured retentions.
"Generally, the polices that are available and best suited to these organizations are sensitive to that nuance, and the coverage tends to be packaged or written on a more comprehensive basis, as opposed to a la carte," says McPhee. "The real issue for these organizations is making sure they are with managing agents and brokers who are diligent in understanding their clients' specific exposures, and that those professionals are approaching insurers who are providing the broadest coverage available in the marketplace."
Cohen adds that boards and managing agents do not renegotiate with the insurer; instead they turn to their insurance broker for guidance on gaps or eliminating policy items. "You need a knowledgeable broker to discuss the pros and cons and to assess the transfer of risk," he says. "The right insurance partner will educate the board/management team about their options so they can make informed decisions."
Independent Insurance Advisors
As in any profession and related applications, there are consultants and advisors. This holds true in the arena of insurance as well. However, whether or not a board or managing agent should contract with an independent insurance advisor is debatable.
"There is more of a role for independent insurance advisors on the commercial real estate side or on portfolios, but not so much for individual buildings," says McPhee. "Certainly, outside advisors are capable of offering assistance, although most individual buildings I have come across don't use them. In most cases where a competent and diligent managing agent and insurance broker who are engaged, it's not necessary to hire an outside advisor. Some of the larger managing agents have in-house risk managers or insurance departments who serve in place of what an outside advisor might do—I fill that role for Orsid, for example."
Cohen also says that in his experience, independent insurance consultants and advisors are usually not necessary, especially when boards and managing agents are already engaged with a knowledgeable broker experienced in this niche market. And if questions arise, there is a wealth of valuable information available to assist board members.
"Board members can belong to different organizations, such as the Institute of Real Estate Management (IREM), the Community Housing Improvement Program (CHIP), Building Owners and Managers Association International (BOMA)," says Cohen. "If boards and management teams have a knowledgeable broker and do some reading on the side, there's no need to pay extra fees to an independent consultant or specialist."
W.B. King is a freelance writer and a frequent contributor to The Cooperator.