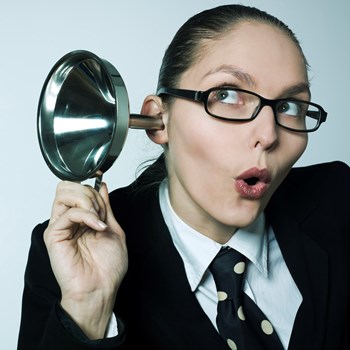 The key to any healthy relationship is good communication. That holds especially true for the sometimes-delicate dialogues that take place among residents, shareholders, board members, and managers in co-ops and condos of all sizes and configurations. From misunderstandings to simply feeling not heard, the gaps that arise in communication can end up causing challenges that can deepen into serious acrimony and dysfunction – but which are easily avoided with the proper plans and philosophies in place.
Make Yourself Heard
Co-op, condo and HOA managers agree: whenever there's a problem, residents and shareholders should let them know right away. The first step in solving a situation is knowing that it's happening and getting all the facts.
"Normally, whenever anyone in one of our buildings has a complaint or concern, we ask for it to be put in writing," says Doug Weinstein, Vice President of Operations at Project Management Group, which has offices in New York City and Dania Beach, Florida. "This helps us with follow-up, because in the course of a day, managers are talking to a lot of people. Having it in writing is a tracking tool."
Georgia Lombardo-Barton, President of the New York City-based firm Barton Management LLC, agrees. "I always encourage shareholders or unit owners to contact our office, preferably by email, with their building-related issues/questions/concerns," she says. "I say email because it is a written record of a communication that can be referred to as a reminder and/or proof of contact. We recommend sending a text message if the matter is very urgent."
Lombardo-Barton also encourages people to make sure they direct their concerns to the appropriate party and avoid bringing their building-related concerns to board members. "A resident should first contact their managing agent with their issues," she says. "Not a board member, who is a volunteer, and whose position is not intended to handle day-to-day matters."
Lombardo-Barton adds that "Depending on the nature of the question or concern, a resident should first contact the building superintendent if the inquiry is related to conditions within the apartment, such as poor water pressure, water discoloration, signs of water stains, or leaks. We also recommend the resident email the managing agent about the problem so that the proper parties are aware of the concern being expressed."
Most importantly, residents and shareholders should follow whatever system has been established and recommended within the building or community. "For complaints related to possible rule and regulation violations, the rules and regulations of the association should specify the protocol for submitting a complaint," says Nicolas Marin of Wesley Realty Group, Inc., based in Evanston, Illinois. "Many associations have a specific complaint form for rule violations. A formal process ensures that the board has sufficient information to process the complaint."
For issues related to maintenance, most co-ops, condos, and associations today offer online communications portals to make contact from residents and shareholders even easier. "Management companies use different platforms, and maintenance issues can be submitted by phone, email, website, app or via an online portal," says Marin.
Weinstein adds that, "With resident portals, they can see when their message has been received, who's seen it, when they saw it." For residents, it is a way for them to keep track of their concerns and be able to follow-up with the appropriate person at the appropriate point in the process when necessary.
What to Say
The best thing a resident can do to make sure their concerns are addressed properly is to communicate those concerns clearly from the very first email or portal message.
"The most important tip is to gather as many details prior to calling or writing an email to your community manager," says Marin. "Details are very important and help the community manager determine the response to the issue or complaints."
Weinstein agrees. "Be factual," he says. "We want communications to be factual and as complete as possible. That prevents us from having to go back to the resident again and again to keep getting information." Fewer questions and detail-gathering also usually translates into faster response time, giving the manager the tools that he or she needs to address the issue quickly and effectively.
Maintaining a positive tone in phone calls and messages also can make situations easier and less prone to misunderstanding. "Even if the issue has been outstanding for a while or is reoccurring, being polite and communicating the issue without anger is more effective," says Marin.
Answering the Call
Once a resident has shared a concern, the ball enters management's court, and timing becomes vitally important to reaching a successful resolution. Depending on how the message was shared with management – via text, phone call, email or portal message – the appropriate response times can vary from minutes to the next business day. Expectations should be clearly established, however, and should be met on a consistent basis.
"One of the biggest problems residents will tell you they face is that no one ever got back to them," says Weinstein. "They want to have an acknowledgment that they have been heard. It can just be a quick call or email to say 'We're on it, and we're working on it,' versus not responding until the issue is solved."
Says Marin, "For non-emergencies, our policy is to respond to the owner within one to two business days, whether the issue is resolved or not. The response can be as simple as confirming that we have received their concern or complaints, and that we are in the process of reviewing and assessing the information. If the owner has not received a confirmation that the concern or complaint has been received, the owner should follow up on the issue." And that follow-up can be as simple as asking if the manager received the initial inquiry.
Hello...Is Anyone There?
Despite all good intentions, some efforts at communication can still be fumbled. When a resident or shareholder does not hear back regarding a vexing concern, it's only natural that they'll get frustrated. This is why that initial back and forth indicating that the message has been received and the problem is being reviewed can make such a difference.
"Communication is important," says Marin, "[though] the expectation can be different from an owner point of view and from a board member point of view." For example, "If the management does not have the authority to resolve the concern or complaints, the management will forward the concern or complaints to the board."
Because the board may only meet four times a year or so, "It is possible that the concern may not be addressed until the next board meeting," says Marin. "Management should inform the owner that the board intend to address the question or concern at the next scheduled board meeting."
One way for boards and managers to stay ahead of the curve in terms of communication is to open up additional avenues of dialogue with residents. "The board should have an open forum at the beginning of each board meeting," says Marin. "By starting with an open session, the board allows owners to give feedback or submit concerns or complaints. The board does not have to respond to all questions or concerns in the open forum, but the board should take note of everything and exercise their duty of care."
That 'duty of care' is the phrase used to describe the board's responsibilities to unit owners and shareholders. "Duty of care means to act with the care of a reasonable, prudent person," says Marin. "This also means that the board needs to act in the best interest of the association."
That means providing timely responses to concerns submitted by residents or shared by management. "The board should review and investigate the complaint or concerns from all owners, which may include reviewing the governing documents of the association, reviewing the details of the concerns, and getting additional information if necessary," says Marin.
So while residents should not go to the board as their first step in addressing a concern or issue, the board ultimately may end up being the source of the solution, especially for problems that affect more than one unit or individual in the community.
Ultimately, if an issue goes on too long without being addressed, the board and management could be opening themselves up to legal issues. "We look at it this way – if someone puts forth a particularly heinous complaint or situation, now the board or management has been made aware of it and we must follow up," says Weinstein. "Say it's a noise complaint from 4A saying that the people in 5A drop heavy furniture on their ceiling every morning at 5 a.m." If that complaint is not addressed, it could get to the point where a rule or regulation of the building is being breached, making the building vulnerable from a legal perspective.
Ultimately, the best way to avoid problems is for residents to share their concerns with the appropriate building or community resource and for managers and board members to promptly and efficiently respond to those issues. Bridging the gap between initial contact and full resolution of the problem should be an open, clear and active line of communication, allowing all sides to know that they are being heard and their perspectives valued.
Liz Lent is a freelance writer and long-time contributor to The Cooperator.