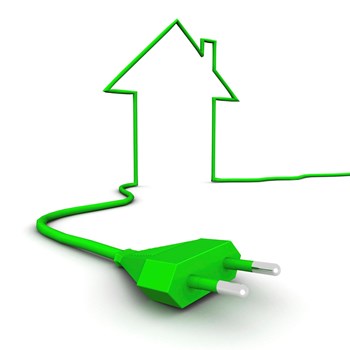 Are you a building manager who wants to retrofit your building with energy-efficient lighting? Or maybe you're a board trying to re-do your central air conditioning system, but you don't know if you have it in your budget? Thankfully, there are rebate and incentive programs to help you with the cost. These aren't necessarily brand-new or cutting-edge initiatives—many have been available for some time, but you do need to know where to look in order to take advantage of them.
Innovation After Crisis
At one time, electricity costs were so cheap that they weren't even figured into building construction. Then came the energy crisis of the 1970s. Building managers panicked, and a whole new profession—that of the 'energy manager'—was created. Energy-efficient devices, especially lighting and HVAC, began to be put on the market, and these professionals helped buildings put them to use on their properties.
Today, that era of scarcity is over but the impetus to save energy, and thus money, is still there. The creation of the federal government's Energy Star program in 1992 has been a big help. The program rates household appliances, HVAC systems and other items based on energy efficiency. These ratings are invaluable when seeking to make purchases or to upgrade equipment.
While there are costs to buying energy-efficient equipment, there is an assortment of incentive programs, in conjunction with associated loans and grants available, to help pay for them. Given that the whole idea of installing these items is savings, the measures typically pay for themselves within a few years.
"Some incentive programs in the New York area, like NYSERDA (New York State Energy Research and Development Authority) have been around since the 1970s," says Cecil Scheib, PE, CEM, LEED AP, GPRO, chief program officer of the Urban Green Council, a New York-based advocacy program. "Others, like NYCEEC, or the New York City Energy Efficiency Corporation (a non-profit allied with the city's PlaNYC initiative) are new.
Among the "big players," says Scheib, are NYSERDA, Con Edison and National Grid. "Every year, they tweak their programs," he adds.
For example, as this article was being written, NYSERDA was doing just that, according to Dayle Zatlin, assistant director of communications for the state agency, in submitting supplemental filings to the New York Public Service Commission for the proposed Clean Energy Fund. The fund, proposed by the Cuomo administration, is an attempt to get the private sector more involved in meeting clean energy goals, and to partially shift the state's energy focus from government mandates to private-sector research and development. As we see, energy efficiency and the "green buildings" ideology are closely related.
To date, the NYSERDA program that has been most applicable to co-ops and condos, as well as rental buildings, has been the agency's Multifamily Performance Program. Participants choose from a list of a "multifamily performance partners" (or approved contractors) in their area. According to the program's online description, the "performance partner" helps the building develop an energy reduction plan "designed to hit an energy savings target of 15 percent."
The partner will also help the building take advantage of incentives to help cover its costs—including "bonus incentives for buildings that exceed energy performance goals." According to Zatlin, the program at the time this article was being written, was open only to buildings with electric heat.
One example of a co-op building that took advantage of the program was Carnegie House in Midtown Manhattan. After 50 years, the co-op's mechanical systems were way past their prime. Building manager Chris Kelly hired En-Power Group, a multifamily performance partner, who analyzed the building and implemented a top-to-bottom energy upgrade program, keying on mechanical and lighting equipment.
The building, according to NYSERDA, qualified for $197,000 in energy incentives and for a loan at about half the market interest rate. The upgrade, NYSERDA says, resulted in a 15 percent reduction in energy use—creating a yearly savings of more than $139,000.
For smaller multifamily buildings between 5 and 8 units (and there are some co-ops and condos that fall into this category), NYSERDA has a separate program, called "Home Performance with Energy Star Low-Rise."
Aaron Mehta, the director of energy information for FS Energy, a subsidiary of nationwide property management firm FirstService Residential, explains a number of incentive programs exist. Incentives, for example, have been increased for the demand management program run jointly by Con Ed and NYSERDA. According to Con Ed, incentives for thermal storage have increased from $600/kW to $2,600/kW; battery storage, $600/kW to $2,100/kW; chiller/HVAC/BMS/Controls, $0.16/kW to $0.16/kW + $1,250/kW; Lighting/LED, $0.16/kW to $0.16/kW + $800/kW; and Demand Response Enablement, $200/kW to $800/kW.
Incentives can be up to 50 percent of the total project cost and bonus incentives are offered for large scale projects, Mehta says. "If you're looking at doing a whole building lighting project and you're able to join an aggregator that can include you and enable your building to obtain the demand management incentive, you could receive up to 50 percent of the total lighting retrofit costs. It's a no-brainer. We're getting all of our buildings into this program. We have roughly 150 buildings that we've identified as having LED retrofit opportunities, and we're currently reaching out to all of them to explain this program and get them to retrofit their lighting systems."
Utility Programs
Gas and electric utilities have their own energy incentive programs. According to Philip O'Brien, assistant director of media relations for Con Edison, for buildings that have between 5 and 75 residential units, Con Ed sponsors a Multifamily Energy Efficiency Program. The utility will send a "green team" to do a free survey and analyze your lighting and air conditioning equipment.
Building owners will then be eligible for rebates for common-area equipment that includes lighting fixtures, LED exit systems, HVAC and building management systems, energy-efficient boilers, roof and wall insulation, compact fluorescent lighting, lighting occupancy sensors and more.
Since the program started in 2009, says O'Brien, "We have conducted approximately 4,500 free energy surveys at multifamily properties with 5,075 units. We have provided 12,223 rebates for electric and gas equipment upgrades, including boiler replacements, LED lighting, and energy management systems. These rebates have paid a total of $34,537,911 in customer incentives."
Furthermore, according to O'Brien, the program has saved 51,479 MWh in electricity and 604,185 DTH in gas usage from 2009 through March 2015. A decatherm (DTH) is a unit of energy equal to 10 therms or one million British thermal units (BTUs).
For gas customers of National Grid in Brooklyn, Queens and elsewhere in the New York area, National Grid gives incentives for furnaces, boilers, heaters, insulation, thermostats and more, according to information provided by spokesperson Karen Young.
As in the Con Ed program, buildings that have between 5 and 75 units are eligible. And although this isn't related with natural gas, National Grid also offers building no-cost installation of such water-saving measures as energy-efficient showerheads and high-efficiency faucet aerators.
Last year, Douglas Elliman Property Management took advantage of National Grid's multi-family program for a 38-building residential complex with 1,500 units in Woodside and Sunnyside, Queens. In a pilot project, management installed boiler controls on heating equipment in eight of the buildings, resulting in a 15 percent reduction in heating costs. Douglas Elliman is in the process of installing the controls, which can be accessed from the giant management company's office, in the remaining 30 buildings.
If it looks like there's an overlap between the NYSERDA program and those offered by Con Ed and National Grid, you're partially right. But building owners can't do "double dipping." According to NYSERDA's website, "We recommend that you carefully compare the benefits of working with a utility company program and the NYSERDA Multifamily Performance Program. You must choose one or the other."
PlaNYC and City Efforts
You might remember hearing about former Mayor Michael Bloomberg's much-heralded PlaNYC sustainability program. PlaNYC is continuing under the de Blasio administration.
Although PlaNYC has a very wide scope, from shoreline restoration to planting more trees to cleaning up brownfields, some of its measures directly impact the multifamily community.
For example, the city sponsors a New York City Carbon Challenge for Multifamily Buildings. The city is partnering with leading property management firms that have committed to reduce greenhouse gas emissions from a portfolio of their multifamily residential buildings by 30 percent in 10 years. The residential sector accounts for 37 percent of New York City's total emissions, making up the largest single source of emissions in the city.
"To date," says the city's website, "17 of the largest residential property management firms in the city have accepted to the Carbon Challenge, and are now in the process of signing up the individual multifamily buildings that they manage." These firms run the gamut from AKAM Associates to Rose Associates and FirstService Residential to Harlem Congregations for Community Improvement.
As for the aforementioned New York City Energy Efficiency Corporation, it is a financial corporation that partners with banks, financial institutions involved in community development and energy services companies to provide financing for energy efficiency in a wide range of building types throughout the city. It is supported by the Energy Efficiency and Conservation Block Program under the 2009 Stimulus Act as well as through private foundation.
If you're looking for small-scale measures that don't require much of an initial outlay, maybe you should examine the New York City Green House program, sponsored by the city's Department of Housing Preservation and Development (HPD) in conjunction with the Community Preservation Corporation (CPC).
NYC Green House gives tips on using more natural daylight in your building, installing compact fluorescent lights in the hallways, installing Energy Star-rated windows, doors and refrigerators, and even replacing hallway skylights to reduce the need for artificial lighting. All of these measures save energy, and thus save money.
Submetering
Another way to save a building or development money is by submetering, which is the implementation of a system that allows the association to bill unit owners or shareholders for individual utility usage. In the New York City area, electric submetering is most common, although submetering of gas may be common in other areas of the country.
This approach makes use of individual electricity or gas meters. It also is fairer to the residents—someone who's rarely home shouldn't be responsible for the high electric use of the person downstairs who runs the air conditioning day and night.
NYSERDA has offered an Advanced Submetering Program, which allows managers and boards to convert master-metered buildings into individually submetered units. The program offers financial incentives that pay up to $250 per meter, up to half the cost of submeters.
The agency's website shows how implementing electric submetering in a 1970s-era Yonkers rental development, Riverview Court, was an important element in its achieving a 25 percent reduction in energy use, along with lighting and HVAC improvements.
Herbert Hirschfeld, P.E., of Glen Cove, whose firm specializes in submetering and energy management, has been the technical consultant for Con Edison and NYSERDA submetering programs since 1980, and has been involved in the submetering of approximately 500 residential buildings. In addition to the fact that electric costs are distributed fairly, Hirschfield says that submetering reduces energy use and demand average by more than 20 percent.
"Lower building electric usage," Hirschfeld says, "also reduces the load on the building's wiring, therefore reducing the risks of fire or power outages." He adds that by reducing most maintenance costs, submetering increases the value of the unit, improves marketability of the unit, and "improves financial criteria when seeking bank mortgages."
Typical savings, he continues, "range from 20 percent to 28 percent, and annual demand reductions are documented at an average of 4 kW per apartment in the 5,000-plus apartments I monitored during the past 15 years."
Water Leak Prevention
Although water usage is not typically included in discussions of energy conservation, it's notable that the city's Department of Environmental Protection (DEP) has expanded its Leak Notification Program to Class 2 properties—meaning multifamily buildings with at least five units.
The program gives boards and managers the opportunity to sign up online to receive email notifications when their water use increases significantly over a period of several days. This enables boards and managers to quickly respond to potential leaks and fix them before they become a serious billing problem.
In general, these energy incentive programs are voluntary. That's not to say, of course, that there aren't mandatory programs, especially those associated with the city or state. For example, the city's Greener, Greater Buildings Plan, a program closely associated with PlaNYC, as part of Local Law 84 requires owners of large buildings to annually measure their energy consumption in a process called "benchmarking," using an online program known as Portfolio Manager.
Scheib says buildings interested in participating in energy-efficiency incentive programs can easily find the details on websites, such as NYSERDA, Con Edison and National Grid, the Urban Green Council itself, Green Home NYC, PlaNYC and more—not to mention co-op and condo organizations. Contractors with whom the board does business with are another good source of information.
"Most people want to do the right thing but they may need a little bit of information and a little bit of money," says Scheib. "These programs can help them do it."
Raanan Geberer is a freelance writer and a frequent contributor to The Cooperator. Managing Editor Debra A. Estock contributed to this article.