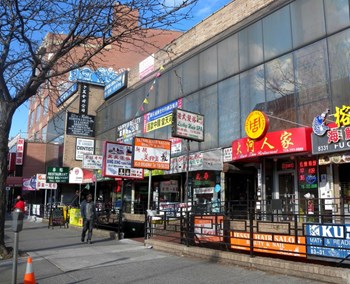 One of the most beloved New York characters in sitcom TV, Carroll O'Connor, the actor that played the cantankerous Archie Bunker, grew up in this section of Queens that came to signify a quintessential middle income, working class neighborhood. By way of contrast, Elmhurst, in western Queens, a mix of older multifamily homes and co-op and condo apartment buildings, was also the childhood home of Supreme Court Justice Antonin Scalia, actress Patty Duke, standup comedian Don Rickles and William Casey, the former director of the CIA.
Most New Yorkers are probably familiar with Elmhurst thanks to the local traffic reports. "Traffic is good on Queens Boulevard through the Elmhurst gas tanks" was a popular refrain of the radio reporters of the day. While its demographics have changed over the years, Elmhurst is still considered one of the most ethnically-diverse neighborhoods in New York City, and represents a virtual Instagram snapshot of the entire borough of Queens.
The Early Years
The village was established in 1652 by the Dutch as Middenburgh (Middleburgh) and was a suburb of New Amsterdam (Nieuw Amsterdam) in New Netherland (Nieuw Nederland). The original European settlers of Elmhurst were from the nearby colony of Maspat (now called Maspeth), following threats and attacks by local native Americans.
When the British took over New Netherland in 1664, they renamed Middleburgh as New Town (Nieuwe Stad) to maintain its Dutch heritage. This was eventually simplified to Newtown. Among the English settlers in the present Elmhurst section of Newtown was Gershom Moore, in whose orchard a chance seedling produced the Newtown Pippin, Colonial America's most famous apple.
The village of Newtown was established as the town seat for the township in 1683. The village was eventually renamed Elmhurst in 1896 to identify the area with a new housing development and to avoid association with the larger township and the polluted Newtown Creek.