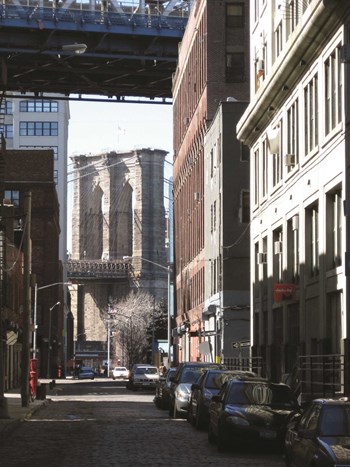 With its oversized live/work loft spaces, picturesque water views, cheap rent, cobblestone streets, and five-minute subway ride to Lower Manhattan, DUMBO—shorthand for 'Down Under the Manhattan Bridge Overpass,' and not to be confused with RAMBO, or 'Right after the Manhattan Bridge Overpass'—was a hub for starving artists in the 1970s, but these days the A.I.R [artist in residence] signs that were once posted on most of the converted warehouse buildings are long gone.
The Brooklyn neighborhood's boundaries have been heavily contested by residents, politicians and real estate brokers alike, but according to New York magazine, DUMBO's boundaries are Hudson Avenue to Fulton Street and Prospect Street to John Street.
In the 1990s, DUMBO had one bar—the Between the Bridges Pub—and a single dingy bodega that closed at 5PM to serve the creative types who called the area home. Today, that lone pub has been torn down and replaced with a 23-story, 79-unit high-rise condo that boasts a Zen garden, a state-of-the-art gym, and a rooftop terrace loaded with amenities. The bodega has been razed, but instead you can check out area businesses such as Chef Jacques Torres' artisanal chocolate shop, the Brooklyn Ice Cream factory, or the always-packed Grimaldi's pizza.
The neighborhood is also home to Gleason's Gym—a gym where amateurs can work out side-by-side with world class fighters. Professional boxers Roberto Duran, Mike Tyson, Sonny Liston and Jake LaMotta (vividly portrayed by Robert De Niro in the 1980 film Raging Bull) have all trained at Gleason's.
Historic Discoveries
It is believed that printer and paper bag maker Robert Gair first established a commercial presence in the area that would eventually become known as DUMBO in the 1880s, because of the area's access to shipping just north of the newly opened Brooklyn Bridge.
DUMBO remained strongly industrial until the late 1960s, when it came to the attention of Mayor John Lindsay that owners of manufacturing buildings in the neighborhood were having trouble attracting tenants. This was especially true on top floors, where tenants were heavily dependent on a single, shared elevator to move goods in and out. During this time, the bulk of the buildings had an occupancy rate of 70 percent or less.
The solution to the tenant shortage was the Artist-in-Residence program. The top floors of many buildings became live/work spaces with an official maximum of three units of "Certified Artists."
The arrangement worked well for everyone involved; building owners filled empty space with tenants who didn't compete for the elevator while artists received cheap living space often equipped with skylights and plenty of room for large sculpture and painting projects. By the late 1970s, top floors throughout DUMBO were filled with writers, photographers, dancers, painters and sculptors and even a few adventuresome bankers and lawyers.
Prior to 1978 however, nobody called the neighborhood DUMBO. In that year, the community appointed a naming committee consisting of long-time artist residents Selby Beebe, Crane Davis, Monte Davis and John Donovan. After many beers one night, the group came up two names: DUMBO and DANY—the latter being an acronym for 'District Around the Navy Yard Annex.' The options were presented to the community at a loft party, and DUMBO won by a landslide. Residents had hoped to protect the area's charm from overzealous developers and couldn't imagine anyone paying a million dollars for a loft to live in a place called DUMBO.
Gentrified
For better or worse, the artists' anti-marketing name strategy didn't work for long. In 1981 real estate developer David Walentas, who made his name as a key player in the gentrification of Soho and Tribeca, decided to pay DUMBO a visit after a staffer at his Two Trees Development firm suggested he check out the area.
Walentas discovered many empty warehouses and factories on the Brooklyn waterfront zoned for commercial use. He purchased eight buildings totaling two million square feet for $12 million and immediately began a campaign to persuade the city to rezone the area. After 17 years he finally succeeded, and the residential development of DUMBO began in earnest. Walentas even offered stores like Jacques Torres Chocolate and furniture store West Elm free rent for several years to jump-start the area's gentrification.
New York's Digital District
On December 18, 2007, the New York City Landmark's Preservation Commission voted unanimously to designate DUMBO the city's 90th historic district, thereby protecting and preserving the neighborhood's industrial facades and cobblestone streets.
Three years later, after a number of internet start-ups leased office space in the neighborhood, City Hall officially named the area New York's Digital District. A few weeks after that, DUMBO became New York City's first neighborhood to offer wireless internet access on its streets and in its parks and plazas, with hopes that online creativity would literally flow into the streets.
Today, many of DUMBO's apartments and condominiums have higher price tags than Manhattan. The neighborhood has become Brooklyn's answer to Soho, with artists' lofts being replaced by multimillion-dollar condo properties, and scruffy corner stores pushed out in favor of trendy retailers. For those looking for the loft lifestyle in family-friendly Brooklyn—and willing to pay top dollar for it—the neighborhood with the funny name is a prime destination.
Christy Smith-Sloman is a staff writer for The Cooperator and other publications.