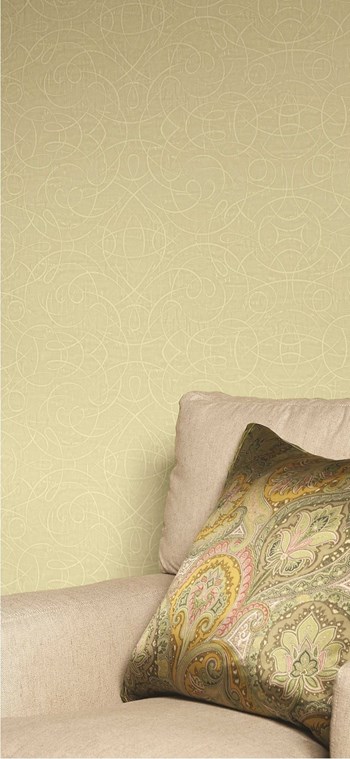 In the past, choices for wall decorations were simple—paint, wallpaper or paneling (like the infamous paneled dens of the 1970s.) Once you made a selection, you simply narrowed the options down from several available colors or patterns and you were all set.
Dizzying Options
Today, choosing how to decorate a wall isn't so easy. There are literally thousands of colors, fabrics, tiles, paneling, wall art, wallpaper and combinations to choose from, and each year the design industry adds even more of the hottest trends and newest designs into the palate. To add further confusion to the menu, there are a myriad of environmentally-friendly options now available on the market as well.
More design options have also meant that there really isn't a look that can't be replicated on a wall. One building can choose to have ornate, flocked wallpaper for their lobby that matches the building's character, while another building can choose slate tiles, or elaborate wainscoting, or even just a few simple coats of paint. So what will it be—paint, wallpaper, tiles or a combination thereof? The selections are endless.
"In co-op and condo buildings, what is most popular is definitely a combination of paint and paint techniques," says Kate Brennan, vice president of business development for Mary Cook & Associates, a design firm based in Chicago. "Wallpaper is making a comeback as well. It has fantastic graphics, great patterns and then there are the true mainstays."
One Word: Wallpaper
According to one study released this year, U.S. wall covering demand will grow 4.3 percent by the end of 2009. Ceramic wall tile will remain the largest segment of the market, while wall paneling will grow the fastest. Wallpaper is coming back in a big way too—a concept that may make some people shudder, thinking of the florid cabbage roses and metallic foil monstrosities of their youths.
The patterns, textures, and colors available today aren't your grandmother's wallpaper—unless, that is, you want your grandmother's wallpaper. If that's the case, it can probably be arranged. There are now wall coverings that can actually reproduce the look of a Victorian interior or, if contemporary is more your look, you can choose from newer, more luxurious options such as leather, bamboo, removable wallpaper sections called Wall Pops.
Wall Pops is a line of peel-and-stick removable wall art that pairs retro-inspired designs with blocks of solid colors. The 'pops' come in bright blocks, circles and stripes constructed of flexible vinyl material, making it easy to reposition on the walls whenever your inner designer comes out.
For those wanting the of-the-moment, Hollywood-inspired trend, there's Regency Revival. "Regency Revival is very glamorous and glitzy," says Lisa Peck, ASID, a partner in Pisa Design, Inc., in Minneapolis. "[Designer] Ulf Moritz currently has a wall covering that is picking up on this look, in a tongue-in-cheek or whimsical way. It is a series of wall coverings that either look like they are beaded, or resemble patent leather, or have decals that can be added to imitate a French Louis XVI chair or a chandelier."
Even wallpaper murals, such as the products made by UK-based company Surface View are making a comeback, says Julie Landis, spokesperson for design firm J. Josephson, Inc. in South Hackensack, New Jersey. Landis says that the North American press has featured articles about high-end, exotic wallpaper in the last few years, but whether that indicates a major resurgence in its popularity among mid-market homeowners remains to be seen.
"Wallpapers' high point was last seen in the 1980s, for those us who can remember the popular mylar-based flocked and printed papers; grass papers too," says Landis. "The 1990s saw faux effects with paint, like high performance 'Zolatone' multicolors, flecked paints that were popular in commercial settings, and architectural minimalism. Patterned wall coverings and papers lost the customers' interest."
Today, says Landis, wallpaper trends include subtle to extravagant wall treatments, from simple, linear tone-on-tone designs and matte/shine effects, to flocking, beading and metallic glints for textural design; from contemporary and restyled damasks, scrolls and toiles to large-scale graphics.
Wallpaper's durability makes it a perfect option for high-traffic lobbies, hallways, and common areas, says Landis. "Wall coverings especially designed for use in commercial settings—usually referred to as Type II, or heavyweight contract wall coverings—offer a life cycle of durability that is at least three times or better than that of paint. Most contract wall coverings are made of vinyl and are built to perform. They're easy to care for; smudges can be removed with soap and water."
Other Choices
Another option for high traffic areas is a combination of wainscoting and paint. "Adding paint or a wall covering on the top half and a chair rail on the bottom half provides extra protection for the walls," says Brennan.
In smaller common areas, such as elevator landings, Maureen Footer, president of Maureen Footer Design in Manhattan says small spaces are a great spot for unique artwork or other design statements—particularly bold-yet-tranquil Asian-inspired themes. "I'm seeing it used increasingly in residential work, and it is pleasing and great in a smaller public space," says Footer.
Ruthanne Hanlon, the color and design coordinator for PPG Industries based in Columbus, Ohio, says that paints can also be used to create a variety of popular textures. "You can create a texture on the wall that is right out of Tuscany by using cheesecloth and pressing it onto the paint," she says.
And as for colors, the pros say chocolate is in this year. "It's so flexible, it works with traditional and contemporary uses," says Hanlon, who has seen homeowners paint their walls in a neutral tone and add a splash of chocolate color in the middle. "It's usually tied into the chocolate color they are using on the floor."
Hanlon says there is no such thing as a 'bad color,' and that even lime green can work in the right setting. "Any color in the right environment can make sense," says Hanlon. "Lime green is popular with teenage girls when you use it with a lot of white and a little magenta thrown in there."
And ceramic tiles are no longer meant for just the floor or for use as a backsplash in a kitchen setting—longer, subway-style tiles are being used as accents on lobby walls, and tile mosaics are enjoying a moment of increased popularity as well.
Environmental Concerns
Being "green" is on everybody's mind these days, but we're not talking lime green. There are now a wide variety of environmentally safe wall coverings and paints too, but San Francisco-based green wall finishes expert Orit Yanai of Orit Yanai, Inc., urges consumers to become familiar with what it means to be green before buying any product.
"You have to look at the whole picture. Some people would open up a can of paint and ask if the paint is toxic, but the whole concept goes much deeper than that," says Yanai. "You should know if it's factory produced and what kind of pollution that factory process produced and released into the environment. What kind of tax on nature did it have? It's not just about the end result and how toxic it is for the user, it's how toxic it's been for the environment as well."
In the case of fabric, according to American Blinds, Wallpaper and More, a major design material distributor located in Livonia, Michigan, an ecologically friendly fabric must be PVC-free, which means it contains no volatile organic compounds (VOCs), which can negatively impact home air quality. They should also consist of 100 percent recyclable materials, helping to preserve the earth's valuable resources.
To serve the growing concern over reducing carbon footprints and minimizing environmental impact, many interior decorating and materials companies are offering products—everything from wallpapers to paints—that are either made from recycled material or sourced from renewable resources. For example, the Easy Walls wallpaper product is pre-pasted, washable and 100 percent vinyl free. It requires minimal preparation and is fully breathable, eliminating "vapor lock," which can cause mold and mildew between the wall treatment and the sheetrock.Last year, Pittsburgh Paints also launched a line of no VOC paints called EcoEcho, which are free from carcinogenic VOCs.
Budget Basics
Clearly, your building's choice of wall coverings will depend largely on your budget. Paint is the least expensive option—it can provide a dramatic transformation to any space, and is easy to maintain or change. Opting for the newer, trendier wall treatments such as exotic stone, leather or bamboo might be reserved for high-end customers. "Leather comes in irregular sizes and you have hides where you have to match the seams, so you may need more," says Footer.
Whatever the choice, take your time and make it carefully. Remember that more often that not, what you put on the walls will be someone's first impression in that room or lobby. Make sure you make it a good one.
Lisa Iannucci is a freelance writer, published author and mother of three living in Poughkeepsie, New York.