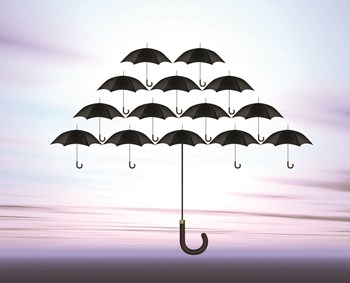 The eccentric widow who lives in apartment 3F with her 16 cats claims that undue noise from the musicians in 3G caused her to have a nervous breakdown-and you, the board president, are to blame because the wall between the apartments-two feet of solid concrete-is too thin. She then sues you for half a million bucks in compensatory and punitive damages.
In the past, a board member or president would not have given a ridiculous claim like that a second thought, because he or she was protected from such things by directors and officers (D&O) insurance. Likely as not, that policy was purchased from Chubb, one of the largest-if not the largest-providers of D&O policies in the business. Now, however, the D&O market is in a state of flux-Chubb and provider Ian H. Graham (IHG) have parted ways-and the only certain thing is that major changes are afoot.
In a nutshell, D&O liability coverage insures co-op board directors against having to pay compensatory damages out-of-pocket, should the board lose a suit. D&O also covers attorney fees and the other legal costs that start to add up alarmingly when a lawsuit drags on.
Historically, D&O insurance premiums have been comparatively low, while the protection the policies provide is a practical necessity, since settlements and damages often run to six figures-sometimes seven-for a wide range of legal contingencies. Common claims covered by a basic D&O policy include things like wrongful termination of building staff, sexual harassment, discrimination, and breach of contract. As with most insurance policies, however, coverage typically becomes null and void if intentional dishonesty- "bad faith"-is determined.
In the past, insurance monolith Chubb & Son had a veritable monopoly on the D&O market for community associations. The company remains, according to a spokesman, one of the top writers of the coverage on the planet. But a series of events involving changing management structures, escalating claims costs and emerging competition has made a maelstrom of the market.
Twenty years ago, Kevin Davis became manager of Chubb's D&O department, and was instrumental in the development of the coverage program, which has been used almost exclusively among co-op board members ever since. Once his plan was implemented, Davis arranged for Ian H. Graham (IHG), a California-based company, to manage the program.
In 1999, an aging Ian Graham sold his company to AON, the world's second-largest insurance brokerage, and the sale shook up what had been a stable D&O market. Wary of the change in ownership, Davis formed his own company-Kevin Davis Insurance Services. He took with him two colleagues, each with ten years' D&O experience.
"Experienced people left Ian Graham after the sale," Davis says of the defection. "They were stuck… without experienced people [to guide the company through the process]."
The sale also affected other insurance brokers: "There was a discomfort," says Arthur A. Schwartz, president of the Masters Coverage Group in Manhattan. "Ian Graham was now owned by AON, one of my competitors."
Further complicating the situation was the sudden-and geometric-escalation in D&O claims costs.
According to Davis, for the first two decades of the policy's existence, most D&O claims paid out around $25,000, with the rare bank-breaker maxing out at $200,000. In the late 1990s however, claims began inflating rapidly, costing $150,000 on average, with big hits topping one million dollars. Those big losses were triggered by more lawsuits combined with stagnant premiums and modest insurance rates.
The first of those big-hit claims was the $640,000 in compensatory and punitive damages awarded to Gregory and Shannon Broome in their much-publicized discrimination suit against Nicholas A. Biondi and the Beekman Hill House Apartment Corporation in 1995. The upshot of the Biondi case involved racial discrimination and "bad faith"-that was the part of the controversy that made the news. What occurred behind the scenes-and behind the scenes of similar cases that followed the Biondi conflagration-was that Chubb, with its overarching market dominance, bore the financial brunt of the new, more expensive claims.
"Chubb lost money," Davis explains, "because they were the only game in town. Their loss ratios were 60 to 80 percent in 1999." Schwartz outlines it further: "The D&O premium is relatively low-but handling is somewhat high."
Given the facts and in light of the numbers, after two decades of steady business, something had to give. So Chubb broke with IHG/AON-amicably, according to sources with both companies.
"We are not getting out of the market," says Leo Lemmelin, vice president of Chubb's specialty programs. According to Lemmelin, the decision to break with IHG was a financial one. "Loss rates on business were unacceptable," he says. Far from being out of the D&O game, Chubb is poised to roll out a new-and-improved D&O program for community associations this fall. Lemmelin asserts that from the start, the transition away from IHG has been done "in an orderly way, as agreed with IHG, allowing them time to secure other relationships." Lemmelin also feels that increased rates for D&O policies will no doubt be part of this new incarnation of Chubb's program.
Chubb's future in the D&O market is currently the subject of hot debate. Schwartz and others in the know believe rising costs may still drive the company out of the market. Davis, on the other hand, is of the opinion that Chubb could still do well if rates were indeed raised to compensate for inevitable losses. On behalf of Chubb, Lemmelin reiterates that Chubb has no plans to abandon the market, and promises a quality product at a reasonable price under the company's new program.
Whatever the industry titan decides to do, there is now-for the first time-competition in the D&O marketplace. Eager new players have emerged, offering policyholders coverage options heretofore unavailable.
Kevin Davis Insurance Services, for one, boasts an improved D&O policy and an intimate knowledge of the business and figures to make some noise in the new marketplace.
"We have an understanding of the market," Davis says of his company. "We know the consistencies in the market, and people know we can get policies out."
Davis's company wrote 1,000 policies in its first year of business and has already doubled that number so far this year.
Other up-and-coming contenders for a board's D&O dollar are Greater New York Insurance Companies (GNY), which offers a D&O program through American International Group and Brite Insurance Agency that claims to be the largest writer of co-op and condo policies in the New York area, and Kemper Distinguished Properties, offering reasonably-priced coverage through Kemper Insurance.
And make no mistake-IHG has not gone away. On June 14, Kenneth Laba, the company's chief operating officer, announced a partnership with CNA Insurance Companies to serve community associations. Under the alliance, IHG will continue placing eligible (D&O) renewal accounts with expiration dates through the end of the month with Chubb, which will honor all existing policies through their natural expiration dates. IHG will continue servicing those insured by Chubb up to expiration and through transition to CNA. "What's more," says Laba, "future plans include aggressively increasing IHG's market share."
Despite the odd defection to new insurers, Schwartz for one thinks IHG and CNA will be the biggest beneficiaries of the new marketplace. "If CNA picks up prior accounts," he says, "people may opt to roll their coverage." IHG plans to do just that. Under the IHG/CNAA alliance, IHG will continue placing eligible D&O renewal accounts with expiration dates through the end of August with Chubb, which will honor all existing policies through their natural expiration dates. IHG will continue servicing those insured by Chubb up to the expiration and through transition to CNAA.
Laba, while stressing IHG's "excellent rapport" with Chubb, is excited about his new product. "We will rapidly-not in months, but in weeks-provide thousands of brokers the broadest coverage at competitive rates."
What does the change mean for buyers of D&O coverage? There are many theories, but little in the way of hard facts or precedents.
A diversified market means that co-ops now have more options, which should be to their benefit. Competition should keep rates reasonable, and more comprehensive policies will ultimately benefit the co-ops.
GNY's policy, for example, advertises higher available limits than the old Chubb policy and lets the insured choose their own defense attorney. This is an important distinction; attorneys appointed directly by the carrier often go for settlements, which help the insurance company, not necessarily the insured.
Davis is of the opinion that policyholders could come out ahead in the new D&O landscape. "We're competing," he says. "We've never done that before."
By the same token, more competition could also benefit carriers, who can be more selective when offering coverage.
"We want to do business in New York," Davis says, "but the way we want to do business."
Ultimately, though, no one knows what the future may hold. According to Schwartz, "We just have to wait and see."
Mr. Olear is a freelance writer and editor of a weekly Web magazine.