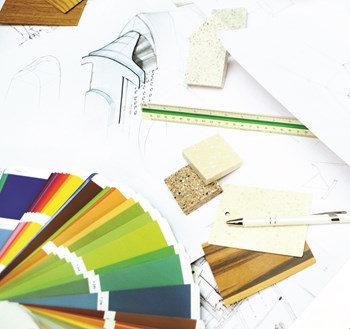 Just a decade ago, the average person didn't have much of an idea about the ins and outs of interior design. Thanks to the recent—and rapid—proliferation of cable television and the phenomenal success of reality TV however, that has changed. Today, a host of programming appeals to all tastes and budgets, from HGTV's modest "Design on a Dime" to the over-the-top, spare-no-expense grandeur of ABC's "Extreme Makeover: Home Edition."
Interior design and home magazines are also on the rise, according to the 2006 edition of The National Directory of Magazines. The number of design and home-related periodicals has more than doubled, going from just 92 to 192 publications in the last ten years alone. This list includes such popular titles as O at Home, Oprah Winfrey's spinoff of her O magazine, Martha Stewart's Martha Stewart Living, and newer glossies like Domino. Add in a plethora of books on decorating and designing and access to millions of websites, and today's consumers now have a limitless vault of design ideas available to them.
The Media Effect
With the proliferation of design media and the public's avid consumption of them, apartment owners who didn't know the difference between sheetrock and shingles a decade ago today feel themselves empowered to tackle their own design projects—or give input to the professional designers they hire.
Most professional designers agree that it's great to work with clients who are conversant in certain design terms and concepts. However, they also caution that when it comes to television programs edited into a jam-packed hour or half-hour, what design-show junkies are getting is an incomplete (and unrealistic) education.
"I do think people, after seeing these shows, get this impression that decorating can happen overnight," says Philip Gorrivan, president of Philip Gorrivan Design in Manhattan. "In reality, on some projects it can take a whole year for certain items or materials to come in. Viewers have a false understanding that things can happen very quickly."
Then there are the shows' budgets—or lack thereof—to pay for supplies and designers. On HGTV's "Design on a Dime," for example, the design team (not just one designer) tackles a problem area such as a boring bedroom, lackluster living room, or outdated home office space. The budget: less than $1,000, paid for by the show's producers, and including the use of their design team. The Learning Channel's "Trading Spaces," the original blueprint for many of these shows, also offers free use of a crack design team and only $1,000 for supplies. As anybody who has actually attempted to overhaul a family room or kitchen knows, a $1,000 budget is exceedingly low—for supplies, for labor, and certainly for the time of a single designer, much less an entire design team.
"You're doing yourself a disservice if you think you can hire a designer for some of these prices," says Evan Galen, president of Evan Galen Architecture/Design. "For example, something they show on TV and say that a designer can do for you for $150 would really be much more, because in reality, designers need to pay for insurance, labor, materials and a truck."
Some shows do not even provide an idea of the final project cost. For example, "Designer's Challenge" is a weekly half-hour show on HGTV that follows one homeowner per episode through the exhilarating decision-making process of selecting from among three designers' room renovation plans, created just for them. Viewers watch as the chosen designer brings about a fabulous new look for the room, but the final price of the project—paid for by the homeowner in this case—isn't even discussed.
Galen adds that the television industry has affected the design industry in other, less obvious ways as well. "If you show a piece of fabric on TV, a consumer sees it and may want it, but if it comes from trade-only showroom, the showroom then has more and more pressure to be open to the public. That's becoming more complicated with pricing and so forth."
On the positive side, Gorrivan believes that this interior design media boom has "become the zeitgeist," especially since 9/11.
"People have woken up to the importance of having a wealth in the nest, so to speak" says Gorrivan. "After 9/11, people have tended to focus on their homes more. Now when I'm at a cocktail party, it's not uncommon to hear so many home-decor-type conversations."
"Reality" vs. Reality
According to high-end designer Grady Cooley of Manhattan's Grady Cooley Interiors, TV shows provide wonderful inspiration, but at the end of the day, they're mostly for the do-it-yourselfer. He says that decorating shows have not increased—or decreased—his clientele, and certainly haven't changed the fact that hiring a professional interior designer is an expensive proposition.
"Buyers will walk into a home that they want to buy and it can look so ugly, but these programs teach you that any four walls can look great," he says. "However, when someone is hiring a professional decorator or interior designer, they have to have money. If someone is watching a show on decorating for less than $1,000, then they probably can't afford a designer—but those shows have made people more aware that they want the interiors they have to look better."
John Buscarello, interior designer and president of John A. Buscarello Inc. in Manhattan, agrees. "The typical design show viewer probably won't hire a designer," he says. "Reality shows do not really clue people in as to what it's going to cost—and what looks good on a television screen doesn't necessarily look good in real life. Ultimately, they are going to get scared away because they haven't been given the real information."
Working with the Professionals
Marilyn Sygrove, president of Sygrove Associates Design Group Inc. in Manhattan, designs public spaces, not individual homes and apartments. However, she admits that when working with co-op and condo design committees, having members get ideas from a television show is okay.
"The greatest challenge is gaining consensus among the members," says Sygrove. "If they are doing their homework—which could include watching a TV show or looking in a magazine—they can come back to us with anything that can give us input, as long as the majority agrees. That's what we like."
Although most designers shun the notion of finding ideas for their projects or clients through television shows, most agree that having clients bring torn-out pictures of potential ideas from design magazines is more than welcome. As a matter of fact, most designers ask clients to scan issues and bring what they like to the table—if only to use them as a jumping-off point, or as a basic idea of the look they're going for.
"If I have a client who looks at Domino magazine and gets an idea for a tray, I think that's great," says Gorrivan. "Design should be collaborative—it's about getting ideas, and ultimately when we design an interior, it shouldn't have my signature all over it. It should be a reflection of their style."
Good for Designers
As much as the recent design-media boomlet has not necessarily swelled the client lists of real-life designers, the professionals interviewed for this article agree that it has helped to increase the exposure of some talented people in the design field.
"Some of the magazines, like Domino and O at Home, do a great job of promoting designers," says Gorrivan, who himself was recognized as one of "Americas Top 25 New Designers" in the October 2005 issue of House Beautiful.
The market has been so successful with readers that when O at Home appeared as a twice-yearly extension of O Magazine in April 2000, it was an instant success and is now a monthly publication.
Galen says that his high-end residential clients love it when their homes are featured in magazines, and the competition among designers to achieve that honor is stiff. And, with today's focus on celebrity, designers are now competing for the chance to achieve notoriety through television exposure.
Shows such as "Designer's Challenge" showcase three local designers from the participating homeowner's area, but by appearing on just one episode, a designer's talents can be seen nationwide. Additional publicity on HGTV's website can be one step on the way for a designer to become the next household name.
"It's just like when you're working hard to get your work featured in the top magazines—TV is no different," says Galen. "To get on those shows, you have to have a good portfolio—which can be expensive—and a publicist, and you have to work hard. It's not easy to become a well-known architect or decorator."
Although many designers design show houses, Cooley explains that they hardly ever get a client from completing one. Designing a room on television, on the other hand, can lead to bigger and better things.
"TV is great exposure—and it makes people want you," says Cooley. "It's like standing outside a nightclub and trying to get in the door. A huge number of people are wanting to get inside, and you want to be the one at the top of the line. People see your work, and it gives you exposure to future clients. You hope they'll write your name down."
Fortunately for the design industry, peoples' interest in decorating and re-decorating their homes and apartments hasn't waned—and with more and more design-related media available to all, the possibilities for new shows and new publications are as endless as the designers' talent and creativity.
Lisa Iannucci is a freelance writer and a frequent contributor to The Cooperator.