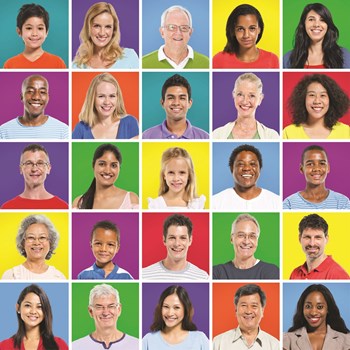 The presence of unfamiliar cooking aromas, 'foreign' music in the hallways, multilingual chatter in the elevators, and increasing numbers of younger newcomers collecting their mail in the lobby alongside older longtime residents—these are some of the more common manifestations of the demographic shifts experienced by many New York City cooperative and condominium communities.
While New York has a long-standing reputation as a huge melting pot, the city is really a series of discrete enclaves, some of which have remained largely unchanged for decades while others have long been immersed in changing ethnic and socioeconomic currents. In some situations, waves of immigration have changed the face of a neighborhood, and the individual building communities within it. In others, older residents face challenges from younger, wealthier ones—as well as absentee investor-owners—who bought their apartments at current market rates and have different attitudes about reserves, renovations, and other economic and lifestyle issues.
Regardless of the nature of the shift, an individual building's residents, board of directors, and management can either struggle against these currents, or go with the flow. How they handle it will determine the tone and tenor of the entire building community, and can impact both the morale of residents, and the value of their units.
A City of Immigrants
"New York is a city of immigrants. It's constantly going through an evolution of neighborhoods being driven by countries of origin," explains Jesse M. Keenan, research director of the Center for Urban Real Estate and an adjunct professor of real estate development at Columbia University's Graduate School of Architecture, Planning and Preservation.
Many areas are undergoing change and significant gentrification. According to the Center for Urban Research at The City University of New York's Graduate Center, for example, the percentage of the population of Elmhurst, Queens who identified as being of Asian origin grew from 37.3 percent in 2000 to 43.8 percent in 2010. In Flushing, the Asian population grew from 52 percent in 2000 to 69 percent in 2010.
Statistics like these come from an essay and a series of maps (viewable at www.urbanresearchmaps.org/plurality) visualizing New York City's shifting demographics between 2000 and 2010. The report and maps illustrate a number of racial and ethnic migrations throughout the five boroughs—more white and Asian families moving into Manhattan, more black and Latino families calling the Bronx and Staten Island home. Queens remains the city's most diverse borough, where 137 different languages are spoken within just a few square miles.
Fascinating as it is, this borough-by-borough summary obscures the changes within specific neighborhoods, where one individual demographic group may rise to prominence while contributing only a modest percentage to the borough-wide total.
"You'll have an aggregation of people from a certain country of origin settle in a small area," Keenan says, citing the city's historic Chinatown and Little Italy as more famous examples. Sometimes the influx and turnover takes decades, "but sometimes the newcomers move in very quickly."
This has been the pattern in Elmhurst and parts of Flushing, Queens, Keenan continues. "You have an older community of European origin, and all of a sudden there are more Chinese owners." The blending of newcomers with longtime residents requires adjustment on both sides, he adds. "There are language and cultural differences, a different rhythm and pace of life, and different foods."
Where Tensions Lie
Dr. Setha Low, professor and director of the Public Space Research Group at The CUNY Graduate Center, says that despite the substantial ethnic and racial shifts taking place in the city, she finds those changes to be less significant than variations in age and socioeconomic status.
Low conducted interviews in about 50 co-ops and another 40 in condos in New York while researching a forthcoming book. "Greater diversity in a building is usually desirable and appreciated by residents," she says. "When you ask them about diversity, the answer is, 'Yes, we have a number of different kinds of people, and we all get along.' It's a source of pride and a positive aspect of the building."
Other benefits of turnover in a co-op or condo—regardless of the newcomers' age, culture, or place of origin—include "a new capital infusion that one needs to keep up capital reserves and ultimately take over the governing structure," Keenan says. "You get a new generation of engaged leadership."
With respect to generational differences within building communities, Low says, "It's less about demographics and more about speculation in condos by people who can afford them. The original owners (and renters who became owners) bought in at a lower price point. Five, 10, 15 years later, people are buying in at a different price point, and their goals and interests are different. People who paid $200,000 and people who paid $1 million might have different abilities to pay assessments and differing ideas about redecorating the lobby. I consistently find differences in values and not understanding one another's needs and concerns."
Pure economics aside, Keenan notes, differences in generational culture can spawn animosities among residents. "It's the 'free rider' problem," he says. "Younger people in condos are more likely to use Airbnb, renting to outsiders who come in and use the common elements, and more water and electricity. The condo owner makes a lot of money, while creating a small economic burden. Security is also a real concern. The board can pass fines, whatever is in the bylaws and rules, and draft new rules, but how do you know who's just a guest versus an Airbnb renter. It's very difficult for boards to track and enforce that."
Aging Out
"Gentrification is a huge issue," agrees Mary Ann Rothman, executive director of the Council of New York Cooperatives & Condominiums (CNYC), a membership organization for common-interest communities. "The pioneers who bought into condos and co-ops when no one was quite sure what they were are now elderly and on fixed incomes. New people come in, pay substantially more to live in the buildings, and may expect more services," she says.
"The board has to try to juggle the needs of all, which includes developing reserves," Rothman continues, "People on fixed incomes need the reserves so there are no horrible disasters, while people of greater means might not necessarily be proponents of a carefully developed reserve fund. Now some people can no longer afford to live in their apartment. If they sell they may have a nice nest egg to find some other place to live, but that is sad."
Another possible consequence of a generational shift is an influx of families with children, whose concerns differ from those of older adults. This can lead to conflicts, placing the board in the awkward role of "adjudicating the needs of young families and aging-in-place residents," Low says. "It's important for people to open a discussion, to talk to one another, not just to the board. They need a listserv or email to bring the residents together. The board members need to facilitiate such communication among residents who are having conflicts, just like in a regular neighborhood."
Involving Everyone
Whatever the ethnic, national, or socioeconomic matrix may be, Rothman says boards should consciously strive to build community cohesiveness within their buildings and associations. Ways to do this include recruiting residents from minority nationalities to committees and to the board, and publishing newsletters in multiple languages. "Often, it's the children rather than the adults who are most likely to be fluent in English," Rothman says. "Kids should not be discounted as very good lieutenants in building a community. "
Orientation to the community should begin even before new residents join it, Keenan advises. In a co-op, this can happen at the admission interview during which existing members vet a prospective shareholder. In a condo, "Before people close on the unit, communicate with them about what the community expects in terms of participation," he says."Having that dialogue and helping to build that relationship before closing is key."
Condo board members tend to be older residents who have more time to spend on governance matters. "It can become a clique or an oligarchy." Keenan says. "That alienates younger people who don't have as much time, but would still like to be engaged."
"Community building can be harder in a condo, but it's well worth cultivating," Rothman says. "Put up a notice and invite your neighbors in on Sunday for drinks, or announce a party to clean the backyard, if you have one."
Low emphasizes the need to involve renters in their building's community. With increased speculation and absentee buyers, the percentage of renters is on the upswing in many condos, and even some co-ops.
"Renters have different values, goals, and concerns in a building than owners," she says. "So they tend to not be included in board meetings and don't know what the issues are in the building. The board should communicate more with renters, and also should remember that resident owners and non-resident owners may have different values and socio-economic status, and may want very different things." Respecting and addressing those differences, rather than ignorning them—or worse, pitting them against each other—can usher in more harmony, smoother day-to-day operations, and just a better sense of community morale in general.
Outside Assistance
With so much demographic change taking place throughout New York City, one might expect to find consultants specializing in diversity and cultural sensitivity who could come into a building and help its board, management, and residents figure out how to adapt to the changes confronting them. Actually, not so much. If your building wants such a class or seminar, try calling a local university, where you may find an anthropologist or sociologist interested in providing it. A web search of local and national organizations serving common-interest communities failed to turn up such programs—with one exception.
If your concierge, doorman, janitor, or security officer belongs to 32BJ SEIU (Service Employees International Union), he/she is eligible to attend classes offered only to union members, They include:
• An 11-week course in human relations covering conflict resolution, standards of ethical conduct, and the value of diversity. It teaches participants to balance the demands of a door and/or security desk, handle emergencies while working with the public, and recognize signs of elder abuse.
• A three-hour Respectful Workplace course that includes sensitivity to cultural diversity (including race, culture, religion, age, gender, sexual orientation, and gender identity).
• A Diversity Appreciation/Cultural Competency class specifically to help security officers recognize, appreciate, and value people who are different and treat them with dignity and respect.
The union schedules its classes at locations throughout New York City and in New Jersey and Connecticut. The budget for this program comes from employers who have agreed as part of their contract with the union to pay a specified amount into a training fund for each union member they employ.
For a catalog of SEIU courses, visit their website at http://training.32bjfu nds.com/courses.aspx.
Ultimately, for whatever challenges it may pose, diversity within New York City's communities also makes us stronger, both individually and collectively. By recognizing that buildings and HOAs are not static institutions but rather living, evolving entities, boards and managers can allow their governance and management approaches to grow along with their communities—and that's always a positive thing.
George Leposky is a freelance writer and a frequent contributor to The Cooperator.