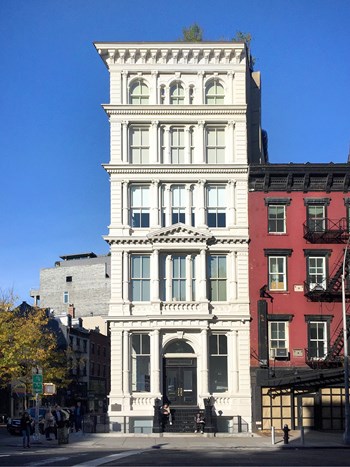 Every year, the New York Landmarks Conservancy holds its Moses Awards – named after local philanthropist Lucy G. Moses – to honor outstanding achievement in preservation projects. A project team behind a facade preservation and restoration of a condominium property at 54 Bond Street received one such accolade at the organization's 28th annual ceremony, held at St. Bartholomew's Church on 325 Park Avenue on May 8, 2018.
Before going condo in 2007, 54 Bond Street had a storied history. The ornate, six-story structure was designed by Henry Engelbert and constructed in mid-1870s. As the identity of its Bowery neighborhood changed, the building went from housing the Bond Savings Bank to the German Exchange Bank. It later became a loft/storage space until it was revamped as the Bouwerie Lane Theater in 1963. The Landmarks Preservation Commission gave it its official designation in 1967, and when the residential fortunes of the area improved in the early aughts, it became the condo it is today.
The Project, Proper
The award-winning work on 54 Bond Street was performed by an international project team that included architectural firm CTA Architects P.C.; owner's representative D+DS Architecture Office; general contractor Traditional Waterproofing and Restoration; Belgian cast-iron fabricator Van Cronenburg Architectural Hardware; and structural engineer GACE Consulting Engineers.
"The renovation was an extremely detailed process that involved extensive restoration work, as well as the replication of over 1,000 incredibly intricate cast-iron units, including formed metal cornices and pediments," says Christa E. Waring, a principal with CTA, which is based in Manhattan.
According to CTA's website, work on 54 Bond included removing the existing coating, and priming and repainting the cast iron facades. The firm had the previous stairs at the three entrances demolished and installed new cast iron stairs. Additional work involved replacing the sidewalk and vault waterproofing, said the firm.
"We were careful to avoid using alternate materials that differed from those used at the project's inception," Waring says. "In fact, the only modern material used was concealed sheet flashing to protect the building's interior from water penetration."
CTA has made historic restoration and building facade renovations into something of a specialty, compiling an extensive portfolio with numerous co-op and condo properties, including the seven-story 32-34 Greene Street multifamily building, for which the firm recently restored the cast iron facade.
According to Waring, CTA is currently working on several upcoming projects for co-op and multifamily clients in the city, including a roof replacement at 345 Riverside Drive, and a facade renovation at the two-building rental complex at 311 East 73rd Street.
Mike Odenthal is a staff writer at The Cooperator.