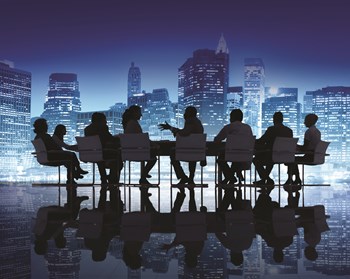 It's the beginning of another meeting in your building and even though signs were posted throughout the lobby and on bulletin boards, the crowd is sparse. To make matters worse, the few owners or shareholders who are in attendance have only shown up to complain that they're unaware of and disagree with recent board decisions.
This situation isn't uncommon. In fact, a lack of shareholder participation is one of the growing problems within co-op and condo communities. Hectic lifestyles and multiple responsibilities can often place participation in the community at the bottom of a long list of priorities. This can be especially true if there appears to be little reason to get involved in the first place. Shareholders who feel that they're only part of "someone else's" building, are less likely to feel compelled to take an active role. To create a sense of community, boards must keep residents informed about ongoing projects and decisions and must create opportunities for involvement. You can enlist the support and contribution of building residents through committees and activities.
Getting members to take a proactive role in their co-op or condo improves the lines of communication and also may decrease the number of angry residents who show up at annual board meetings. According to Jeff Levy, vice president of management of Argo Management in Manhattan, which manages about 10,000 units in Manhattan and Queens, "You tend to see less people at the meetings when everyone is happy. But when there are problems in the building, people will show up to let you know. Maintaining enthusiasm is certainly one of the more difficult areas to deal with." Communication can put a quick end to hostility that may occur between shareholders and board members.
Of course, improving communication in a co-op or condo setting is easier said than done. It takes willingness on the part of the board, and an interest on the part of residents. Starting a newsletter is a common way to keep residents and shareholders informed about what's going on in their building. Newsletters offer the advantage of providing shareholders with information they can review at their leisure. While not everyone has time to attend a meeting, a newsletter can be read when time permits–during a morning commute to work or after dinner, for example. Levy says to keep in mind that communication attempts such as newsletters should be from the board, not just the managing agent of the building.
Sometimes member participation is spurred by incidents other than the efforts of the board. When there's an incident, like burglary, residents will want to discuss what can be done to prevent it from happening again. These quality of life issues are something residents will want a quick solution to. In a situation where a break-in has occurred, it's a good time to take advantage of the immediate interest by setting up a committee to work on improving safety.
To preempt such last-minute concern, an effective way of getting and maintaining the attention of shareholders and residents is to show them how decisions about the building will affect them, specifically, financially. You have to hit them in the wallet. Keeping shareholders informed and involved helps switch their perspective from living in "someone else's" building, to "their" building. Knock on doors, put current decisions in newsletters, send short letters from the board, call, e-mail–however, you do it, let shareholders know what's going on. When the impact will be financial, you'll be sure to find more than a few interested members.
It's a good idea to constantly remind shareholders and members that they are important. In larger buildings, it's easy to slip into the routine of keeping to oneself. "It's not uncommon for people to rarely say hello," says Levy. "In a smaller co-op, it may be easier to know who does what, but in a larger building, there may be too many people for residents to keep track of." But both large and small co-ops can benefit from getting members more involved, and residents in all sizes of co-ops will appreciate the board's communication with them.
Creating storage space, setting up a playroom for children or putting a gym in the building are just some of the endeavors a board may feel are worthy to improve the building. However, the board may face opposition if not all the residents are in agreement. Get their feedback.
According to Arizona manager Carol Paul, author of a Community Associations Institute (CAI) report, Revitalizing Apathetic Communities, "Getting some residents involved may be as easy as simply asking them." Levy concurs. "I've heard people complain that the reason they don't get involved is because nobody ever asks them." Though often overlooked as a reason for the lack of involvement, many shareholders may not be taking an active role simply because they have never been approached by anyone. "You need a hook," says Levy. "If you're planning on renovating the lobby, ask members for ideas. Because it concerns their home, you're more likely to get suggestions, and residents will appreciate being able to provide input."
Paul says the most important time to make contact with residents is when they're first moving in. "Have some group of owners reach out to new owners. That's when they're the most anxious to feel a part of their community. That's the best time to tap them for involvement. Give them a positive first impression of the board. One way to do this is through a welcome committee," says Paul. CAI has some suggestions for making initial contact. After the residents are settled in, a small group of neighbors could visit them and present them with a small gift or an information package on the area and the building. You can let them know what projects the board is working on and ask what most interests them. "Most people get involved when they first move in," says Paul. Although "people usually shudder at the idea of a committee, it's really the best way to get them involved," she says.
A committee can be formed for almost any aspect of building improvement. The trick is to first identify the general problem or need; then to define the key issues behind that inadequacy. Then several possible proposals and implementations should be suggested. For example, a board identifies through speaking with residents that there's a lack of sufficient leisure time programs. The board then defines the key issue to be that residents hold conflicting views on support for programs and for investing in related facilities. Several proposals should then be recommended such as forming a health club, conducting activities and educational workshops, creating a gameroom or developing a program committee. The next step is to develop an implementation strategy for each option and select the most appropriate and feasible option. (See sidebar on page 23.)
Paul cautions that such a program will falter unless it is sold to the residents. "You must separate projects into manageable portions that can be completed in relatively short periods of time." According to Paul, every committee must have a charter which clearly specifies the committee's name, purpose, responsibilities, term, number of members, selection of members, committee organization, relationship to board of directors and relationship to management. "The term is a very important factor," Paul says. "There must be a specific termination point by which the group should have met its objectives."
Sometimes a little creativity can help revive community interest. Since shareholders may often assume meetings will be uninteresting, changing the format of a traditional "meeting" may result in more participation. Touting a meeting as a time to come out and get acquainted with neighbors or offering dessert with the discussion are ways to pique interest. Again, it's a way to show the member he or she is an important part of the community.
Don't underestimate the power of social events to attract new volunteers. Paul suggests organizing a cocktail party to take place after the annual meeting or getting a good speaker to discuss anything related to the building. Also initiate alternative methods of communication such as coffee clubs, pizza parties, or special meetings. It's all about creating an interesting environment and making your building more attractive to residents. The more activities, the more opportunity for interaction, the better.
Understand that a diverse board, comprised of people in different professions, can work to the advantage when coming up with new and creative approaches to combat homeowner apathy. When you have a lot of diversity, there might be people who know how to put together a newsletter and others who are more adept at personally reaching out to the community. Utilizing this pool of knowledge can provide new forms of communication, as well as various perspectives. In the end, it's all about making the shareholders happy in order to get them involved. And, says Levy, "An informed resident is a happy resident."
The comprehensive guide Revitalizing Apathetic Communities, published by CAI offers suggestions on how to motivate residents. Visit their website (www.caionline.com) or call (703-548-8600) to order your copy.
Ms. Mannino is a freelance writer living in Montclair, New Jersey.