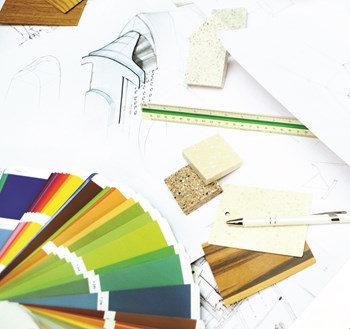 Just last year, Americans spent some $125 billion on home remodeling projects, according to the Joint Center for Housing Studies - a collaborative effort between Harvard University's Design School and the Kennedy School of Government. That far outranks the dollars spent on new construction; and it means that in a city like New York, with all its prewar, multi-family buildings, condo and co-op owners and boards who haven't already been through a major remodeling project are a dwindling minority.
According to Ethelind Coblin, a professional architect in Manhattan, "Remodeling is bigger than ever - nobody is selling, because there's nothing to buy. When people can't find something, they realize they have to stay where they are and change what they have."
And, says Marilyn Sygrove, an interior designer and owner of Manhattan-based Sygrove Associates Inc., "With the availability of cheap money in the form of low interest loans, it's a favorable time to update what's been left untouched."
Architect or Interior Designer?
As anyone who has ever taken on a remodeling project knows, once the decision to remodel has been made - whether by an individual or an entire board, is when things begin to get complicated. One of the first big questions to ask is, "Do we need the help of an architect, or an interior designer - or both?"
To determine the answer, you'll need to ask yourself - or your fellow project committee members - a few other questions first: do you want to move an entire wall, or simply open up a room? Do you just need to replace worn and outdated kitchen cabinets, or create a more modern, efficient and comfortable place to cook, eat and entertain? Do you need to update a shabby, timeworn lobby, or overhaul it to make it compliant with current building codes and standards? Your answers to those questions will help you determine which type of professional your project calls for.
Howard Zimmerman, of Howard Zimmerman Architects on the Manhattan's West Side breaks the remodeling industry into two basic camps: "Use an architect when re-configuring the space affects walls, plumbing, electric systems, or ventilation. Use a designer for material and color selection and coordination of furnishings. An architect is concerned with form and function," Zimmerman says, "A designer is concerned with the image."
But, as Jerrold Richland, president of Richland Design on the Upper East Side, notes, these days, the line of demarcation between interior designers and architects isn't razor-sharp. "Interior designers now have to know about electrical codes and the Americans with Disabilities Act (ADA) for example. The interior design movement is not just about doing pretty anymore - it's also about the safety of clients."
More often than not, the reconfiguring of space is not something a shareholder, unit owner or board comes up with solely by themselves, but with the help of an interior designer who helps the client visualize the final product. "An interior designer gives the whole visual look to a place - they provide a harmonious flow," says Richland.
But what if the harmonious flow requires the removal of a wall, or the rerouting of electrical wiring? Interior designers may have the knowledge and creative vision to create the entire look, feel, and mood of a space, but not the licensing and technical expertise to take the project through the planning and execution phases singlehandedly. That's the job of the architect. Moving walls is one of the trickier remodeling stunts to attempt, not just because of engineering and structural concerns, but because it involves the filing of construction plans - something architects are licensed to do and interior designers are not. It's certainly within an interior designer's realm to suggest moving walls, if it's structurally feasible, but, says Sygrove, at that point, "the rule of thumb is to hire a licensed architect who knows [if it's feasible], and can file plans when doing a renovation that involves moving walls around."
Architects, on the other hand, may not concern themselves much with color or texture, but do have a good sense of structural design and flow of space, and if a designer has envisioned major changes for a space, the architect is the person who can bring those ideas to life.
And that brings us to the ground shared by both architects and interior designers - and takes us back to asking specific questions about what you want to accomplish for your home or your building.
Professional Intersections
Especially in common areas like hallways and lobbies, renovations now involve more than color swatches and some new fixtures - and more cooperation and communication between architect and designer. Modern-day renovations can mean opening up a space or adding ramps to make it handicapped-accessible. In a bathroom, it can mean the installation of outlets specially grounded for use in areas where water is present. Knowing the current codes and safety standards are part of a professional's job. And, says Sygrove, that professional could be either an architect or a designer. Both professional architects and interior designers should be up-to-date on current regulations, providing you with the requirements you need to think about before tackling any renovation project.
Far from working in different camps, architects and designers may even be from the same firm. "An interior designer may have an architect on staff," Sygrove says, "And an architect may have an interior designer on staff." That largely depends upon the size of a given firm, but since their work often overlaps and intertwines, it's common to work with both types of professionals on a major renovation project. The challenge then, according to Coblin, "is [getting both professionals] on the same page."
Bringing It All Together
As with any joint project, clear communication between the architect and designer is important. "Have one person be the lead person; the one who takes responsibility for the coordination of everyone else," Sygrove recommends. That could mean hiring a project coordinator or construction manager to oversee the process and liaise between designer, architect, contractors, and the shareholder or board.
For common-space projects, there's another level of involvement, since design committees - often composed of residents and board members - are the think-tank where such projects originate. Where committees are involved, it's especially vital for architects, designers, project coordinators, and management to communicate their expectations, ideas, and preferences to each other, regardless of who's moving the walls and who's choosing the upholstery. Inter-communication lets everybody in on the bigger picture, provides more pairs of eyes to review plans, and can protect a novice design committee from making ill-advised decisions.
According to the experts, it's also essential to establish realistic expectations before the first hammer falls. For example, it may be unreasonable to expect your architect to show up to manage the painter, but do expect her to be present when the construction crew arrives to demolish a wall, or when the plumber comes to relocate pipes. Likewise, you can reasonably expect your chosen designer to be present when the cabinet people want to know where the three-drawer base unit goes, or when the painter needs to know which wall gets the bold accent color.
Do expect both an architect and interior designer to be professionals who communicate clearly, work together well and stay on time and on budget, regardless of whether you've engaged a construction manager to oversee the process from start to finish.
When a harmonious balance is struck between a designer and an architect, the possibilities for any renovation are limited only by the laws of building physics, and how much a building or shareholder is prepared to spend on a project. Sygrove describes some of her projects involving new natural, organic colors and materials that were once reserved for spas and luxury hotels. Richland recalls the Fifth Avenue basement gym he designed especially for the women of the building, as well as the rooftop pools and party rooms his clients have dreamed up and made reality. Coblin remembers an East End Avenue client who turned her prewar flat into an English country cottage.
When a project is managed effectively, the results can be not only aesthetically pleasing but also economically beneficial. A well-executed renovation project can look good and also be a smart investment. And according to some realtors, property values might shoot up by as much as 10 percent following a successful interior remodel or renovation. With the right professionals working together for you, almost anything is possible.
Chrysa M. Smith is a freelance writer and one-time condo owner now residing in Bucks County, Pennsylvania.