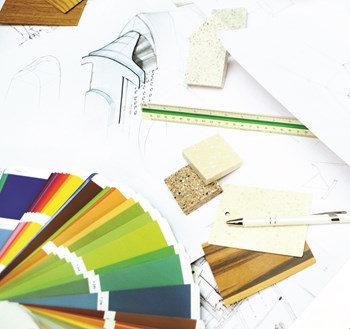 The time has come to ask yourself some tough questions: Do I find myself constantly sneaking my clothing into my partner's closet? Am I running out of drawer space because my bureau is overflowing with items I can't fit into my tiny closet? Is my linen closet or pantry so cluttered and disorganized that I can't locate what I need when I need it? If you answered yes to any of these questions, you are probably in need of a closet remodel. Lack of closet and storage space is a problem that many New York apartment dwellers face. The average apartment cannot accommodate growing families and changing needs–at some point, the average closet will have to be modified.
Once you've admitted that you have a problem and decide to take on a remodel, you have to find a designer. The most obvious place to look is in the yellow pages, but don't rule out the benefit of a referral from a friend or neighbor. Robert Scott, co-owner of Closet Systems Group, which has offices in Manhattan and Brooklyn, specializes in closet configurations, manufacturing closet materials, architectural woodworking, and cabinetry. He says that although he does acquire clients through yellow page ads, most of his business is referred to him from other customers.
Before the designer actually comes to your home, you should have a rough idea of what your needs are. Do you need more storage space, room for shoes, room to hang clothing, or accessory racks for belts and scarves? You should carefully consider what features are most important and prioritize your needs accordingly.
On the first visit, your chosen contractor will most likely measure your existing closet space and ask a series of questions to find out what your present and future needs might be, says Fran Paltrow, owner of Closettec, a Port Washington, Long Island closet design company. After the initial meeting your designer will begin to draw up a plan to accommodate your needs. During this phase, it is important that customers work with their contractors on designing the new space. "We want the clients input and their feedback," says Scott. Although these professionals have the skills and know-how, only the customer truly knows the customer's wants and needs and what systems will best suit their lifestyle.
"Our focus is to optimize closets and make them functional," says Scott, whose company offers a free consultation to those considering a closet remodel. "We come to your home, discuss your problems and needs, take measurements and draw [computerized] sketches on the spot," he explains. The rough designs are later fine-tuned by a computer draftsman.
Closet Systems Group offers their customers custom closet design systems that come with adjustable bars and shelves. Shelving is available in standard white melamine, (a laminate material available in more than 20 colors and commonly found in vanities and cabinets) or maple or cherry wood veneer.
A Closet to Suit Your Suits
All closets are not created equal. It goes without saying that larger closets have more room, thus more options as far as remodeling is concerned. Very small closets pose greater limitations for space usage. But do not despair–there are space-saving solutions for even the most abbreviated closet. For example: A three-foot wide, eight-foot high closet is usually fitted with a single hanging bar just above eye level, but there are alternatives. "Dividing the closet in half and making double-hanging and full-hanging racks is one solution," Patron suggests. By adding another bar, additional space is created for the hanging items that pose a constant problem for the spatially-challenged. Never again must you open your closet to retrieve your favorite pair of slacks for dinner only to find that since they were so tightly packed between, say, coats and dresses, they're full of wrinkles.
And speaking of dresses–as one might expect, the closeting needs of women differ from those of men. Most men's closets have double hanging rods to accommodate shirts, slacks, suits and jackets. There may also be shelves for folded items like sweaters and folded shirts. By contrast, women may require a combination of high-hanging rods for dresses and robes, medium rods for hanging suits, and low or double-hanging rods for blouses and skirts. Various types of shelving, as well as special storage for shoes and accessories is also a major concern, according to Scott.
Most closet designers can accommodate special requests above-and-beyond the basic storage-space configuration. Paltrow explains that custom designs go from the simple to the extravagant. "One of our most recent clients requested pre-finished mahogany crown molding, and raised paneling for the doors and drawers [of her master bedroom closet] in addition to a center island with drawers," she says. "[The client] also requested a cabinet to store her ironing board, pull-out shelves and storage for a hamper." Other less-orthodox closeting requests have been put in for pull-out baskets, adjustable shelving, intra-closet computer work spaces, baby-changing tables, and wholesale overhauls of pantries, laundry rooms, and broom closets. Paltrow once created closet storage racks for a client who had 150 belts, and built a special storage area to accommodate another client's small refrigerator.
According to industry experts, the time from initial consultation to completion of the closet overhaul takes approximately one month. According to Paltrow, "Actual construction can take one day to a week, depending on the complexity of the job." Usually, a design group can set up an appointment for a consultation one to two days after they've been contacted. In some cases, the entire project can be completed within a few days if there is an urgent need, but most jobs are completed within a week or two.
The cost of a closet remodel can start around $300 and go as high as $15,000 per closet, depending on a client's requests. Obviously, special features and exotic materials like specialty woods, chrome, brass, or antique rails or poles and other decorative features increase the price. The typical closet will cost between $500 and $1,500 to refurbish. That cost includes the initial design, removal of old fixtures and the installation of new hardware. Some designers will spackle the new surfaces and add paint of the client's choosing.
If the time has indeed come and you desperately need to renovate your closet, there is no need to be apprehensive. Qualified professionals abound to help simplify the process and produce the desired results. "We take pride in our work," says Paltrow of her company. "We're really perfectionists here." Says Scott, "We can really design something that's unique. We have the experience."
So don't go on commandeering other people's closets and living with wrinkled trousers and cluttered shelves. Take steps to improve your spacially challenged circumstances today–your trousers will thank you.
Ms. Terrell-Ernest is a freelance writer living in Queens, New York