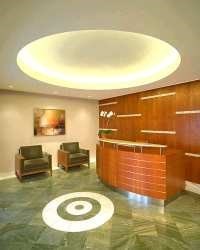 Perhaps it's been years since your lobby was last updated, and the décor is reminiscent of an aesthetic better left in the past. Or perhaps the lobby and common areas have are showing signs of everyday wear-and-tear, and are now a hazard for residents. Although the idea of revamping your lobby or other common areas might seem overwhelming—not to mention costly—the good news is that it can be done on a range of budgets.
Whether your budget is $50,000, $250,000 or $500,000, you can achieve an updated lobby that welcomes residents home and adds to the value of the building. After all, a lobby is more than simply the entrance to your building. "It's the prelude to a purchase and a buyer's first impression of the building," says Marjorie Hilton, president of Marjorie Hilton Interiors in Manhattan.
Before You Begin
While the scale of your project depends largely on your budget, the size and condition of your lobby will dictate how far that budget can take you. A small lobby without a doorman, for example, can be completely transformed (and perhaps be made unrecognizable) with high-end flooring and finishes for $500,000. However, the same budget may not allow for the complete overhaul of a much larger lobby with a doorman station.
"What you can do is relevant to the size of building," says Marilyn Sygrove, president of Sygrove Associates Design Group, Inc. in Manhattan. "Every building is unique and each has a personality, so the focus of their needs is slightly different from building to building."
"Before beginning anything, make sure you have a general understanding of what type of scope you have," says Rebecca Alston, president of Manhattan-based Rebecca Alston, Inc. "Are you addressing the lobby? The lobby and hallway? Define a scope and ask your designer to work with you to see if that scope seems realistic."
Mechanics Before Aesthetics
Safety is paramount during and after a refurbishment. In any redesign or renovation, address any safety concerns prior to mere aesthetics. A stone floor, for example, may look beautiful in your entry, but it may pose a risk to residents when it's wet.
"Flooring should be durable and safe," says Alston. "This means no slick stone in the entryway."
Your designer will also likely have to address practical matters before turning the attention to what looks nice. This includes bringing lighting up to code and making sure existing lighting is using the correct electrical load. He or she will also have to plan around any sprinkler systems intact and ensure that the design allows for any necessary exit or emergency lights.
"What you can do with your budget also depends on the lobby's condition," says Hilton. "If you're dealing with asbestos, which is dangerous to get rid of, that's an addition expense." And unlike design procedures that may allow you to cut costs, such as painting or installing flooring, asbestos removal is a must and requires professional attention.
While a lobby should be welcoming, it's not a living room; what might look nice in your own home might not be appropriate for your lobby. A large plush sofa, for example, encourages people to linger. "Zero-in on the importance of the room. A lobby is where someone may sit for a moment, get up and leave, or a place for someone waiting to take a taxi. It's not a place for them to sleep," says Hilton.
Design Trends and Luxury Finishes
Although the sky may not be the limit, a large budget might allow for opulent finishes that cannot be achieved on a more modest budget. Under normal circumstances, where the lobby is not severely damaged and does not need to be gutted, $250,000 to $500,000 can go far with the right plan and a creative design professional.
"I'm seeing stone floors, wood moldings, wood doors, and divided-light doors—panes of clear glass with wood between them," says Hilton. Other high-end trends include opaque glass, pricey lighting fixtures, white moldings and more expensive wall coverings, which are often of rich, heavy-duty materials and sometimes have a metallic sheen.
"In terms of trends, I'm seeing more streamlined and modern design," says Sygrove. "Today, less is more. New construction buildings are all very modern. But buildings that were originally rentals might have interiors that were very traditional. In updating them, we want the lobbies to be clean and not fussy."
Alston has observed that trends are often influenced by location. "Design needs are completely different on the Upper East Side than they are in Tribeca," she says. "The Upper East Side is much more high design, while Tribeca has more of an industrial influence."
Doing More With Less
If you aren't dealing with major structural issues or can't afford to gut your lobby, a fresh coat of paint can make a world of difference. For boards on a budget, changing the color of the lobby can make a big impact.
"Simplicity is the name of the game," says Hilton. Keeping the design simple will help you focus on areas in need of the most attention, such as wall coverings and flooring.
"For $50,000 for lobby or hallway work, you're really just freshening the basics," says Sygrove. "It's true that you get what you pay for, but a fresh coat of paint is worth a lot. First, it enhances the value of the property for potential buyers and looks well maintained, which is an important impression to give. Second, by updating a color—maybe doing a white or linen white for today—you'll give your lobby a more current feeling."
Flooring is another element that can run the gamut in price. But it's not something you should scrimp on—the experts feel it's worth making an investment in something that will experience a great deal of wear-and-tear. Hilton recommends selecting a durable surface, such as stone for flooring. "Your floors should be where your money goes," she says. "They are walked on every day by residents, the doorman and anyone who enters the building."
Lighting and paint or wall coverings are two elements that must complement each other. "Lighting will affect paint color," says Sygrove. "It can be as simple as choosing the correct color temperature of a light bulb. A cool white light bulb gives a cold feeling. But changing to a 2700k or 3000k warmer light bulb will have a dramatic effect on colors and the mood or feeling of the room."
Alston concurs. "Colors should work with the type of lighting you use. Fluorescents may change mauve to brown. The color and way it reads have everything to do with the light bulb. A wall color that looks tan might look gray under different light source," she says.
A lighting fixture itself can be a work of art, and you can select from a variety of options, including monopoint, chandelier, sconce, and recessed lighting, says Hilton. "You can mix it up. You might have a chandelier and two lamps. The size and shape of lobby will dictate the best way to introduce lighting," she says
"It's nice to have different kinds of lighting, such as sconces, floor lamps, and lighting on end tables," adds Sygrove. "It's more intimate than something that's overhead. There are ways of creating a different feel with lighting."
Working with What You Have
Sometimes a lobby won't need a complete overhaul. To keep costs down, determine whether you can update existing elements. For example, you might consider editing furniture you already have "Ask yourself: do you have too much furniture? Can you do more with less furniture? You might also want to reupholster and refinish existing pieces instead of splurging on new furniture," says Hilton.
The same goes for flooring. If it's not severely damaged, your designer might be able to work with it. "In a lobby that has a great terrazzo floor, we recommend the building keep it because it has interesting, classic pattern. Why spend money to replace it unless it's in horrible shape?" says Sygrove. "Wood paneling can be refinished and marble walls can be cleaned. Maintenance goes hand in hand with design."
Beyond the Lobby
Revamping or renovating can go beyond the general lobby area to include hallways, doorman stations and elevator cabs.
"For elevator cabs, a rule of thumb is that you will not get away with spending less than $15,000 for a plastic laminate cab. You'll need to spend at least $20,000 for a wood or stone cab," says Sygrove.
Changing door hardware in hallways is another fix that makes a subtle impact. When updating the hallways, however, keep in mind that it's a project that might be difficult to complete in phases, as the area will look unfinished. "Hallways can't really be phased, so you should do what you can to the lobby at once," says Sygrove. If you're on a tight budget but need to address the hallway, she advises changing the lighting and painting to make a difference.
If you're addressing hallway flooring, Hilton notes that carpeting is often used because it dampens sound. It's also a more forgiving type of flooring, as opposed to cork or some wood floors.
Working with your existing doorman stand or station can help breathe new life into a dull area as well. Sygrove suggests refinishing the wood or adding a new top or marble slab to the station. "Update if you can, as a new doorman station can range from $15,000 to $20,000 and up, depending on the size."
Working with (Not Against) Your Designer
One of the biggest money-savers is your approach to the design process. "You have to know how to make decisions to move a project along quickly," says Alston. "Time costs everyone money."
Limiting the number of people who deal with the designer will help move the process along. In turn, it's crucial to choose a designer you trust, says Alston.
"You should avoid micromanaging and have the team as tight as possible," Alston continues. "You might scout around a building for a knowledgeable person to be the liaison between the board and designer. Find one or two people or board members who understand aesthetics—likely people who already have a background in design or construction. Keep the building's management involved in what's going on and make sure bills are paid on time. Have a tight team to avoid delays."
While stories abound about projects delayed or forced way over budget by the "too many cooks" syndrome, the truth is that whatever your building's budget, with a good plan, an engaged professional, and some old-fashioned creativity, you can improve your building's entry areas to freshen their appearance and increase value for residents.
Stephanie Mannino is a freelance writer living and a frequent contributor to The Cooperator.