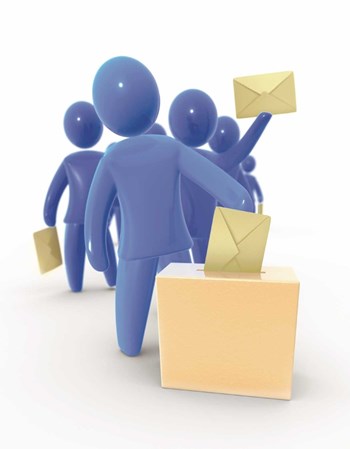 Every co-op and condo community has a board of directors in charge of governing the community's finances, physical maintenance and other day-to-day business. Part of the board's responsibility also is to keep the community fiscally sound, though not all boards do a good job of this task. Given all that, it's easy to see why it's important for residents to choose their community's board members carefully.
How it's Done
Boards are generally elected by building residents, but the process by which they are elected varies from building to building because the election itself is usually mandated through the community's bylaws. Residents elected to the board of directors bring a variety of skills to the office, but not all directors are equally knowledgeable in the various aspects of their job. The process of running elections for new board members is one task that the board can bungle, sometimes with disastrous results.
Residents of a community who believe an election was conducted improperly can challenge the results. The matter can wind up in court, costing the dissenting residents and the community a lot of money in legal fees. In the process, neighbor can be pitted against neighbor and hard feelings can unwittingly be engendered—sometimes, over a seemingly simple misunderstanding of how to properly conduct a community's election.
Nobody wants to be viewed as a possible cheat by his or her neighbor because election rules weren't specific enough in governing a board's election, or because board members themselves weren't aware of how to correctly run the process. That's why it's essential to understand the correct procedures in an election so that it runs smoothly and fairly. A properly-run election helps to avoid the appearance of impropriety and lessens the risk that the election will be challenged.
Democracy at Work
Most co-op buildings or communities have election rules detailed in their bylaws. Many call for yearly elections of board members—usually during the annual resident or shareholder meeting.
Sometimes, the bylaws go so far as to specify the exact month when elections will occur but such specificity is not required. Boards usually hold elections in the spring, after the community's financial statements are ready, says Robert Tierman, an attorney and a partner with Litwin & Tierman PA in Manhattan. The annual meeting might happen anywhere from April through June.
In most cases, the entire slate of board members is replaced—or at least voted upon. Each of the board members is usually elected to serve a 1-year term. Because of this process, in some communities inexperienced board members often are behind the curve of knowledge required to run the community efficiently, and as a result make amateur decisions on weighty matters.
That inefficiency is leading many boards to consider changing their bylaws to have board members elected on a staggered or rotating term basis, so that there is some continuity of experience on the board, said Ronald A. Sher, an attorney and co-owner of the Manhattan law firm of Himmelfarb & Sher, which specializes in work relating to co-ops and condos.
"Some boards also are considering changing requirements of membership on the board to require that the member must be a shareholder and a resident," Sher says.
The board and/or property manager are responsible for promoting an election to building residents and for facilitating the election process. Generally, the community's bylaws require that a written notice of the election be sent to residents in advance of the vote—usually at least 10 days and no more than 40 days prior to the election. Residents should consult their community's bylaws to see when notice of an election must be sent.
"The annual meeting is always presumed to include the election of a new board," Sher says.
When a board of directors appears to be doing its job well and running the community's affairs smoothly, residents can become apathetic. In such cases, many residents will not even attend the annual meeting when the vote for directors typically occurs. In some community's annual meetings, it can even be difficult to obtain a quorum—which is a majority of unit owners attending or casting their votes by proxy through another voter. Failure to achieve a quorum will mean that no board business can be conducted, including the election of board members.
It is not entirely uncommon for a board of directors at an annual meeting to send out people to collect written proxy votes from residents living in the building, so that the board can achieve a quorum and have an election. The distribution, collection, verification and tallying of the proxy votes is a matter that can be complicated, and sometimes is best left to a tabulation or election coordinating company.
Usually, a paper proxy ballot is sent to voters in the building when notice of the election is sent. The unit owner sometimes can fill out the proxy and send it back to whomever is running election—the management company, attorney, or election coordinating company—or a designated agent for the voter, such as another unit owner. Sometimes, residents appointed by the board as inspectors of elections will help with the collection of proxy votes.
Dealing with proxies and with the other ballots cast can be tricky, especially during a hotly contested election. For that reason and because of other rather arcane details of elections, some boards choose to employ outside experts in running their elections.
Getting Help
Tabulation companies make what can sometimes be a difficult election process run smoothly, so that results are rarely contested and if they are contested, they will not be overturned in court. Hiring an outside professional such as a lawyer or tabulation company to oversee the election helps to provide some transparency in the process. And when residents approve of the way the election was run, as they usually do when outside professionals oversee it, they seem to accept election results more readily.
Experts suggest that boards employ outside professional help for hotly-contested races where results might be disputed by some residents.
Transparency is important in the election process, says Al Pennisi, president of the Federation of New York Housing Cooperatives & Condominiums (FNYHC) and an attorney with the Queens-based law firm of Pennisi, Daniels & Norelli. His company helps run meetings for boards of directors of various communities.
"At our meetings, we have a tally [of the vote] in front of unit owners so they can watch the process. The shareholders want to see what's going on and it gives transparency," Pennisi says.
Not everyone employs that method of counting votes, partly because some individual votes that are cast in an election could turn out to be invalid.
Linda Gibbs, of the century-old Honest Ballot Association election coordinating company, says her company doesn't count votes the night of the election because ballots must be verified before being considered valid and counted in the vote. The ballots of residents who come to the meeting and vote in person are easy to verify, since they sign in with election inspectors or with the outside consultant, but proxy votes are another matter.
The signature on the proxy ballot must match the proprietary lease, Gibbs says. That's why her company checks and compares signatures on leases with the signatures on the proxy ballots.
Most often, votes for boards of directors are done by paper ballot at the annual meeting. In some rare cases, votes are done by hand. The latter method is discouraged by professionals familiar with best practices for community elections, since having a paper trail of the vote is essential.
The paper on which, and wording by which the election is promoted and executed by the board, also is important, Gibbs says. In court, a proxy vote written on a napkin might well be acceptable, but the wording on ballots and other election literature still should be clear to avoid any problems with the vote.
"We write the election paperwork in laymen's terms, so people understand it and the process goes more smoothly," Gibbs says. "Election companies can help with the wording of election literature, to create a better line of communication in the vote."
Gibbs advises boards to farm out their elections to impartial outside companies, because companies such as hers don't care who wins the election. "Elections should not be run in-house," she says.
Counting Votes
Often in building elections, employees of the management company count the votes, with the oversight of inspectors of election, who are appointed by the board of directors. Usually the voters' ballots are sealed and either collected by inspectors or placed by voters in a ballot box prior to the tally. Elections aren't truly limited to just once a year, insofar as residents might initiate a special election, if they feel it's needed.
Residents who are not members of the board can call for a special election if they are not happy with the performance of the board that is running the building. These dissenters will ask for a recount of the votes, which could be done by an outside consultant to ensure impartiality.
An attorney also can be an impartial observer of elections, Sher says. "I will monitor inspectors of elections in their tabulation process," he says.
To remove one or more board members, some communities stipulate that such a move can happen with a petition signed by a certain percentage of the shareholders—usually representing 25 percent of the interest in the building. In such a case, the residents would submit the petition to the secretary of the corporation, who would then distribute a written notice in advance about the meeting and the special election.
"Most of the election fights go on when the developer or sponsor [of a community] is holding onto the board longer than he should," Tierman says.
If the board of directors refuses to hold new elections when residents are demanding them, residents might have to go to court to get the new election, Tierman says.
And remember that your vote is an important part of the board/ shareholder experience. As former President Harry S. Truman, so sagely advised, "It's not the hand that signs the laws that holds the destiny of America. It's the hand that casts the ballot."
Jonathan Barnes is a freelance writer and a frequent contributor tothe Cooperator.