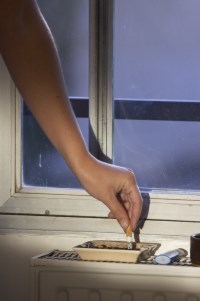 Want to hear a phrase that will scare away just about any potential homeowner—"Sick Building Syndrome."
"Sick building syndrome (SBS) can be summarized as all the situations associated within a building's ventilation system which leads to acute health problems or comfort effects, as experienced by the occupants of that building," says Robert A. Madarasz, president of Envirospect, Inc., an air testing company in Smithtown. "These acute health problems and comfort effects are direct results of being within the confines of the building."
While some may think that there can only be health risks in commercial structures, there's been a lot of press lately about the "sick building syndrome" in residential homes. Over the past decade, more and more people have become aware of the issues surrounding indoor air quality in multi-family buildings and the sort of health problems that can occur.
"Building residents sometimes experience health problems based on the poor quality of the air they are breathing," says Maria Vizzi, president of Indoor Environmental Solutions, an air duct cleaning company in New York. "This air may contain contaminants due to improper air flow. This happens most frequently with newly constructed buildings, 'tightly sealed' buildings that depend on the HVAC system or strong roof fan blowers for the air exchange. Prewar buildings tend to have more windows throughout the apartment, which allows for more frequent fresh air exchange."
There are solutions to treat sick building syndrome. To alleviate the fears of its residents and prevent the health problems that can stem from stale, dusty or mold-contaminated air, many co-op and condo buildings are formulating and implementing maintenance plans that include regular inspections of their HVAC system, as well as periodic duct cleanings to keep allergens and irritants to a minimum.
"It's important that people understand that there are things in the air that can be damaging," and they can't be ignored, says Robert Sindone, owner and certified indoor environmentalist for IAC-Moldbusters on Long Island. "If they act on it quickly enough and maintain a program, things can be fixed and it will be much healthier for everyone who lives there."
Where Is It Coming From?
In condos and co-ops in the area, often these conditions occur due to poor building design and/or inconsistent maintenance. Problems involving biological and chemical contamination arise as a result of poor or inadequate ventilation.
According to Vizzi, there are four main culprits that may cause SBS.
Improper air ventilation:A ventilation system is vulnerable to outdoor and indoor anticipated pollutants such as dust, bacteria and other small particles that are inhaled. This may cause irritation to eyes, headache and other symptoms caused by poor air quality.
Contaminants from inside:This consists of any material that is generated by indoor sources such as cleaning agents, pesticides, carpeting, dust, etc. Also, many indoor contaminants emit VOC's (volatile organic compounds) which, based on research, can cause occasional health discomfort.
Contaminants from outside:The air from outside that comes in through dirty air intake vents containing pollutants originated from the open air.
Biological contaminants:There are various types of biological contaminants. Pollen, mold and bacteria are capable of duplicating in water that might be accumulated in humid areas such as the ducts or any household humidifiers.
There are some other things to look out for.
"Mold, bacteria spores, pollen and viruses may be caused by standing water within the system from condensation, clogged filters or inadequate general maintenance," Sindone says. "High moisture content, bird feces, indoor and outdoor effluents can all contaminate the air conditions within the building."
Based on geographic location, indoor air quality may be compromised by the breakdown of uranium naturally found in the bedrock.
"The radioactive half life of this substance results in the release of Radon," Madarasz says. Radon is believed to be linked to certain diseases, including cancer, according to Madarasz.
Health in Jeopardy
Indoor air quality can be compromised anywhere depending on the maintenance, design and location of a building. Consideration of the purpose and location of the building is an important part of determining the susceptibility of being diagnosed with sick building syndrome.
"Typically buildings most susceptible to sick building syndrome are newer buildings that do not provide adequate ventilation," Madarasz says. "With today's energy consumption concerns, which include heating and cooling costs, building materials that provide tight seals have become popular with newer buildings. The need to save energy has led to the construction of the air tight building, often with windows that do not open. As a result of these new building practices the only ventilation that serves the building are the installed heating and cooling systems."
Board members and managers need to keep their eyes and ears open. Complaints are usually the most obvious indicator of substandard indoor air quality.
"People complaining of upper respiratory conditions, experiencing headaches or nausea, often are indications of inadequate ventilation," Madarasz says. "Prior to any physiological ramifications from being in a 'sick building' it is not uncommon for a noticeable decrease in performance from workers. These symptoms are all related to the depleted or insufficient supply of oxygen within the building."
"Typical symptoms experienced by residents or occupants of a building are irritated upper respiratory symptoms such as coughing, wheezing, throat and eye irritations, skin irritation, nausea, headaches and fatigue," Sindone adds. "These symptoms can be the result of poorly ventilated areas, strong odor throughout the building, mold/bacterial spores, viruses and building materials containing VOC's."
Clearing the Air
When problems do happen, the situations should be addressed by a professional.
"To obtain a representative sample of the air quality in a specific area of a building samples are recommended to be collected and analyzed," Madarasz says. "Air quality samples should be tested for all possible contaminates that may be found in the air."
Indoor air quality can be tested by just about anyone; DIY kits are available at your local hardware store. Although these tests offer immediate results, findings are often inaccurate or misinterpreted. It is recommended an investigation be performed by professionals to follow up on the complaints and to identify the source of the problem through the utilization of laboratory analysis.
Once any problem with the air is fixed, it's necessary to keep up a stringent maintenance program to ensure that no other problems arise.
"In most buildings, we clean all of these vents routinely, on a certain schedule," Vizzi says. "That's one issue that is critical. You really need to have a schedule of routine maintenance."
It is a general rule of thumb that all ventilation systems within the building be professionally cleaned every three-five years depending on the type of activity performed in the building and concentration of people. Inspection of a building should take place regularly to ensure no blockage within the return or supply lines has occurred. Communication between the management and the maintenance crew is essential for maintaining the integrity of the ventilation system.
Keep a Maintenance Schedule
Indoor air specialists work on either a retainer system or on a job-by-job basis, however depending on a variety of factors a commercial or residential building manager may hire professionals to perform a one time service.
"Often an indoor air specialist company isn't called in until there is a noticeable problem, at that time a specialist may be retained by the building manager/owner," Madarasz says. "Pricing depends on the job and conditions. Depending on the work done, a pricetag for services can range from a $350 inspection to a hygiene investigation/ duct cleaning of a multi-story building, ranging in the tens of thousands."
Rob Stein is the board president of The Astor Terrace and has worked with the air professionals to help with his building. "We have 288 units in 33 stories and I'd say that over the last six years, we've had about a handful of complaints, but we take them very seriously," he said. "As a result, I've hired engineers to come in and inspect the building and correct the problem. They go through the shafts and the exhaust air and have advised us to increase the motor strengths; change the pulleys to improve the air flow, etc."
Overall, maintaining balanced, proper airflow through routine maintenance is the most important factor to ensuring excellent indoor air quality, odor elimination and a healthy living environment.
Keith Loria is a freelance writer and sports reporter living in Larchmont, New York.