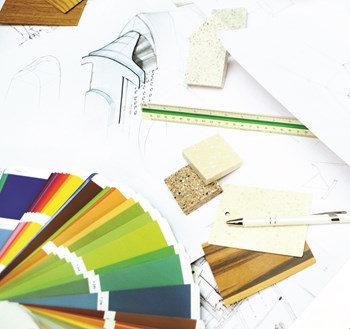 Wouldn't it be wonderful if everyone completed renovations on time? Reducing the time the construction process takes in a cooperative or condominium building benefits everyone. The renovators are able to occupy their apartments sooner, which can result in substantial savings; neighbors are not unduly inconvenienced; and the anxiety levels of the building's board of directors, managing agent and staff are considerably reduced. If the renovation of a private home is not well thought out, it usually affects only the homeowner and the contractor. But a poorly planned and poorly executed apartment renovation can affect everyone in the building.
Timely Completion, Minimum Disruption
The boards of directors can minimize the disruption and inconvenience caused by apartment renovations by educating their residentsthose challenges make to think their renovations through in advance, to prepare proper specifications, to understand the bidding process, to understand proper project management and timelines, and to plan for contingencies.
The key to any successful project is careful planning, superior communication, great timing and an ability to think on one's feet.
Often when people submit plans to a board for approval, few if any decisions have been made other than those shown directly on the plans. But there are hundreds of decisions concerning the selection of appliances, fixtures, fittings, cabinets, finishes, hardware and millwork and the placement of furniture that can significantly affect the timing of the project.
One example in which careful advance planning benefits everyone is in the area of electrical work.
Renovators need to know that without an accurate and detailed electrical plan, it is likely that they will have to pay for costly change orders and that their neighbors will be disturbed by the relatively noisy process of an electrician channeling into common walls more than once during the renovation project. It is extremely important to finalize the exact locations of lighting and electrical outlets, cable outlets for television and computers and termination points for stereo components and telephones before construction begins, so that the outlets are properly placed before apartment walls are closed in. Since the proper location of most of these items depends upon furniture placement, it is important to create a furniture plan and to select electrical fixtures early in the process, before the electrical plan is prepared.
Accentuate the Positive
The fact that a renovator cannot begin construction until the board of the cooperative or condominium gives its approval means that there is a built-in delay between the completion of initial plans and specifications and the beginning of construction. Renovators need to know that this should not be viewed as a negative, since it affords them the opportunity to finalize as many decisions as possible in advance and to add details to the plans and specifications that will save them a lot of time and money. A shift of focus from "How soon can we get started?" to "Are we really ready to proceed in the most expeditious and economical manner?" should eliminate any resentment that renovators might feel toward those exercising building oversight responsibilities.
Value of a Comprehensive Bid Package
In my experience as a designer with over 25 years experience in renovation projects in New York City, a comprehensive bid package containing detailed specifications can cut the total elapsed time that the project will take by more than one-third and the cost by about 20 percent, without compromising the quality or integrity of the design. A comprehensive bid package makes it more likely that contractor bids will be accurate and that the owner will be in a position to make an "apples to apples comparison" and select the best contractor for the job. Since price is normally a consideration when choosing a contractor, it is important to ferret out the contractors who "low ball" their bids in the hope that they will make up their "amazing" price with numerous change orders after the project is well under way.
Owners need to understand that sThat is because significant cost savings can be realized by minimizing the need for (or eliminating, if the specifications are sufficiently detailed) change orders. For instance, even the most scrupulously honest contractor in the world will expect to charge a premium to move a sconce after the walls have been smoothed, since that one move may affect multiple subcontractors (some of whom may be busy with other jobs), resulting in the expenditure of additional time and money.
In addition, s, electing and specifying fittings, tiles, etc. before construction begins also gives the renovator the widest range of options, including many attractive and well-priced items that may have long lead times for manufacture and delivery. Renovators need to understand that land making decisions in advance gives the widest range of options including moderately-priced items with long lead times, ast minute decisions may result in their having to choose between compromising quality and spending more than originally intended. That's because manufacturers customarily stock only items that are very inexpensive to produce or those for which they can charge a considerable premium. whereas if a decision is delayed the choice for each item is limited to what is in stock, only the least attractive (cheapest to stock)or the most expensive (most profit) items
Help is on the Way
Because of all of the technical and procedural challenges involved in the renovation of an apartment in New York City, it is best to work with one or more qualified design professionals. SA seasoned design professionals can help a client make the right decisions in a timely fashion, solve the design challenges presented by high-rise buildings, ensure that the building staff is not overburdened by the project and generally help keep the client out of trouble. Registered Architects, New York State Certified Interior Designers and Certified Kitchen and Bath Designers have all passed stringent, nationally administered tests that represent tangible proof of their technical expertise relevant to the renovation process.
In addition, there is no substitute for experience when it comes to coping with the logistic challenges that renovating an apartment in New York City entails. For instance, someone who is not used to working in older apartment buildings may not be aware that special attention needs to be paid to pipes, vents, electrical risers and other elements that are shared with other apartments.
The best way to avoid problems is to hire contractors and design professionals who have worked on similar projects in similar buildings because they will plan in advance to cope with previously experienced challenges, such as limited hours during which construction can be done, site protection requirements, noise concerns, freight elevator access limitations and parking limitations. For instance, someone without prior experience working in buildings that have been designated as landmarks would not understand that a seemingly simple change like replacing an unattractive window could become a very complex undertaking. Often, pipes, vents and structural columns can get in the way of an efficient room layout. Because these risers and structural elements are shared with other apartments, they normally cannot be moved. Knowing how to design around such limitations can be key to a successful renovation project.
A Win-Win Situation for Everyone
A board can have a significant impact upon the duration of (and disruption caused by) the renovation of individual apartments without having to add any new rules and regulations. It's really only a matter of educating the building's residents about the benefits of careful advance planning and working with people with proper expertise and experience, particularly on similar projects. Since the educated renovator will save considerable time, money and aggravation by doing things properly and the board of directors will minimize disruption to its building, this is clearly a win-win situation for all involved.
Susan Aiello, ASID, president of Interior Design Solutions, (www.idsny.com) is a New York State Certified Interior Designer.