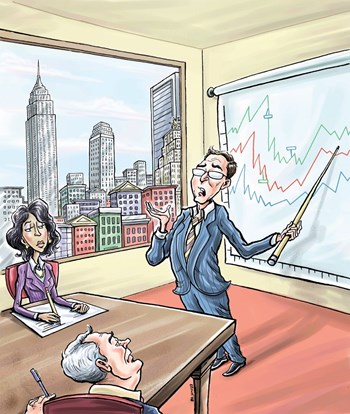 As 2007 came to a close, it seemed that the real estate market in nearly every part of the country had cooled. But in New York City, although movement had slowed, the market did not take a downturn as many had expected. Co-ops and condos continued to move—although perhaps without the buying and selling fervor that characterized the earlier part of the decade.
Then and Now
New York City's real estate landscape has changed from the early part of the decade, when prices were skyrocketing and bidding wars were commonplace. Although properties in Manhattan and its surrounding areas continue to be highly sought after, industry pros say the explosive pace of buying and selling has slowed and prices have not increased exponentially as in years past.
"It was basically a crazy market," says Jacky Teplitzky, managing director at Prudential Douglas Elliman, of the early-aught years. "In that era, it was all related to the dot-coms, and you had people who made money overnight—a lot of young people who had a lot of cash in their hands, who went out and bought property. Whenever you put something on market, you had a bidding war, and people were willing to pay whatever price just to get the property. It was more about 'I want it, and I want it now.' But I don't see that now." Teplitzky notes that she has seen bidding wars occur over some properties that are very well priced—but not nearly in the same numbers or ferocity as in the early 2000s.
Indeed, Manhattan was not the only part of the city to experience an explosion of the real estate marked in the early part of the millennium.
"In 2000, you were seeing unheard of prices," says Brendan Aguayo, director of business development at Aguayo & Huebener Realty Group in Park Slope, Brooklyn. "Those four years were the golden time of real estate in New York. The sky was the limit, and Brooklyn was coming to be this sort of condo mecca. There were very low interest rates, and we had more than 100 people at every open house, including lots of people from Manhattan."
During that time, areas such as Park Slope and Carroll Gardens experienced a great deal of activity, but he says, "Now it's more spread out and people are investing more in outer-lying areas."
Stability, Or Decline?
By comparison, 2007 did not experience nearly the same amount of activity, although nobody is suggesting that there's been anything like a lack of interest in properties in and around Manhattan. There's been talk of a bona fide downturn in the market, but Teplitzky doesn't see one.
"The appreciation between 2006 and 2007 was still positive," she says. "We did not go up in price, but we also did not go down. We basically stayed stable. Right now, I'm seeing a stable market—not a declining market. Towards the end of 2007, you had much less inventory than in the beginning of the year, and we had a steady demand, and that's what kept the city afloat."
According to 2007's Luxury Residential Report, there was a decrease in the number of co-op sales due to the lack of inventory on the market last year—a trend echoed in a report researched and authored by Kirk Henckels, executive vice president and director of private brokerage with Stribling & Associates.
"Despite the sturm und drang of the last quarter of 2007 and the extreme current turmoil in the financial markets, the luxury real estate market over $5 million continued to break records throughout 2007, even in the last quarter, and it has continued to do so into 2008," said Henckels. "Granted, the dollar volume was off for cooperatives in 2007, but only because of very limited inventory at the top of the market, which had declined by as much as 30 percent over 2006."
Henckels went on to say that "After a huge, 40.4 percent growth in 2006, the 2007 luxury cooperative market over $5 million was strangled by a lack of inventory. While remaining over the $1 billion mark, total volume of cooperative sales fell 6.5 percent to $1,286,683,310 in 2007 from $1,376,452,286 in 2006. Likewise, the number of sold units fell 17.4 percent to 128 in 2007 from 155 in 2006."
According to Yale Robbins, Inc.'s Condo-Sales.com report, although there have been fewer units sold in 2008, (an 18 percent decrease in sales from 2007), the average sales price is up quite a bit. Last year, the average price of a Manhattan condo was about $1.3 million. By comparison, this year, of the 8,107 units sold—the majority being one and two bedrooms—the average sales price was around $1.6 million. The average condo sales price is evidence that the Manhattan market has remained relatively strong, especially in comparison to the rest of the country, but with looming talk of recession and the subprime mortgage crisis, buyers seem much more reticent than they have in past years.
Aguayo concurs. "We haven't seen a downturn, but people are looking at their numbers harder and holding off on buying," he says.
"Buyers are more cautious about their decisions," says Teplitzky. "Now they want to see every single apartment available in their price range before making a decision. They're nervous; they're doing much more due diligence. Many hire engineers, and I've never see that here in New York; it's quite unusual. Everything that has happened from last summer to end-of-year is now coming down to everyone being more cautious and more diligent about checking out the buildings and making sure they're making the right decisions."
Co-op vs. Condo
When it comes to whether house-hunters are springing for co-ops versus condos, preference largely depends on what each buyer is looking for—and that's nothing new.
For her part, Teplitzky feels condos were more popular in 2007. "The reason is because all the new construction or conversions you have are all condos. People want to have more liquid assets. The want to know that they will be able to trade up, and not be tied into a co-op."
Indeed, buyers were drawn to the number of new condos on the market in 2007.
"Explosive is the only appropriate word to describe the 2007 condominium market," says Henckels. "It is the unique nature of this market that it experiences statistical swings as each large development project starts to close. In the case of 2007, there were multiple large, super-luxury developments that came to closings. The most prominent of these is The Plaza which, with 181 residential condominium units and 152 hotel condominium units, has a projected combined sellout of just under $2 billion. Not far behind is the development of 15 Central Park West. Both set new standards for luxury and both had sales over $6,000 per [square] foot."
But there is still an enormous difference between the amount of co-ops in the city compared to the number of condos.
"Eighty-five percent of our inventory is still co-ops," says Teplitzky. "There's a gap in pricing. In a co-op you can still find a two-bedroom for $1 million and you won't find that in a condo. And some people want to have the comfort level that co-op living brings to them."
Outside Manhattan
With Manhattan's notoriously high prices, some buyers are heading slightly further out, to areas such as Riverdale. While it's not necessarily the next "hot" area, Shmuel Jonas, developer of Riverstone Condominium in Riverdale, thinks it presents buyers with a comparable-but-more-affordable alternative to areas such as the Upper West Side. Jonas says he's seen a lot of migration from Manhattan to Riverdale, just north of the Upper West Side.
"Generally speaking, if you live on the Upper West Side and you either rent or own a one- or two-bedroom and you're starting a family or downsizing, this is the only neighborhood you could move into and still feel comfortable," he says. "I see a lot of people moving here from the Upper West Side because we're one-third of the price. Condos here are starting at $500 per square foot."
And while Riverdale offers affordable prices, Jonas cautions buyers to look at area real estate as a long-term investment—not something to flip in the near future.
"I would buy here because I want to live here and I love the building. I just don't see markets in general going up stratospherically any time soon, in my opinion," he says.
In Riverdale, which has approximately 300 co-op buildings, co-ops still greatly outnumber condos as in other areas of the city. But condos are beginning to have more of a presence in the area as well.
"Co-ops are still more popular because there are more of them in Riverdale," Jonas continues. "The first condo in 30 years was completed in 2004. There are probably seven new projects that will be completed this year, and another two or three that will be completed in 2009. There's a lot more happening in terms of condo development than has ever taken place before."
For other buyers, Brooklyn continues to be an alternative to pricier residences in Manhattan. Overall, 2007 was a good year for Brooklyn real estate, says Aguayo.
"The economy in terms of the mortgage crisis didn't really help, but it didn't hurt either," he says. "Banks were requiring more of a down payment and not doing no-doc loans, but in general our buyers fared pretty well. Pricing in luxury markets didn't decrease. We didn't see the jump that we'd seen before, which was maybe 15 percent over the previous year. In 2007, it was more of a five percent to 10 percent increase."
Aguayo goes on to say that, "In the last year we didn't see too much impact, in some respects. Wall Street bonuses have played roles in Brooklyn, but last year didn't have too much impact. Most of our buyers—about 60 percent—were already here in Brooklyn, and the remaining buyers were coming from Manhattan and elsewhere in New York," he says.
Buyers' Wish Lists
Certain amenities—such as a doorman or a concierge—are always high on the list of buyers' wish lists. But what else were people looking for in co-ops and condos last year?
Many full-service buildings are trying to be creative with their amenity offerings, says Teplitzky. "Some things are being taking for granted, such as a doorman—you have to have that. Many people want to have a children's room. They're also looking for a gym and all the extras, such as a swimming pool. Some buildings have a dog run and outdoor space."
Automation is one trend that is likely to continue to grow, says Aguayo.
"One thing we have is a home automation system, where the apartment is pre-wired and has iPod docks, wireless network hubs, music in every room, Internet control of heat and AC, security cameras that can be checked from computers. More automation will make life easier, and that will be a hot trend in the coming years."
And in a city where space is at a premium, buyers are looking for good layouts and storage, says Aguayo. "Storage is the number one amenity," he says.
Heating Up…and Cooling Off
Although Manhattan in general continues to see many sales, Teplitzky says she does see some once-hot areas cooling a bit.
"I think Tribeca and SoHo are cooling off," says Teplitzky. "If you go there on the weekends, you cannot walk on the streets. There are tons of tourists. People moved there because of the loft life and the quiet, and it's not like that anymore. The areas are still hot, but I think people who were living there are now looking into other areas. It's too gentrified right now."
"The Financial District is still not a 24/7 neighborhood," she continues, "but I think the city is finally getting it. They've opened a Whole Foods Market and they're trying to have a 24/7 community here. I think we'll see a lot of money being invested here."
In addition, says Teplitzky, areas that will continue to appeal to buyers are the West 40s and 30s next to the Javits Center, the Garment District, the Upper Upper West Side (from 125th Street and up), the East Side above 96th Street Chinatown and NoHo. For people who want to spend less, areas such as Inwood and Spanish Harlem, and areas that are convenient to transportation in Brooklyn and Queens are attracting buyers.
In Brooklyn, Aguayo sees many people making the move to the South Slope, Sunset Park, Prospect Heights and Gowanus.
"Younger people are migrating to the South Slope, south of 9th Street up to 28th Street, because it's edgier and hipper," he says. "Williamsburg, Bed Stuy and also Red Hook are sort of slowing down quite a bit."
Despite fluctuations in some parts of the city, realtor professionals agree that even with a slowdown, the market in New York City will likely continue to be robust, driven in part by the mere fact that it is, after all, New York.
"There's nothing like New York," says Teplitzky. "Every demographic group wants to come to Manhattan. There's always something happening in the city—it has diverse neighborhoods, and the young crowd wants to be here. Empty nesters from Long Island and Westchester want to have a place here for the weekend so they can come here and go to the theater and go shopping."
It's even a place for retirees: Teplitzky's own mother-in-law is a recent transplant from Charlotte, North Carolina, and is enjoying the ease of the city's public transportation.
"New York is where it's at," says Jonas—a statement that quite possibly explains it best.
Stephanie Mannino is a freelance writer and a frequent contributor to The Cooperator.