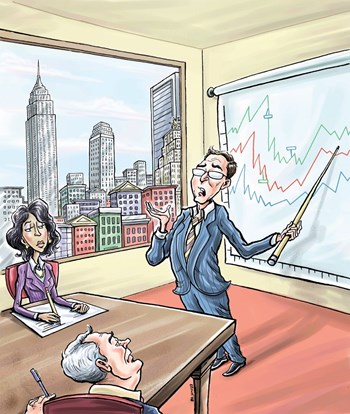 As 2007 came to a close, it seemed that the real estate market in nearly every part of the country had cooled. But in New York City, although movement had slowed, the market did not take a downturn as many had expected. Co-ops and condos continued to move—although perhaps without the buying and selling fervor that characterized the earlier part of the decade.
Then and Now
New York City's real estate landscape has changed from the early part of the decade, when prices were skyrocketing and bidding wars were commonplace. Although properties in Manhattan and its surrounding areas continue to be highly sought after, industry pros say the explosive pace of buying and selling has slowed and prices have not increased exponentially as in years past.
"It was basically a crazy market," says Jacky Teplitzky, managing director at Prudential Douglas Elliman, of the early-aught years. "In that era, it was all related to the dot-coms, and you had people who made money overnight—a lot of young people who had a lot of cash in their hands, who went out and bought property. Whenever you put something on market, you had a bidding war, and people were willing to pay whatever price just to get the property. It was more about 'I want it, and I want it now.' But I don't see that now." Teplitzky notes that she has seen bidding wars occur over some properties that are very well priced—but not nearly in the same numbers or ferocity as in the early 2000s.
Indeed, Manhattan was not the only part of the city to experience an explosion of the real estate marked in the early part of the millennium.
"In 2000, you were seeing unheard of prices," says Brendan Aguayo, director of business development at Aguayo & Huebener Realty Group in Park Slope, Brooklyn. "Those four years were the golden time of real estate in New York. The sky was the limit, and Brooklyn was coming to be this sort of condo mecca. There were very low interest rates, and we had more than 100 people at every open house, including lots of people from Manhattan."