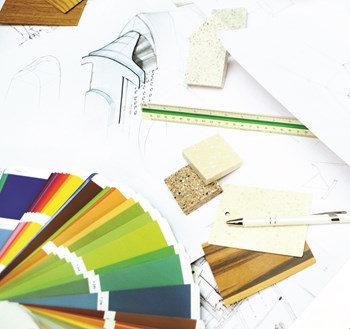 Windows—the number, shape, tint, and finish of the glass—are as much a factor in a building's overall character as its architectural design and construction materials, and can either add or detract from a building's curb appeal. Even the most beautiful windows lose a lot of their appeal if they're not properly cleaned and maintained, and sometimes older models need some help to counter the realities of a modern city. Today, windows are available that can help reduce noise and UV rays, along with the usual wind, rain, and snow. Changing or upgrading your building's windows is no weekend project—it's expensive and time-consuming, and requires a certain amount of legwork to understand what's on the market and what's best for your building. As with any major improvement project, a well-trained professional can be a great help in navigating your project.
Window, Window, on the Wall
Although a wide array of styles and shapes of windows are currently available on the market, selecting the right window style for your building depends on its age and the preferences of its residents.
According to Frank Manzella of Thermo Roll Window and Door Corp., a commercial window manufacturer in West Babylon, some of the most popular types of windows being installed these days are "tilt-and-turn windows, especially in the new buildings. They can tilt inward like a van door for cleaning, and tilt outward at the top for ventilation. The hardware is made in Europe and we hold a U.S. patent."
As the tilt-and-turn models are requested more and more, says Manzella, consumers are getting away from the more old-fashioned double-hung windows. "The double hung has a bar that goes across the pane," says Manzella, "and has been the most popular design since the days of Abraham Lincoln. The tilt-and-turn window looks more like a picture window, and operates so it's like three windows in one."
Dennis Gagne, vice president of commercial sales for Pella Windows & Doors in Manhattan, says his company specializes in aluminum-clad wood windows, which feature an aluminum exterior and a solid-wood interior. While popular with certain older buildings, aluminum-clad wooden windows are limited by size. "We find ourselves installing those in a very small percentage of [new construction] because of the size limitations of this particular product," says Gagne. "And most of those products, we find, are aluminum-clad, casement-type windows."
Ye Olde Windowes
One important consideration with regard to window replacement in New York City is that many properties here are prewar buildings—many of which are designated landmarks and which feature a different aesthetic style as well as a different architectural style than their more modern counterparts. Replacing or even maintaining windows in these buildings is somewhat more involved than in newer construction.
If a building has landmark status, contractors and architects must work closely with the city's Landmarks Commission and Department of Buildings to ensure that any kind of maintenance or new construction work does not alter or compromise the building's exterior—and that includes replacing old, worn-out windows with modern approximations of the historic originals.
"It's all handled through the Landmarks Commission," says Gary Nebiol, president of Air Flo Windows in Brooklyn. "You have to submit an application, and then they have to approve it. The work is all permitted—and you have to receive a permit to be able to work."
"A big limiting factor is that many of these prewar buildings are in landmark districts, so they come under the jurisdiction of the Landmarks Commission, which in turn dictates what the new windows have to look like," Gagne adds. "For the most part an existing building in a historic district needs to follow the landmark guidelines and have an application for window replacement approved on a unit-by-unit basis, or on a master plan basis for the entire building."
However, Gagne does point out that occasionally there is some minor wiggle room based on the guidelines or the negotiations as they wend their way through the Landmarks Commission. Gagne says his company applies for the necessary permit on behalf of the owners at a staff level, but if it needs to go to a hearing level then the building needs to hire its own lawyers and architects to make a presentation to the Commission.
And while landmarked, prewar buildings do have certain limitations, Nebiol points out that they also have options, thanks to constantly-improving technology and design that allows the newest innovations to blend seamlessly with 100-year-old facades.
"If it's a landmark building, often replacement have to be wood," says Nebiol, But there are hosts of aluminum windows on the market that can be used, too—double hung, casements—there's millions of them."
"Prewar buildings typically have wood double-hung windows," says Gagne. "The people who buy into those prewar buildings tend to like their charm."
What buyers don't like, Gagne continues, is the cracked plaster and broken windows that are common to older buildings. Repairing and upgrading those kinds of buildings is Gagne's particular niche.
"We can do an aluminum-clad wood double-hung window that's wood on the inside, like their old windows, but can be painted to match their existing finishes. It also has a maintenance-free aluminum exterior to minimize building maintenance."
Ensuring compliance with the Landmarks Commission guidelines is of crucial importance when working with historic buildings, though sometimes, Gagne says, there's pressure from the building's owners to skip the guidelines.
"All our sales staff has a complete set of the landmarks rules," he says. "They review the landmark maps, and anytime we go to a building that's been landmarked, we make it very clear that we will only do work under the landmarks guidelines. Sometimes they want us to do it without a permit, and we just won't," Gagne says. "So sometimes we find ourselves in the business of enforcing the landmarks guidelines."
What Will They Think of Next?
Whether your building is of pre- or post-war construction, is a landmark or just in dire need of a window overhaul, several new standards and developments have improved the quality and the versatility of the windows available.
According to John Zoetjes of New Jersey Window Erectors, a company based in Sparta, New Jersey, "The window industry has come a long way in the last decade, offering more energy-efficient products, and technological improvements, like non-corrosive hardware and paint finishes for coastal environments and specialty glazing to reduce noise pollution."
For example, says Nebiol, "Often we use laminated glass, which is like car windshield glass. We use that for soundproofing—which is a big trend now. People are going more and more now for soundproofing glass. And there are also all kinds of art glass that you can use—you can even use 'historical glass' that gives you the wavy, rippled look of old-fashioned glass."
"There's Low-E, which has been around for years," adds Manzella. In colder months, Low-E glass bounces the room's radiant heat back into the room again and gives you the equivalent of triple glazing. It does the reverse in the summertime—it bounces the sun's UV rays out. Both functions help to reduce HVAC costs.
"They also have fire-protection glass," Manzella continues. "It's fire rated to withstand [intense heat] for 20 to 120 minutes. That's one of the latest advances. Very few people know that window strength is largely determined by the strength of the glass. That helps determine the ratings of different windows."
"As far as sound protection," says Manzella, "the best thing to do is have unequal panes of glass. That unequal surface deadens the sound. There's also easy-to-clean glass and 'self-cleaning' glass, which conforms to the ASTMC 1036-01 standards specification for flat glass."
Some pros voice a measure of skepticism about advances like "self-cleaning" glass. "That's been around for a while," says Nebiol. "I read every now and then about this new glass that you actually don't have to wash—they say they clean themselves automatically, but I somehow don't quite trust that."
More Progress, Better Performance
"There are a lot of things that have improved window performance," says Gagne, "the first being the standardization of design pressure, or DP performance, across the industry. That means that aluminum and wood windows are now governed by the same standards of performance—which is roughly 40 or 50 pounds per square foot. The new standard came out of Dade County, Florida, where glass has to withstand the impact of various kinds of airborne debris [caused by hurricanes and tropical storms]," Gagne says.
Gagne also adds that improved thermal and soundproofing performance lead the way in industry innovations. "Thicker, laminated glass can improve sound performance," he says. Low-E coatings used in some window models are virtually invisible, and when combined with argon gas filling, their thermal performance increases by about 50 percent.
New technology has even changed the way windows are conceived of and designed at the most basic level.
"The newest thing is designing the windows on the computer, which is very similar to the way Boeing built the 777 airplane," says Manzella. "They built it all on the computer then went into manufacturing. That's what we've been doing here—we design it on the computer and then manufacture it. The tolerances are tighter, and we're able to design new hardware…which makes the window longer lasting."
Care and Feeding
For all the technological advances, however, Gagne says the windows being manufactured today "require very little maintenance. They're made to be low-maintenance products."
"Most of the wood windows that we build can be maintained in the same way that they were maintained one hundred years ago," says Nebiol.
As for who in the building should handle the day-to-day cleaning and maintenance of the windows, "It depends upon the building," says Manzella. "If you're in a co-op, most people have their own people clean the inside of their windows," while professional cleaners are brought in a couple of times a year to do the outside.
Of course, as with any improvement project, cost is a consideration for every building—historic or otherwise. Pricing of both old-fashioned and cutting-edge windows depends not only on what your building needs, but also on who's selling them, says Nebiol. "Pricing is usually all over the spectrum."
"There are lots of low-quality windows—vinyl-paned models, for example—that can be had for a few hundred dollars," says Gagne, "but they're not often appropriate for the New York City co-op/condo market. "A vinyl window just isn't right for this kind of marketplace."
When it comes to quality aluminum or aluminum-clad windows, Gagne says they're typically in the same price range—about $1,500 to $2,000 per window installed."
As for the pricing disparity between high-tech and old-school windows, "The new designs cost more, but they last longer," says Manzella. "There was an article in Glass Magazine a while ago that said aluminum windows survived 9/11—there was no damage to the windows even though they were right next to Ground Zero."
Regardless of whether you're in a brand new high-rise or one of the city's historic landmarks, the key to many years of clarity, protection, and quiet is purchasing the best quality windows your building can afford and having them installed by trained, reputable professionals. It just doesn't get more crystal-clear than that.
Michael McDonough is a freelance writer living on Long Island.