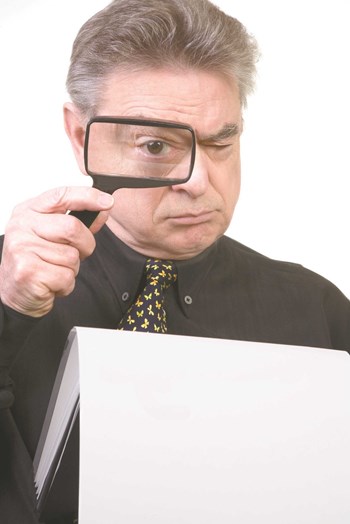 Few things can raise one's blood pressure like signing a big contract. That can be especially true for board members or managers signing sometimes mammoth contracts on behalf of a co-op or condo association, obligating their neighbors, friends and themselves to page after page of fine print. Thankfully, there are more than a few ways to get things properly signed on the dotted lines, and it all starts with ensuring a very thorough vetting of the contract in question.
Avoiding Mistakes
It's crucial for a co-op or condominium community to establish successful business relationships, whether with a building contractor or a landscaping firm, and ensuring that a contract is fully vetted and amenable to both sides before work begins. Part of finding that assurance rests in having an attorney carefully examine the contract from top to bottom.
These days, contracts that automatically renew are everywhere, from your New York Times subscription to your NPR contribution. Some of these are convenient, and make life easier by eliminating the need to stay on top of regularly recurring charges. But your Pandora membership is one thing; your condo's laundry contract is another. According to attorney Steve Troup, a partner at the Manhattan-based law firm of Tarter Krinsky & Drogin LLP, "In general, automatic renewal clauses favor the vendor, and should be avoided. I always insist on a clause whereby the vendor must give 60 days advance notice to the co-op or condo of the expiration of the contract, and in the absence of the co-op or condo taking affirmative steps to renew or extend, the contract terminates."
Attorney Dennis Greenstein, a real estate partner at the law firm of Seyfarth Shaw LLP in Manhattan, agrees. "One of most egregious [mistakes] is the automatic renewal clause on laundry agreements," he says. "They can be difficult to cancel even if the vendor is doing a poor job, but technically is not in breach of the agreement."
Ensuring clarity and protecting the co-op or condo's rights to terminate a contract for poor service also must be considered when signing an agreement. "Other's mistakes in laundry, elevator and electronic-related equipment agreements include not clarifying the vendor's responsibility or obligation with respect to maintaining and replacing defective and non-operating equipment, or response time to fix the equipment," Greenstein says.
Spelling this stuff out in black and white not only protects the building legally, but helps keep peace within its walls, should things go awry. "Elevators not working, broken laundry equipment, boilers not functioning in cold weather or the absence of hot water will create immediate anger in any building," says Greenstein. "Clear language in the agreement stating the response time—with remedies for the board if the vendor breaches such agreement—is critical to the board's ability to demand service, and to terminate the agreement if not honored."
With laundry services, Troup suggests a different approach to structuring the contract. "I always structure the contract as a 'license to use,' rather than a leased space where landlord-tenant law would control—where the tenant usually has superior rights. I insist that the co-op/condo have the right to collect attorneys' fees if the vendor defaults."
When it comes to contracts, inexperience on the part of a board or manager is usually to blame for mistakes and not-so-great terms and conditions. "Often the managing agent just signs whatever agreement is tendered by the vendor," Troup says. "Any contract worth more than $5,000 to $10,000—or even less, depending on the size of the building—really should be referred to experienced counsel."
Securing the advice of legal counsel can save big money down the road, but still, some boards or managers try to save dollars up front by simply going it alone. "Many boards and agents feel that it is not necessary to pay legal fees for the review of these types of contracts," Greenstein says. Understandable, perhaps—especially for a building that's feeling financially pinched—but that approach can lead to trouble later.
"Generally, vendors tender contracts in their favor and not the co-op/condo's, so a thorough review by experienced counsel is worth the investment in fees," Troup says.
Crossing Ts and Dotting Is
Getting a good contract involves not just avoiding mistakes but proactively ensuring that the proper elements are included in the document. One of those elements, says Greenstein, is "the right to terminate the contract if the vendor is in breach."
Delineating responsibilities is also important, including questions of maintenance. "Have the vendor be responsible for any damages and fines that result from their failure to maintain the equipment and/or comply with the legal obligations required by applicable laws and governmental bodies," says Greenstein.
"Be clear what's being covered in terms of repairs and defective equipment and the cost of labor—particularly emergency service on weekends and holidays. There should be warranties on new equipment, specific obligations to replace parts, and what is excluded in the coverage. "
In addition, it may be necessary to state exactly what role building staff should be playing in conjunction with the vendor's duties. Says Greenstein, "What–if anything —should the building staff be doing regarding the maintenance of the equipment? [A certain amount of daily upkeep] may be required under service agreements to avoid a disclaimer by the contractor, who might claim that the building's failure to maintain the equipment voids his obligation to cure the problem under the service contract."
For contracts involving property managers, says Edward J. Mackoul, CIC, president of Island Park-based insurance firm Mackoul & Associates, Inc., "There should be certain requirements in the contract that the property manager must maintain certain insurance policies like errors & omissions, or fidelity bond to protect the building and the board. And likewise, there should be something in there to protect the property manager, as they will be named in every lawsuit against the building, [even though] generally, they aren't at fault."
Going it Alone
For self-managed buildings, there may be a sense of being alone out in the contract wilderness. Without a professional management firm overseeing their affairs, it's even more important for a self-managed board to enlist experts they can trust. "They should have an attorney review a contract for its legal and practical terms, and obtain at least three bids to compare against the others," Greenstein says.
In addition, self-managed buildings also can gain expertise through education and advocacy groups. One can to to The Cooperator, which maintains an extensive online archive of articles at www.cooperator.com, including more on this subject, or a number of other groups like the Council of New York Cooperatives & Condominiums, the Federation of New York Housing Cooperatives & Condominiums (FNYHC), and the New York Association of Realty Managers (NYARM). "There are organizations such as the Council of New York Cooperatives and Condominiums (CNYC) which provide seminars throughout the year on all co-op and condo topics," he says. A new chapter of the Community Associations Institute for New York City—the Big Apple chapter of CAI—has also recently just formed.
There are certain aspects of contracts that may apply to more than one type of vendor or service contract. For example, an agreement with a contractor may have a section on insurance as will an agreement with a landscaper. It is important to review those sections with an experienced eye.
"Self-managed buildings should have their insurance broker review the insurance sections of any contracts to make sure the building or HOA is properly protected and their policy meets the requirements," says Mackoul. "Some contracts, such as with a laundry company, require the building to insure the machines. The building's policy needs to have proper coverage in place to do so."
Greenstein agrees. "There should also be adequate insurance coverage of the contractor and vendor naming the property owner and others as additional insureds on the policy," he says. "Also, we require an indemnification from the vendors and contractors."
Eyes Open, Looking Ahead
One of the best ways for co-ops and condos managers and boards to protect themselves when signing a contract is to look for red flags ahead of time.
Mackoul says, there are several signs to watch out for and avoid. "A vendor not having insurance is a huge red flag," he says. "Or supplying a Certificate of Insurance showing the name of another entity or firm and not their own is another. Having very low insurance limits is also an issue, as is not having the correct policy. Some contractors will obtain a policy for a type of work that is less expensive or easier to insure, but doesn't necessarily reflect the type of work they actually do. This can lead to a claim being denied by their insurance company. "
Contracts that have exclusions in their general liability policy for injury to an employee or employees of the subcontractor can also be a major problem. "In most cases, an employee cannot sue their employer in the event they are injured on the job, so they sue the party hiring their employer," Mackoul says. "If all of the t's have been crossed and the i's dotted, then the responsibility should revert back to the contractor and not the party that hired them. If the contractor's insurance policy excludes injury to employees however, their policy is not going respond, and the building will have to seek remedy directly from the contractor, which isn't always easy."
Additionally, the contract should include worker's compensation. "A sole proprietor is not required to have worker's compensation because he/she has no employees," Mackoul says. "But, if they are hired do work in or on a building and get injured, they could seek benefits from the party hiring them. To protect the building, contractors hired to do work should have worker's compensation coverage, regardless of whether they have employees."
Troup also encourages managers and boards to always check references thoroughly. "Press the potential vendor for references from satisfied boards, as well as from one or more reputable managing agents," he says. "And check the Secretary of State's website to see how recently the vendor's company was formed—because some vendors change companies to avoid paying for their shoddy work."
Greenstein also suggests doing "a litigation search to see if there are a number of lawsuits involving the contractor, and the claims made and the outcome of these matters." In addition, see if "the managing agent used the vendor in other buildings, and what the experiences were," he says. "Require several references from other buildings to see if the contractor met the time and work requirements and if he or she honored the remedying of any problems which arose and for which he or she was responsible to address."
Ascertaining the way the vendor operates is equally important. Before signing any contract, it helps to know "Did the contractor or vendor clean the work areas each day? Were the workmen respectful of the residents in the building?" Greenstein says. Character matters, especially in a long-term arrangement that may affect dozens, if not hundreds, of residents in a building or community.
Certainly signing a contract can be a nerve-wracking experience. With the right advice and experience, however, and a willingness to ask questions, that experience can be a positive one, making way for new services and improvements that will benefit your residents and families for years to come.
Elizabeth Lent is a freelance writer and frequent contributor to The Cooperator.