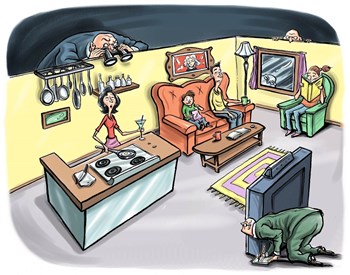 Co-op and condo owners often complain that their board doesn't do enough, or that the board members aren't involved as much as they would like in the administration and maintenance of their building. While a disinterested or apathetic board is certainly a problem, going to the other extreme can be just as bad…or maybe even worse.
Board members who let their power go to their heads can be a liability to their building community on many levels, but of particular concern is a board that oversteps its bounds and intrudes on the privacy and agency of individual residents.
Understanding the boundaries and limitations of your power is something that every board member needs to realize or else trouble—including legal problems—can result.
Knowledge is Power
Balancing what is right and what is expected can be tricky for boards — so much so that sometimes, board members and non-board members alike wonder why people bother to serve in the first place.
"I always tell my fellow board members and clients that if you're going to be on a board, you are basically a sacrificial lamb," says Luigi Rosabianca, managing partner of the Manhattan-based law firm Rosabianca & Associates PLLC. "You don't get paid for it, but by doing so you are providing a service to your building. It's not only a way to protect your investment, but also your quality of life—but [board members] have to learn what being on a board means, and not to overstep their bounds."