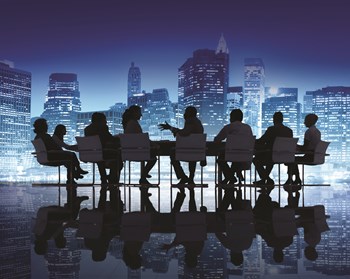 Tom Marcossan laughs when he remembers joining the board as treasurer when his building went co-op in 1986. "I was stupid. I didn't read the magazines available or take advantage of any organizations out there. We were the first board the building had. We learned mostly by knocking our heads together," says Marcossan, who has since become president of his 340-unit Greenwich Village co-op.
Marcossan is not alone in the head-knocking category. Although there are numerous resources, legal documents and organizations available for aiding green board members, experts say few utilize them. Sadly, some are not even aware of groups like the Council of New York Cooperatives, which provide support and educational opportunities for board members. In fact, there is a support network out there for new board members, if they are willing to look around and put the time in to learn the ropes.
Board Basics
Board members are elected by the shareholders during the annual meeting which usually takes place in the spring. Any shareholders who cannot attend the meeting can give their voting rights to another shareholder to cast for them in the form of proxies. Board officers, including president, vice president, treasurer and secretary, are designated by the directors alone but, advises attorney Craig Schiller of Schiller & Associates, It's usually best if the board is in unanimous agreement over who should be an officer.
Different responsibilities come along with the different titles that make up the officers of the board. Briefly, the president, under the bylaws and general Business Corporation Law (BCL), is in charge of all board and shareholder meetings and can set agendas for meetings, as well as appoint committees. The treasurer cares for and maintains the corporation's funds, approving all payments of bills by the managing agent and overseeing the income the building collects from commercial tenants and other sources. The secretary's main function is to record the minutes of board meetings, while the vice president acts as a stand-in for the president if and when that person is absent or unable to act in that role.
The ideal candidate for the board is someone who can bring his or her professional expertise to work for the co-op. Certainly that was a consideration when Elizabeth Brown, board president of the Dorchester, an East 50s co-op, approached Curtis D. Deane to run for the board. Being president of a real estate firm that owns co-ops, Elizabeth and the board knew I already had experience in this area and wouldn't need to be told much to understand what needed to be done for the corporation, explains Deane, who came on board in May.
While an accountant or a person with a similar financial background would make an excellent treasurer or an engineer or architect would make a useful committee head for a renovation or capital project, there are other qualities that can be overlooked. Board members should be people with well-adjusted personalities, says Schiller. It's all well and good to have someone with a useful background but if they have an abrasive personality, you run the risk of no one on the board listening to them. Stuart M. Saft, partner with Wolf Haldenstein Adler Freeman & Herz and chairman of the Council of New York Cooperatives, agrees: Being open minded is very important. They have to have the ability to listen to other board members. It can't be an I'm right' and You're wrong' situation at meetings. If it is, nothing will get done.
Listen and Learn
At the Dorchester, residents interested in joining the board are invited to first attend a few meetings as an observer. In this capacity, says Brown, they can get an understanding of what problems the building may be facing or what new capital improvement projects are coming up. They are also invited to join the discussions and voice their opinions in the role of a visitor to the board. It's also a way of seeing who's really interested in helping the building, Brown says slyly. Peter I. Livingston, partner with the law firm Rosen & Livingston, also encourages board members to come and see what a meeting is like. Sit back and take the pulse of how the board thinks, get an understanding of the personalities you would be dealing with if you were on the board.
Ken Lovett, a principal at the management firm of John B. Lovett, urges established board members to meet with newly-elected board members in an informal setting before the next meeting. There, they can explain the crucial issues affecting the building, any upcoming assessments, and so on. This is a way of bringing them up to speed on what's happening in the building, he says.
One of the risks new members take by just attending a meeting blind is a tendency to go over issues long buried and decided. They might request reconsideration of a renovation project that has been previously examined on all sides by the board. The end result being that the board feels its toes have been stepped on and the agenda has been sidetracked because they return to this issue again to satisfy the new member, says Schiller.
Rewarding Resources
While listening to what is said at the meeting is important, there are many other ways new members can bring themselves current on what has been happening in the building. Read the board's minutes for the last two or three years. This will give the new member an idea of what significant issues the corporation is facing. Also, read over the minutes for any emergency shareholder meetings that might have been convened, suggests Schiller.
New members can also read over the proprietary lease, by-laws and house rules. These documents provide an excellent synopsis of current building issues and explain the way in which the board operates, says Robert Freedman, president of Maxwell-Kates, a Manhattan management firm.
According to Saft, the bylaws can provide the new member with details on how to act and what laws they must follow as a board member. The proprietary lease can explain what the shareholders' responsibilities are, while the house rules dictate the rules of behavior in the building. The bylaws explain that the board member must act for the benefit of the building, not the benefit of individual board members. They can't discriminate by favoring one shareholder over another, and this is frequently hard for new board members to do, says Saft.
Also, adds Schiller, read up on the building's newsletters and subscribe to publications like
The Cooperator,
which keep an eye on the ever-changing face of the co-op and condo community. Get your hands on everything, says Jeff Brown, president of General Properties Management. Industry magazines, the building's own newsletters and books like The Cooperator's new book, Co-op & Condo Ownership, are all extremely helpful for new members who want to learn more, says Brown.
Organizations like the Council of New York Cooperatives (CNYC) and the Federation of New York Housing Cooperatives (FNYHC) are also excellent sources, says Brown. The Council is a membership organization providing information and services to more than 1,800 cooperatives and condominiums in the New York area. The Council frequently holds seminars and, says Mary Ann Rothman, executive director, we hold a special meeting specifically to initiate new board members. A calendar of events list is available from the Council. The Federation, headed by Charles and Eva Rappaport, is another organization devoted to helping board members of co-ops and condos. Both organizations hold an annual conference; the Council's is coming up on October 29 and the Federation's on December 3.
Get Professional Help
When one woman was elected to her Upper West Side condo's board, she found herself, completely clueless, even though she was an attorney involved in New York real estate. To make matters worse, the existing board members, tired from litigation battles with the sponsor, all wanted off the board. Feeling alone and without any guidance, she turned to her managing agent. She was very helpful. The agent took the lead in helping us set agendas before our meetings and guiding us in our roles. Without her, we would have been lost. This is just one example of where a professional was able to step in and help new members.
We invite new members to come into our office to discuss any legal or capital issues impending on the building, says Brown. In this way, we open the lines of communication between the new member and the agent. The managing agent can also supply any documents the new member would want to go over, such as the by-laws or house rules for the building. At Maxwell-Kates, it's common practice, says Freedman, to supply new members with summaries of building concerns so they can have an immediate financial and physical picture of the building.
The building's attorney can also act as a resource for new members. The building's attorney can provide information on recent case law that might affect the building, explains Livingston. He or she can also clear up any confusion the new member might have over some detail in the bylaws or house rules, he adds. Counsel can also provide a legal history for the co-op and advise new members on what they can do to protect themselves.
It's very important that the new member check out the Directors and Officers insurance policy, says Schiller. New members can be held legally responsible for legal problems that are ongoing at the time they assume office, he explains. It's crucial new members make sure the policy protecting them is in effect on the day they assume office.
Although there are aspects board old-timers would change when looking back on first joining, most are in agreement that even the mistakes they made helped them become the board members they are today. Marcossan, though, does have some advice for new members: Don't take all of it on yourself. Make sure you're not the only one working on the board. Don't do the newsletter yourself, don't negotiate contracts by yourself; make sure everybody is pitching in. And, he adds, you're not alone. There are plenty of resources and people out there, even your fellow board members, who can help.
Ed Serken is Associate Editor of The New York Cooperator.