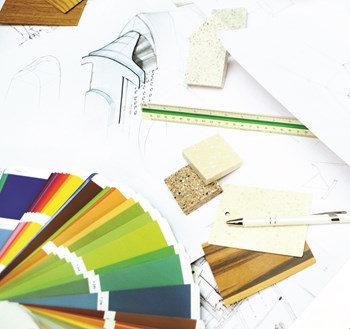 A private garden in New York is like a rare jewel glittering in the concrete jungle. Co-ops often overlook their hidden outdoor spaces, but a well thought-out garden can transform a rooftop, terrace or courtyard into an oasis that enhances the value of your property as well as enjoyment of your building.
Planting the Seed
A good landscaper can do much of the work for you, but you'll want to consider a few basic questions before you talk with the hired guns. Madelyn Simon of Madelyn Simon & Associates, Inc. is both a veteran landscaper and co-op board member. Before putting spade to soil, she advises clients to take the following preliminary steps: First, decide on a budget for installation as well as maintenance. Next, limit the number of decision-makers. According to Simon, "Even if everyone on a co-op board has great taste, design by committee is never a good idea. I've found that with more than three people, nobody can agree on a direction." You'll also want to decide how you want your space to be used. Will people use it for sunbathing, or relaxing in the shade? Should it be open at night? Will it be accessible year-round? How much traffic do you expect? Should residents be encouraged to use it for cookouts and picnics? What about entertaining? These questions will determine what kind of plants and furnishings you'll choose, whether you need lighting, how much shade you'll want, and so on. Finally, consider the logistics your landscaper will face. "Sometimes people come in with these gorgeous drawings, but they're completely impractical," Simon laments.
So, Simon says, assess the basics: Is there a loading space? A freight elevator? Will landscaping crews be able to fit large plants through doorways and into elevators? Are there any large obstructions in the space that needs to be removed before work can begin? Is water pressure adequate to irrigate a rooftop garden? Performing a little reality check before you start dreaming up the "perfect" garden will save you - and your landscaper - endless frustration.
How Green is Your Garden?
Once realistic goals and expectations have been established, the next thing you'll want to consider is style. A landscaper is part botanist and part designer. She or he can do all the designing for you if need be. But, as an interior designer once noted, "Nobody knows what they want, but everybody knows what they don't want." Give it some thought beforehand. You don't have to be Frank Lloyd Wright to have a basic idea of what you're looking for. Do you want a sleek, modern design, or something romantic and natural? Should it feel homey and secluded, or airy and spacious? Do you envision a lush, green wonderland or a spartan rock garden? It's your landscaper's job to know which plants are best suited to the style you choose, but the better you understand your building's (and its residents') "look," the better your pro will be able to help you. Take photos of gardens you like. Tear pictures out of magazines. You may not be able to get an exact replica of something you've seen elsewhere, but you'll give your landscaper a good starting point. Both the New York and Brooklyn Botanical Gardens are great places to view samples of a wide variety of garden styles.
Trendy Tulips, Passé Peonies
Like any design modality, gardening has trends and fashions. Simon claims she's been seeing lots of "ornamental grasses, which are beautiful and stand up well to harsh city conditions." Beth Hardee of Town and Gardens, Ltd., a major Manhattan landscaping firm, says that tropical themes are popular now, but, as she points out, "What New Yorkers really want is something unique. They're always looking for the plant nobody else has, so we're constantly searching for unusual plants and building materials." Harde also says that clients often request herb gardens, cut flower gardens or vegetable patches for the kids. Corinna Kettner of the Chelsea Garden Center, a plant retailer and landscaping specialist, reports that bamboo is the plant of the moment and that "Zen gardens" are in high demand. "We're also doing a lot of waterwise gardening and xeriscape gardening - a new technique that requires no watering at all. These are particularly smart choices in the face of our recent drought, and we expect them to become much more popular in the future as water conservation comes into play," says Kettner.
Better Safe Than Sorry
Along with being sensitive to the tastes of your building and the limitations of your space, you'll also need to be aware of certain safety and regulatory issues, especially with rooftop gardens. An experienced landscaper will know the ropes, but you should understand the basics too. According to Susan Wolf, former manager of London Terrace Garden in Manhattan, "Any weight placed on the blacktop can damage the waterproofing membrane underneath if not properly supported. Heavy objects can even cause structural damage. You have to put in a deck first." Donald Sussman of Town and Gardens, Ltd., offers this helpful checklist: "First you'll need to check the Certificate of Occupancy for load-bearing capacity. You may need to consult an engineer, depending on the building. Next, think about handicapped accessibility. Then there's the fire code - there are restrictions on what percentage of the roof can be covered in wood. Last, think about drainage, wind and noise issues." Simon also advises that "Railings should be child-proof, and anything that could blow off in a strong wind must be secured." Although courtyards and terraces are much simpler, there are still some code and zoning issues to contend with. "You still have to adhere to fire codes, like maintaining clear access to exits," says Wolf, and if you're fortunate enough to live in a landmark building, you may need to get special permits before you start digging. As if all that wasn't enough, a recent invasion of Asian longhorned beetles has prompted the city to regulate which kinds of trees can be planted at street level. For questions about your particular building, contact the New York City Buildings Department at (212) 312-8000 during business hours.
Breaking Ground
Once you've gotten down to specifics, make sure to ask plenty of questions before you sign a contract. Putting in a garden isn't a one-shot project like installing a kitchen. Remember that it's a living, changing entity that's subject to the whims of weather and wear. Any competent landscaper will choose plants that should thrive under proper care, but you should know exactly what "proper care" entails. Most landscapers offer maintenance plans, which are usually paid on a monthly basis. Simon says, "You should expect to pay a minimum of $80/month, but it can vary greatly depending on what kind of garden you have." Ask about watering, pruning, weeding, fertilizing, and replanting schedules - and find out what's included in maintenance services.
Hardee recommends installing an automated irrigation system. "It's well worth it to protect your plants. Even one missed day can severely damage or kill plants, and it doesn't cost much to put in a system - sometimes as little as $500."
Make sure to ask about building materials too. How long are planters meant to last? Is your new roof decking guaranteed for a specified period of time? Ask about how much your plants will "shed." Some species are messier than others, requiring frequent cleanup. Monthly visits from your landscaper may not be sufficient to keep your garden tidy, so decide who will take care of interim tasks, such as raking.
And don't forget to ask about plant longevity. Find out how often plants will need replacement, and ask for varieties that go the distance. Flowers can generally be broken down into annuals and perennials. Annuals need to be replanted often (although not necessarily every year), while perennials keep coming back with little help. A low-maintenance garden can decrease the cost of upkeep as well as the amount of time your garden spends "under construction." Finally, inquire about how plants will fare throughout the seasons. Different plants have different life cycles, but a well-orchestrated garden can boast something showy at any time of year. Many ornamentals look spectacular during their bloom, but turn blah when their flowers or foliage die off. Maybe that's fine for your purposes. Maybe it's not. Either way, you should know what to expect. Of course, no garden will be completely predictable - that's the beauty of designing with living things. But the more questions you ask, the fewer (expensive) surprises you'll face down the road.
Growing Pains
If you already have a garden, but it's in need of some help, think of it as an outdoor room. "Consider the comfort of those who use it," Simon suggests. An ideal garden provides seating in both sun and shade. Is it too gloomy? Perhaps you need to remove a tree or cut back shrubs to open up the light. Nowhere to hide from the sun? Look into shade plants or trellises. Benches should face the best possible view, be it the garden itself or a view of the skyline. Look at the composition of your garden. Does it have a centerpiece? Does the space draw you in? Make sure there's always something eye-catching to look at. Privacy also holds a strong allure. Try screening benches with tall plants to create secluded little nooks.
Also, think about whether your garden has some unattractive feature that needs to be removed, repaired or concealed. Make sure walkways are clear of plant debris and bits of windblown trash. Ponds may require better drainage. A tree that sheds too much may need to replaced or better maintained. Simon recommends avoiding terra cotta planters because they dry out and crack too easily, which can be inconvenient and aesthetically unappealing. Also consider covering permanent "uglies" - like utilities boxes or chain-link fences - with vines, or hiding them behind plants. For problems or questions concerning particular plants, the botanical gardens are a terrific resource. You can get free gardening advice by calling the Brooklyn Botanic Garden's help line at (718) 623-7270 or emailing the New York Botanical Garden at pltinfo@nybg.org.
Following these basic guidelines should ensure smooth sailing as you create your garden. And in the end, you'll have a peaceful retreat that polishes your building's standing as a luxury dwelling. You'll also be helping the environment, cooling off the air during those sweltering New York summers, and providing a sanctuary for wildlife like birds and butterflies. Now, who says it isn't easy being green?
Alexandra Wolf is a freelance writer and enthusiastic gardener based in Brooklyn.
Okay People, Focus!
Crowning Jewels for Your Private Garden
The easiest way to tie a lackluster garden together is to create a focal point. Often, adding a single element of interest can make your garden more inviting. Think of your garden as a stage. Give people a reason to come into the garden and take a closer look. Here are a few suggestions that can turn any garden into a living museum.
H2-Ohhh Yeah Humans have been drawn to water since the beginning of time, and not just for simple survival reasons. A babbling brook, the patter of rain, seeing your reflection rippling in a pond - these are things that soothe the soul (especially if that soul belongs to a frazzled New Yorker). Water features impart an unparalleled aura of peace - not to mention luxury - to a building's private garden space. What's more, they're surprisingly affordable and easy to maintain. Landscaping experts are in near unanimous agreement that the only contraindication against fountains, koi ponds, and reflecting pools is that they are generally too heavy for rooftop gardens, and are best suited to courtyards.
Fountains Playing fountains capture the pleasing burble of running water. A submersible pump recycles the water, so maintenance consists simply of replenishing water from time to time, cleaning the pump, and draining the fountain before the first frost. Landscapers can even custom design waterfalls and ponds. The average cost of a fountain ranges upward from about $500.
Koi Ponds and Water Gardens Circling fish provide mesmerizing entertainment. Water lilies and other aquatic specimens also lend an exotic feel. For buildings with the commitment and wherewithal to care for fish and tend to sometimes-delicate water plants, an Asian-inspired goldfish or carp pond can serve as a dramatic centerpiece to a serene garden space.
Diva Specimens Every living thing in your garden should be beautiful. But while some should be understated, others should create a bit of drama. Certain plants just demand attention. A single ornamental can be as dazzling as a whole floral display. Some good ones for New York's persnickety climate are Japanese maple, flowering dogwood, Yoshinoi cherry, and Leonard Messel magnolia. Because of their shape or blazing seasonal foliage, plants like these draw the eye and invite visitors to linger and enjoy the natural beauty of the space.
The Birds and the Bees A birdbath is a simple and inexpensive way to bring wildlife into your garden. Likewise, birdfeeders can attract all sorts of species rarely spotted by the typical city dweller. Butterflies are also welcome visitors. Certain flowers are known butterfly magnets, and if you plant them, they will come. What could be more idyllic than lounging in the garden watching the flutter of colorful wings?
Sculpture & Statuary Fish and finches are charming, of course, but your focal point certainly doesn't have to be organic. Some of the lowest-maintenance choices are man-made. Obviously, there are as many kinds of sculpture as there are artists. While you may wince at the idea of a colored-glass "gazing globe" or a pair of injection-molded pink flamingoes infiltrating your fortress of solitude, remember that a well-chosen work of art can add definition to your garden like nothing else. For inspiration, check out the Noguchi Sculpture Museum in Queens, or plan a daytrip to Storm King, the magnificent 500-acre sculpture park that lies about an hour north of Manhattan.
Always Underfoot And lastly, don't forget about the ground itself. Gardens lend themselves to gazing downwards, and a tile mosaic or a moody sundial can add the perfect touch to your garden. Children love following winding paths through shrubbery and flowerbeds, and well-planned walkways serve double-duty by keeping visitors out of the beds and off the grass.