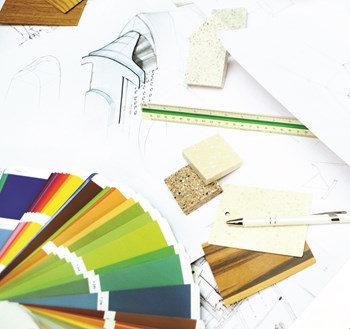 Everybody wants to show themselves and their home in the best light possible - literally. How you light a room gives it added definition and character, and enhances both the space's contents and its inhabitants. When it comes to interior decorating, next to the color on the wall, lighting is one of the most vital, fundamental elements.
Aside from the obvious benefit of improving visibility, careful lighting can set the entire mood in a room and dramatically change the appearance of colors, textures, and finishes. So don't let that custom-mixed maroon paint come across as sickly mauve, or light your collection of original Modernist canvasses with a harsh glare. "People will notice the lighting before they notice the painting on the wall," says Phillip Finkelstein, vice president of Illuminations, a specialty lighting company in Rockville Center, New York. According to Finkelstein, there are lots of tricks to illuminating a whole room - or a single piece of art - perfectly, and they are all simple and easy to learn.
Let There Be Light"¦ But Just in That Corner
There's far more to creating an appealing lighting scheme than just screwing a 75-watt bulb into a ceiling socket and flipping the switch. Bulbs need fixtures in which to reside, and there are as many varieties of hardware as there are homeowners - ranging from ornate, antique Tiffany table lamps to sleek, brushed-steel wall sconces. Other options include track lighting, recessed fixtures that lie flush with a wall or ceiling, torchiere floor lamps, and the ever-popular frosted ceiling-globe. Just as each has its own name, they can light up a whole room or specific area differently.
The most basic, common approach is to install a single globe-light or strip of track lighting in the center of a room's ceiling and leave it at that, but according to David Brooks of Superior Light & Fan in Manhattan, this is usually done simply because the bulk of a room's wiring bisects the ceiling, and it's really the least-effective approach to attractive lighting, as it throws harsh shadows and can leave the perimeter of the room in dimness. Brooks recommends taking the opposite tack, with lights along the perimeter of the room, shining toward the wall, so the light can diffuse throughout the space and be more consistent.
Another approach is to move away from the constant use of ceiling fixtures in favor of "accent lights" in strategic locations throughout the room. A tiny light behind a couch or other object can highlight a corner wall, or a well-placed floor or table lamp can brighten a room by degrees and create a warm, homey feel. Placing lights near chairs or on reading desks creates small pools of soft, inviting light.
Wall sconces are another option that moves the focus away from the center of the ceiling in favor of throwing light onto the ceiling from the walls of a room. Sconces are often designed as general enhancers, but if installed correctly with the proper wattage, they can be effective in lighting an entire room. Recessed lights are placed flush with the ceiling and are generally spaced to accent and illuminate a specific area or piece of furniture.
Of course, you need not feel compelled to stick with just one kind of light per room. Mixing floor lamps with sconces or track lights can add interest and versatility to a space, allowing it to adapt to different activities, moods, and times of day.
Along with accent lighting comes the relatively new concept of "scene" lighting. Unlike a simple dimmer, a scene light controls different parts of a room - it can be bright on one end and dim on the other. This approach to lighting has long been popular with designers and architects and is beginning to catch on with everyday homeowners. "[It's more] controlled lighting," says Finkelstein. "You can control the mood of the room by the touch of a switch."
Rose-Colored"¦Lightbulbs
Bulbs of different hues can also play a role in creating the desired effect in a given room. There are many colors of course, and each lends a different ambiance. Amber-tinted or soft pink bulbs can provide a warm effect, and combining colored bulbs can mimic natural light - or blend for a more customized effect.
Prudent lighting helps wall treatments and furniture to be seen in their truest colors as well. Dark colors, burgundies, yellows, browns and beiges are best seen by using traditional incandescent lights, just as whites, bright colors, pastels and chromes benefit more from brighter, whiter halogens. By contrast, lighting dark furniture and walls with halogens can make the colors and fabrics appear faded and worn.
Lighting Large
The benefits of tasteful lighting don't stop with simple illumination and artful mood setting, of course. Once the right mood is achieved, a tiny room can be made to look bigger - without knocking down a single wall.
According to Finkelstein, to make a room appear bigger, train the light onto the ceiling to diffuse throughout the room. The higher the ceiling, the higher the wattage should be. Wattage plays a part in this because it is what gives the light its tone - the higher it is, the brighter the light and vice versa. "The wattage is dependent on the size of the room and how much light output is needed to carry out the [space's] functions," says Finkelstein.
The kitchen - which, next to the bathroom, should be the best-lit room in the apartment - can be made to appear larger by placing fluorescent lights on top of the cabinets, pointing upwards toward the ceiling. Light will bounce off the ceiling and diffuse downward, explains Brooks. Torch and socket lights can be used to create the same effect in the living and dining rooms.
Lighting your art collection - whether you own a Picasso, or several Grandkid Originals - requires some thinking, because there is more than one option to choose from. Track and portrait lights work best for artwork, explains Brooks. Track lights should shine from above, and directly onto the work - as should portrait lights. "You should have the light on the art itself, and not the frame," says Brooks. "Portrait lights are more effective, but not everyone likes them."
Installing the Light Fantastic
If choosing a format, picking the right bulb color and wattage, and pointing a roomful of lights in the right direction seems a bit much, consider engaging a professional lighting designer to do the dirty work. When contemplating a light-scheme, designers first look at the size of the room to determine their basic approach, and then take into account what the room is used for.
If the area is a workroom, for example, it should be bright. If older people or young children live in the space, then it should be illuminated more brightly than a single's den or bedroom, explains Brooks.
Track lights work best in kitchens, according to Finkelstein, because it is a busy room that's used often and needs a lot of luminosity. A den or family room calls for more comfortable, versatile lighting, and the living or dining room is a good place to make use of scene lighting. These rooms are multipurpose and used for reading, entertaining, and family functions, so flexible, easily-adapted controls work best. Brooks also recommends ceiling lights with fans for city-dwelling apartment owners. Most have dimmer controls, and the circulating fan is particularly nice if building's heat is left on a little too long in the spring and things get stuffy.
A good lighting designer knows that no two homes are alike, and will sit down with clients to discuss their vision and requirements. "We work [to] get the appropriate lighting information, because each job is specific," says Finkelstein.
Most single-apartment lighting work does not require digging too deeply in the wallet. For the most part, installing fixtures can fit into any budget. Lighting fixtures are generally fairly inexpensive, but can get as opulent and pricey as an individual's taste and budget will allow. Depending on the material, a sconce can go from $90 to several thousand dollars, or be either strictly utilitarian or incredibly ornate.
With all the options and approaches available for consideration, the best bet is to just look around - or to consult a professional. Whether your apartment is decked out in Baroque splendor or Ikea austerity, the right illumination can expand your space, show your furniture and art to its best advantage, and light up your life.
Leslie A. Scott is a local news reporter from Newark, New Jersey