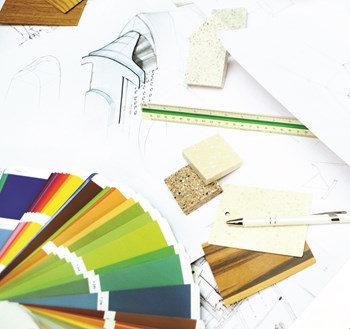 Your home is supposed to be a sanctuary - your family's protection from the hazards and harms of the outside world. Unfortunately, what should be a haven can often be full of hazards, especially for children, whose curiosity can be their own worst enemy. According to the National Center for Health Statistics, 42 percent of pediatric deaths happen right in the child's own home, including drowning, burning and scalding, choking, poisoning, and falling. Prevention is the key to reducing the risks of injury to any family member.
To minimize the risk of injury or death to young people in your home, childproofing experts recommend scanning each room for potential danger zones immediately - not necessarily after the arrival of a child. "If you want to have a nurturing positive environment for your own children - or children who may visit - childproof your home now," says Richard Shandelman, CEO of Safe and Sound, a childproofing service company based in Norristown, Pa. "Don't wait until your infant becomes mobile."
If you are expecting, you still have time to implement these protective changes, but start soon. "Children develop at different rates; some will crawl late, some will walk early - so create a safe room as soon as possible," says Shandelman. "As soon as your baby rolls over on his stomach, he will become more mobile, and it's a whole new ballgame once he is standing."
A Child's Eye View
If you are doing the job of childproofing your home, this is one you should take lying down - literally. Get on the floor and look at your home from a toddler's viewpoint. Ask yourself, what can they touch? What can they pull on? What can they open? "You can't say "˜my child won't do that'," says Shandelman. "You can be the greatest parent in the world, but you can't anticipate what the next level of your child's capabilities is going to be. If you take the conservative approach, there will be a much less likelihood of injury."
One of the primary things you will notice at your child's eye level is electrical outlets and wires. Loose wires and unprotected outlets are a natural curiosity to a toddler who can bite wires and stick foreign objects - like forks and fingers - into outlets. An electrical shock can be startling, or it can be fatal. Don't take the chance on which one it might be. Use cover plates on outlets and do not leave loose wiring accessible to anyone. Avoid extension cords; they are often the wrong size and can overload the socket, possibly causing a fire. To prevent overloading, look at the cord recommendations on your appliances and buy extension cords accordingly.
Forget about those cheap plastic electrical covers too. "Most two-year-olds can pop those things out - and [then] they are a choking hazard," says Shandelman. "I have even seen them melt in the outlet."
For additional protection, you can have a licensed electrical contractor install a ground-fault circuit interrupter - or GFCI - an electronic device that protects from serious injury by monitoring the electricity flowing in the circuit. Any imbalance, and the GFCI will shut off the current flowing through it, preventing shorts, overloads, and serious burns. Your electrician can also survey your home and provide a printout of the findings, itemizing anything that needs repair or replacement. This can help you to spot and correct problems before a dangerous situation occurs.
During your kid's-eye-view inspection, don't forget to look out of the crib too. Shandelman recommends establishing a 36-inch "safe zone" around your infant's crib. "If you put the crib in the room where nothing can be grabbed from the crib for at least 36 inches, including pictures with nails and glass, window or blind cords or anything else, the child will be safe."
Children Can't Fly
Children love looking out windows, but they can't fly, so window guards can save their lives. The National Safety Council says that windows opened only a few inches can cost a child their life. The Consumer Product Safety Commission (CPSC) estimates that over a dozen children ten years old and younger die each year from toppling out of windows, and more than 4,000 others are treated in hospital emergency rooms for window fall-related injuries. Most of the deaths and injuries are to children under the age of five. "Windows are life-threatening hazards for children and they must be safeguarded," says Krista Fabregas, founder of www.kidsmartliving.com, a Web site devoted to helping parents, caretakers, and homeowners safeguard little ones.
Securing windows need not be a complicated undertaking - and it's the law. It's important to be aware that screens are not window guards. Manhattan residents who own co-ops or condos and have a child under age 11 must have Health Department-approved metal window guards installed on all windows in the apartment, including the bathrooms, children's bedrooms, parents' bedrooms, windows leading to a balcony or terrace, any hallway window and other rooms where young children spend time. You can also request window guards - or stops that only permit windows to open up to four inches - from your landlord or management company, if you baby-sit or have children visiting your apartment regularly.
An Unhealthy Dose of Lead
As a concerned parent, you make sure your child is safe at home and is eating a healthy diet so they can grow big and strong. What you may not realize is that if your apartment was built prior to the mid-1970s, it may be harboring lead dust and old paint chips, and if the problem has not been corrected, there is a chance that your child has been ingesting a steady diet of those toxic particles along with their milk and cookies.
Children with high levels of lead in their bodies can suffer brain and nerve damage, behavior and learning problems, and other health difficulties. Adults are not immune either. "The only way you will know for sure about lead in the house is to have a lead inspection by a certified person," says Janice Papolos, author of The Virgin Homeowner. Papolos explains that there are two ways to measure the amount of lead in painted surfaces: Either hire a testing company - which will come to the house for several hours - or collect paint chip samples that will be sent to a testing laboratory for analysis.
Water can also contain lead, so consider having your water tested too. Papolos explains that a positive test for lead is 0.5 percent or more by weight, or 1.0 mg/cm. If you have a problem, Papolos says you may have to bring in a professional to remove and/or repair the source of the contamination.
Water, Water, Everywhere
You don't have to have a swimming pool to run the risk of your child drowning. The CPSC shows that about one-third as many children (an average of about 115 annually) drown in other water hazards around the home than in actual swimming pools. The CPSC received 459 reports of young children drowning in bathtubs, buckets, toilets, spas, hot tubs and other containers of water between 1996 and 1999. "Even that little bit of water can be the most interesting place in the world to a child," says Fabregas, who recommends toilet safety locks on all toilets. "New parents will say "˜what a pain,' but it becomes second nature and you get used to it."
Also of concern is the temperature of the water in your apartment. Most multi-family buildings use common boilers for hot water, making it impossible to control the temperature of what's coming out of your personal taps. Anti-scald valves are relatively easy to install and can prevent serious burns.
Up, Up and Away
Each year more than 6,000 people die and an estimated 300,000 suffer disabling illnesses as a result of unintentional poisoning by solid and liquid substances. Many of those victims are children. "The first rule of childproofing is get it up and out of the way," said Shandelman. The bright packaging and sometimes citrusy aromas of many potentially lethal household products appeal to curious kids too young to know better - and the candy-like appearance of prescription and over-the-counter drugs make them particularly dangerous, so remove temptation and store cleaners, medicines, and other chemicals in a locked box or cabinet.
Less ominous, but no less dangerous than drugs and poisons are other common things kept in kitchens and broom closets. Knives, scissors, pins, and even plastic bags can cause trouble if they fall into young hands, so either designate a special, off-limits drawer for these items, or store them high-up, where kids can't get at them.
Functional But Fun
Creating a secure home does not necessarily mean adopting a Fort Knox interior aesthetic. Kimberley Fiterman, ASID of Funtastic Interiors Inc., in Manhattan, stresses that rooms for kids can be functional, safe, and attractive all at once. Safety can be included in a design scheme that in turn will grow with your child. "I design rooms that grow, such as using desks with legs that screw off and can go higher, or sturdy chairs and custom cabinetry with rounded edges. Using the strongest and sturdiest of whatever you're getting will give it the life you need for your kids."
Even though older kids don't need quite as much supervision as infants or toddlers, they should still figure into your childproofing scheme. "A six-year-old might still climb shelves, so you need to bracket them to walls," says Fabregas. "As they get older, you can remove some things you may not need, but in most part, these are permanent safety precautions that will protect kids of all ages."
If you know your co-op or condo could be safer, but you're unsure where to begin, a professional childproofer can evaluate your home and design a custom solution based on your safety needs. Such evaluations and custom installations - like cabinet locks, stair gates, covered electrical outlets, and shelving systems - begin at around $200 and go up from there, depending on the size of your home and your specific needs.
"Not only can childproofing help give you a safer household, but it can give you a more worry-free lifestyle," says Fabregas. "Nothing is better than parental supervision, but childproofing can help to reduce the risks of injury."
In the end, children still need to be trained to know safety rules. "Children still need to know when they [just] can't do something," says Fiterman. "You can only put in so many precautions. You still have to educate your children. Most accidents are preventable, if you just stop and take a minute to think about what's going on."
Lisa Iannucci is a freelance writer living in upstate New York.