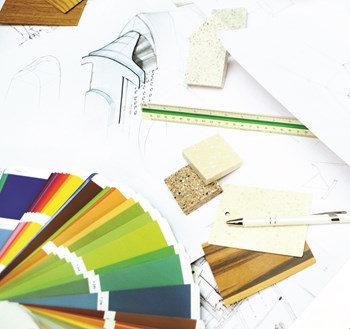 An elderly retired couple,
married for 40 years, recently sold their ten-room suburban home for a simpler three-room Manhattan condominium. They lead an active social life, often entertain their three children and five grandchildren for dinner and have one grandchild who frequently spends the weekend. The wife suffers from chronic arthritis and is diligent about following the fitness and therapeutic routine prescribed by her doctor. A housekeeper visits once a week to do the heavy cleaning and laundry, and the couple does daily clean-up themselves.
This was the ficticious scenario four interior designers were asked to comply to when designing an empty nester apartment at the Ansonia Condominium as part of New York Interior Design Week, a major city-wide educational outreach program designed by the New York Metropolitan Chapter of the American Society of Interior Designers (ASID). The goal of the showcase is to have people understand what professional interior designers can do to enhance the quality of one's home.
Kathy Ogawa and Gilles Depardon of Ogawa/Depardon Architects designed the living/dining room to be simple yet sophisticated, says Depardon. The space was divided into two significant areas: a dining area that could accommodate an overnight guest and a living room area. A charming windowed alcove in the dining/guest room is simply designed with a convertible couch and small tables. The scattered tables, designed by Depardon and Ogawa, are two inches lower than the average, making them a comfortable height when sitting on the sofa and when dining, and they can be put together to create seating for eight by using stools opposite the couch. Simplicity is the key in this design theme, says Depardon.
A painting canvas acts as a curtain, encircling the alcove area and offering privacy for overnight guests. The curtain also masks a view of a brick wall while still being sheer enough to fill the space with natural light. The living room area, which boasts a fireplace, is designed with scattered geometric furniture and a seagrass area rug.