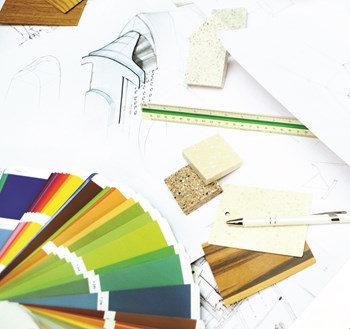 An elderly retired couple,
married for 40 years, recently sold their ten-room suburban home for a simpler three-room Manhattan condominium. They lead an active social life, often entertain their three children and five grandchildren for dinner and have one grandchild who frequently spends the weekend. The wife suffers from chronic arthritis and is diligent about following the fitness and therapeutic routine prescribed by her doctor. A housekeeper visits once a week to do the heavy cleaning and laundry, and the couple does daily clean-up themselves.
This was the ficticious scenario four interior designers were asked to comply to when designing an empty nester apartment at the Ansonia Condominium as part of New York Interior Design Week, a major city-wide educational outreach program designed by the New York Metropolitan Chapter of the American Society of Interior Designers (ASID). The goal of the showcase is to have people understand what professional interior designers can do to enhance the quality of one's home.
Kathy Ogawa and Gilles Depardon of Ogawa/Depardon Architects designed the living/dining room to be simple yet sophisticated, says Depardon. The space was divided into two significant areas: a dining area that could accommodate an overnight guest and a living room area. A charming windowed alcove in the dining/guest room is simply designed with a convertible couch and small tables. The scattered tables, designed by Depardon and Ogawa, are two inches lower than the average, making them a comfortable height when sitting on the sofa and when dining, and they can be put together to create seating for eight by using stools opposite the couch. Simplicity is the key in this design theme, says Depardon.
A painting canvas acts as a curtain, encircling the alcove area and offering privacy for overnight guests. The curtain also masks a view of a brick wall while still being sheer enough to fill the space with natural light. The living room area, which boasts a fireplace, is designed with scattered geometric furniture and a seagrass area rug.
To accommodate the arthritic woman, Depardon and Ogawa used levers as opposed to knobs for door handles which do not require wrist turning, and the curtains are void of strings or ties. Everything is very simple and very rich, says Depardon.
In the seven foot square kitchen,
everything is designed to make life easier for a person with arthritis. The appropriate lighting and ventilation have been installed and the space is designed to prevent falls and spills. Although the couple usually prepares small and uncomplicated meals, they do a lot of cooking when the family comes to visit, so there is ample food preparation and serving space.
Designer John A. Buscarello, ASID of John A. Buscarello, Inc. decided to go with the flow of the space. I made everything very dramatic with deep rich colors. Blue polished and matte ceramic tiles are used in a checkerboard pattern on the walls and backsplashes. The oceanic colored countertops are Corian and offer durability and b ffb eauty. The multi-colored vinyl floor is easier on the feet and provides less breakage.
Buscarello used small economical appliances which allow for a work and breakfast area. The small under-the-counter refrigerator has been raised for easier access by installing a cabinet underneath. The stainless steel oven is also small but has a large handle for easy gripping. The sink faucet has controls on top of the spout for easy access and usage. There is even a dishwasher squeezed into
Deep cherry wood cabinets house all the appliances and an open display shelf provides quick accessibility to flatware and stemware. A shallow breakfast/work area with low stools brings more function and interest to the area, says Buscarello.
To make life easier for the arthritic woman, the hand-made ceramic dishes have high edges, the tea cups have long handles, the coffee cups have finger impressions and the plastic stemware has wide stems, all designed for easy gripping. A knob turner permits appliances to be turned on and off easily without straining the wrist. The space is elegantly decorated yet functional.
In the bedroom, David Scott, Allied ASID of David Scott Interiors, Ltd. created a soothing yet sophisticated retreat that offers privacy and relaxation, houses the couple's extensive art collection and provides comfort for the wife. The style of the room reflects the couple's past, present and future by incorporating antiques with an updated collection of contemporary pieces, says Scott.
State-of-the-art technology reflects the room's ambiance and beauty and makes moving about easier. A touch-screen remote at the bedside controls audio and visual equipment, all lighting and motorized shades. The bed has a mattress specifically made for people suffering from orthopedic problems, the wing chairs on wheels for easy maneuvering, the upholstered arm chairs are easier to grab than wooden
arms and the lever handles on the doors are easier to use than turning knobs.
Special window treatments were installed to block out light and city noise. A safe was installed as well as a home security and health emergency alert system. Easy access to storage areas was designed to be appropriate for an arthritic user. We have created an inviting, eclectic mix which fulfills the needs of our clients as they enter a new phase in their lives, says Scott.
Comfort and style predominate in the bathroom designed by Jamie Drake, ASID of Drake Design Associates and senior
design associate, Neil Bradford. I wanted a clean and modern background that knotted at traditional sensibility, explains Drake. The goal was to create a richly modern look with an exciting color palette.
Drake chose dramatic colors and interesting materials to create a bathroom
that would be functional as well as appealing. The walls of the shower/tub and sink are surfaced with a dark amber
CyTron, a polymer resin with translucent effect. The walls are glazed in a Tucson gold with hand-applied designs of arcs and diagonals in a grid pattern while the floor is covered with an acid green and gold glass mosaic tile that is a wonderful contrast to the gold walls. The floor is also non-skid.
The bathroom accessories are just as stunning as the colors and materials that surround the space. A Chinese curio cabinet is used as a medicine chest and a tall beveled mirror provides glamorous height. A unique tension wire curtain rod is used to suspend the buttersc c2b otch gauze shower curtain.
Infused with color, the bathroom has everything to benefit an arthritic person. The whirlpool bath, lever handles, handheld shower faucet, higher-than-normal toilet and open sink with base legs, that offers a place to grasp, are all accommodating. Drake was required to include a vanity, hamper, linen storage, easy-clean surfaces, good lighting and heating, non-slip surfaces and a medication and therapy center.
The entire apartment renovation was completed within six weeks. The designers are very proud of their creations and the public approval of their work. Gilles especially enjoyed the public's response. The people surprised us a bit. I think they liked the design because it wasn't overdone, he says. Kimberly Latham, design assistant for Scott agrees: We tried to create a comfortable and enveloping environment for anyone and people liked it regardless of their personal choice.
Ms. Esposito is Assistant Publisher of The New York Cooperator.