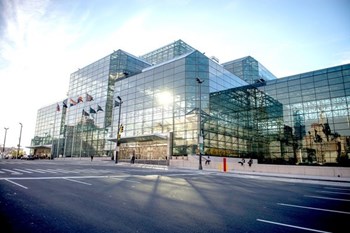 On Tuesday, October 29th, thousands of board members, managers, apartment building owners and co-op, condo, residents will gather at the Jacob K. Javits Center at 655 West 34th Street in Manhattan from 10:00 a.m. to 4:30 p.m. for another exciting, informative edition of The Cooperator Expo.
The Fall trade show is the autumnal counterpart to The Cooperator's Spring Expo, an industry fixture that has drawn hundreds of vendors, service providers, industry professionals, and attendees from all over the tri-state area for nearly 30 years.
In fact, the spring event has been so perennially popular since its inception, The Cooperator and its parent company, Yale Robbins Publications, launched the Fall Expo in 2017 to offer a second opportunity for attendees to take advantage of everything that has made the spring show such a must-attend event for so many years now.
Like its springtime counterpart, the Fall Cooperator Expo is an invaluable, one-of-a-kind opportunity for anyone involved in their building or association's day-to-day- operations to learn about the latest in building services from nearly 300 exhibitors, attend informative seminars, get free advice from legal and management experts, and more. (And did we mention that it's FREE to attend? Just visit coopexpofall.com and register – it's that easy.)
Come Learn With Us
Exhibitor booths, information, and demos are the heart of the Expo, but they're certainly not the only reason to swing by Javits. A full slate of relevant, well-curated educational seminars and expert panels will be running all day long, giving attendees the opportunity to take master classes on a broad array of timely topics. This year's roster includes: