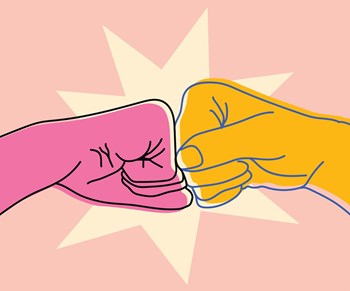 Achieving balance between board and management is vital in maintaining a healthy collective. For the resident of a condominium or cooperative, knowing which of the two pillars of the homeowning community to address for maintenance issues or in times of emergency is a make-it-or-break-it piece of information. Further still, a community run by elected representatives requires a combination of experience and professionalism, usually supported by a hired party—the manager, or management firm.
This relationship can appear fraught—even contentious—to the homeowner and at times between the two bodies themselves. That tension can often be drastically reduced in both a practical and philosophical sense by developing clear lines of dialogue to complement and clarify the various functions each is entrusted with. Better communication and understanding between boards and managers not only improves the day-to-day function of a building or HOA, but in turn help to maintain and increase property values and resident morale.
Setting the Stage
The operations of a board in a condo, co-op, or HOA make the community what it is: a collective of elected volunteers serving the mutual needs and functions of their neighbors and by extension, themselves. Board responsibilities range from drafting budgets, addressing needed maintenance and repair projects, and in many cases, hiring a managing agent. As a hired representative, managers are meant to act in a supportive capacity to the board, carrying out their directives. They provide advice and guidance to the board in navigating practical, logistical, or legal avenues beyond the board's expertise.
Relationships can get complex, but the thing to note is the board has final say, full stop. "[They] implement decisions, period," says Jim Stoller, president at The Building Group, a management company based in Chicago. The board is a governing body; they establish an agenda as a collective and implement actions in accordance with their community's bylaws.
"The board is charged with the overall financials and operations of the association, including the management thereof," elaborates Keith Hales of Hales Property Management in Chicago. "[They] have the option to hire a management company to help oversee the general operations and financials of the building, as well as to advise on general upkeep, issues and maintenance of the building. However, the board members should make all of the decisions on behalf of the building. Management companies will often define those topics in their management agreement to make it easier for the board to understand what their role is, versus the management company's role."
Riding the Line
To frame this in another way, the managing agent or company functions more the implementation arm of the board, carrying out its decisions and rarely making their own, unless otherwise instructed. That's not to say managers don't have a certain level of autonomy. If a board agrees, a manager may sign contracts on behalf of the board for things like repairs and maintenance work. Their function in those scenarios, however, is largely limited to bidding out jobs and obtaining quotes from contractors, which the board will then consider before reaching a consensus and authorizing the chosen contractor to be engaged. In cases where a project is smaller or where bidding out the work would be too time consuming, managers may be cleared to hire from a pre-approved list of credible vendors without additional board involvement. Again, managers are there to provide guidance, not to run the show.
Certain other exceptions may arise as well, as Stoller points out: "[In] an emergency like a flood or fire, the manager has the right to step in to deal with it," he says. However, "Every extra expense has to be board approved. Typically there's an allowance in most management contracts allowing the manager to spend up to a certain amount on day-to-day operations. So, if they need a hundred dollars worth of something, they don't need to go to the board for every small purchase. But anything significant outside of an emergency has to be board approved."
This may extend to other sorts of budgetary avenues, but ultimately it will always fall under the board's discretion. For example, associations may request that managers draft an annual budget for board review, and/or introduce budgetary concerns during monthly or quarterly meetings. This is not a mandate on the budget, but rather a means for the manager or management company to report their suggestions to board members, answer any questions and sit in in an advisory capacity. Many other more "managerial" functions are carried out during meetings, including providing logistical support during elections and ballot tallying, keeping track of the agenda (and clock) as the members and residents debate or deliberate, and clarifying any legal, procedural, or other matters that arise.
Friction can arise if either party misunderstands expectations or oversteps their respective role. Board members, often not being experts on logistical matters, sometimes make requests outside of managerial purview. "Happens every day," Stoller laughs. "One of the things our firm does is educate new board members so that they understand their duties, responsibilities, and authority. Many people who serve on boards don't understand the laws, and they think they can operate outside of board decisions. That does not follow the Illinois Condominium Act. That is typically one of the biggest conflicts."
Legalese
Managers operate within boundaries much in the same way. While they have access to a client community's funds to allocate payment of staff, contractors, and general budget, they must distribute them according to the board's wishes. Agents have a duty to perform these tasks in a responsible manner, being stewards of the association's money. Given this professional duty—and their management contract—depending on where they do business, they must also have qualifications to provide their services, says Kris Kasten of Chicago-based law firm Bartzen Rosenlund Kasten LLC. "In Illinois, a managing agent must be a licensed Community Association Manager (CAM) to provide management services to a community association (i.e., condominium, HOA, cooperative). CAMs are obligated to comply with the Community Association Manager Licensing and Disciplinary Act. Thus, the CAM has statutory legal duties as well."
That said, managers have no legal responsibility to save the co-op or condo money. According to Hales, "Pursuant to their CAM license, there are general guidelines and fiduciary duties that managers must follow. The management agreement would then outline further financial duties. Legal items are generally processed by the association's legal counsel."
While management's main job is guidance and allocation, they are also often assumed to be the enforcers of rules—but, according to Kasten, "that may depend on the situation." Financial delinquencies and rule violations do of course occur in multifamily settings all the time, and addressing such could fall within the responsibilities of a managing agent—but as in financial decision-making, determining how is not entirely the manager's call.
"For example," notes Kasten, "before a fine can be imposed on an owner who violates a condominium's governing documents, that owner must first be given notice and an opportunity for a hearing. The board holds the hearing and decides whether a violation occurred, and the amount of the fine, if any. The managing agent would carry out the board's decision by adding the fine to the defaulting owner's account. However, in situations involving non-payment of assessments, the association governing documents and the management agreement may contain provisions that a delinquent owner will be subject to collection action if their account is delinquent for a specified period (such as 60 days). In such a case, the managing agent may send any delinquent accounts to the association's legal counsel without the board having to vote on such action at a board meeting."
Managing Expectations
In spite of this roadmap, harmony between the two bodies, while essential, may not always be in the cards. As with any organization, size and scope could be a factor; sometimes it's different managerial styles that don't mesh well. Board members and managing agents are fallible, and even seasoned veterans of the business may have difficulty fitting the mold of a given association. Bearing that in mind, it may be a simple case of finding a good fit, particularly when the agency in question is a larger group with a diversity of options.
"I have seen associations change the assigned manager several times before they find the right individual," Kasten notes. "However, in smaller management companies that may not be an option. In that case, and unless the association can terminate the management agreement for convenience (as opposed to for cause), the association should have a frank but professional conversation with the managing agent about the problems and try to work out a resolution. In some situations, I have seen the managing agent and the association mutually agree to end the management relationship because both sides see that they are just not a good fit for each other, regardless of what the management contract provides."
It's imperative to be realistic about goals and expectations—particularly on the part of the board. If a managing agent cannot perform a given task, or if the task is outside of their capacity, the board must look elsewhere or otherwise reassess the scope of their mandate. Here a board must be open and communicative about their expectations versus what is being delivered. Although not necessarily experts, board members must act as professionals, communicating frequently, meeting when necessary, and allowing their management space to address issues effectively.
On the other side, managers must be present and attentive, following the board's guidance as much as possible and keeping within the boundaries of their managing agreement. According to Hales, "The best way to measure a manager's performance is how fast they acknowledge, respond and set appropriate expectations when receiving inquiries, tasks or project requests. Responding within one business day is generally considered the gold standard in the industry that all management companies should work toward."
"Part of the relationship is also helping the board to understand that their position is not a job," adds Stoller. "We work with the board so they don't feel like they come home and they have another job. We give them the information so that they can make the decisions at board meetings—but they should not be walking around the building and running it on a daily basis. Interacting with staff is the job of the property manager; the staff should feel like they have one boss, and that all information is communicated through that person. Having a board engaging in that process defeats the whole hierarchy of running a building."
As with most things, context is king when it comes to board and management working within the intersecting frameworks of the managing agreement and the client community's style of governance to cultivate and maintain a successful, functional relationship. Provided that each body is flexible and adaptable, projects will be completed, issues will be handled, and communities will prosper.
Vlad Serebryanik is a freelance writer and contributor to CooperatorNews.