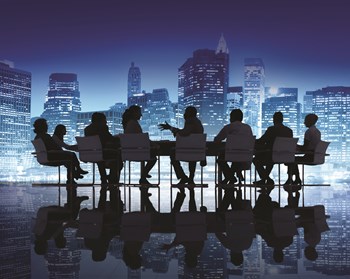 With upkeep and mortgage payments, even the occasional renovation, owning your own co-op or condo can be work enough on its own. Now imagine being responsible for 10 units, or 50, even 200. That daunting task is up to each building's board of directors and managing agent. Together, they form the team that makes sure each co-op and condo community runs smoothly and efficiently, making them a welcoming and safe place for shareholders and unit owners to live and play.
Dividing up those expansive duties can be a challenge. Who is responsible for what? Who defers to whom on important decisions? And perhaps most importantly of all, how can you tell when the other half of your team is doing a good job or not? Achieving a comfortable, effective balance of duties between board members and managing agents will go a long way toward ensuring that a building will operate smoothly and that no important task or duty will fall through the proverbial cracks.
No "I" in Team
"This is a team relationship," says Stuart Dix, who with his wife Judy co-owns Just Management in Forest Hills, Queens. "In my experience, management works on behalf of the board and that's it. But it's still a team effort."
Even on the best of teams, each member must know what the other is responsible for. A quarterback may call the play, but the receiver has to know where to run. So, too, should there be a clear delineation of duty within a co-op or condo's management and board.
For the most part, boards members are elected to uphold and maintain their co-op or condos' governing documents. They accept a fiduciary responsibility for the building and agree to act for the best interests of each member of that community. To do that, each and every member must be familiar with and understand the bylaws, house rules and any other items of governance relating to their building. They also should be familiar with local, state and federal laws pertaining to the operation of co-ops and condos within their community.
This position of responsibility also has a watchdog aspect to it. Board members are responsible for ensuring that all the financial numbers add up each month and are within the limits of what the building can afford. They should be on their toes when it comes to getting the best possible prices from contractors. They need to make sure that the attorneys, insurance agents and other professionals providing services for the building are doing their jobs to the best of their abilities, and that their fellow board members are exhibiting good judgement when it comes to making important decisions on behalf of other residents.
The Balance
Finally, board members also bear responsibility for maintaining a good working relationship with their managing agent. "You have to engage in dialogue," Dix says. "As an agent, you need to provide the board with the information they need to make decisions. With good communication, issues should be resolved with no problem."
Which brings us to the managing agent. If board members are the generals, the managing agent is the vital man on the ground. Managers are responsible for the day-to-day operations of a building, including the maintenance of financial data, such as accounts payable and receivable, reconciling bank statements, and managing investments. Managers also provide or secure bids for services for everything from insurance to construction contracts to legal support. They also manage purchasing of supplies and equipment, and work to maintain the building through regular upkeep and scheduled inspections.
Working with shareholders and unit owners, agents often respond first to issues or problems arising in the building. Just as much as the board members who live in each building, managers are the eyes and ears for what's going on within each co-op or condo community. They field the calls from residents and should always be up to date and on top of issues that might affect the lives of those in each building they manage.
But therein lies the challenge, say many managing agents. While all allow that their duties are multiple and varied, agents say that it's important for both board and management to know where to draw the line as far as who does what, and what exactly the agent is solely responsible for. Lack of communication and understanding on this end makes for a lot of problems sooner or later.
According to Bram Fierstein of Gramatan Management in New Rochelle, "Problems often arise because of unreasonable expectations. If a management company comes in and tells a board they'll be at the building four or five times a week, or that they can provide financial reports three days after month's end, they're probably not being entirely truthful. It's very important to be realistic with a board. Even during the interview process, a management company should try not to promise them things they can't do—or that can't be done at all."
In many cases, Fierstein continues, "The managing agent sometimes winds up being the guy who [the board] may feel should handle everything for the building, from picking up a piece of paper to drafting a multi-million-dollar budget."
That may be something of an exaggeration, says Fierstein, but the fact is that often, management contracts are worded in such a way that the responsibilities spelled out therein are vague, or overly broad—and thus open to misinterpretation, or worse, unfair manipulation. While the majority of boards manage to strike a fair balance between what they handle and what's left up to the management agent, according to Fierstein, "Boards need to realize there's work to be done as board members as well."
Avoiding Redundancy
With each area of responsibility carefully carved out, board members and managers need to be careful not to create inefficiencies by attempting to do each other's jobs. In general, major decisions are best left in the hands of the board. The managing agent's job in those instances generally involves providing all of the information necessary to make the decision. They might also make recommendations based on past experiences, especially if a board is made of newer or more inexperienced members.
As a rule, board members should not be worried about reconciling bank statements each month if that's the responsibility of their managers. What they should worry about, though, is keeping a close eye on the overall numbers, making sure that what the managing agent presents to them makes sense and adds up in the bigger financial picture. It's the board's job to make sure in these cases—especially when it comes to finances—that the managing agents are doing their jobs and that each and every penny ends up where it is supposed to end up. Micromanaging, however, is not the answer.
"If it's something to do with day-to-day services, it should be the manager intervening on the board's behalf," Dix says. "If it's something to do with money or major decisions, then the board should handle it. For day-to-day things, though, the board should not have to get involved."
That said however, some buildings find that a more flexible, less strictly demarcated approach works best for them, and board and management collaborate more often than not. Splitting the labor on certain tasks or projects can be efficient in terms of man-hours, says Fierstein. For example, in many buildings, if a board needs references for a contractor, they simply turn to the manager and ask him to get references for five people. In more collaborative buildings, says Fierstein, instead of one person spending hours getting references and transmitting them back to the board, each board member takes a name, makes the call, and returns to the group with that contractor's bid. "For a board and manager to work well together, it should be a team effort," says Fierstein. "There should never be any sort of 'gotcha' attitude."
Teamwork and flexibility are also especially helpful when something unexpected comes up and the managing agent isn't immediately able to be on the scene. "If a contractor's coming over and I get stuck in traffic," Fierstein says, "it's good to know that maybe there's a board member there who can step in and meet them." That way, someone who is connected to the project can be on hand and know what's going on and be able to ask questions. Working as a team, both management and board are prepared for any contingency.
When Problems Arise
If conflicts do come up over execution of duties, it's important for both management and board to address the problem immediately, and—again—as a team. Say the board is unhappy with the insurance provider recommended to them by the managing agent. If a problem exists, board representatives should immediately get in touch with management and sit down for a discussion. "[If a board is unhappy with an agent], there's no delicate way of broaching the subject," Dix says. "You'd like to think, though, that you have a good enough relationship that they can simply tell you the problem and you can fix it."
And if that problem stems from resident complaints, telling the agent becomes even more important. "The board has an obligation to their shareholders to tell agents of complaints," Dix says. "Their duty to shareholders is the most important thing."
It's also vital to keep some perspective, says Fierstein. "It helps to realize we—both boards and managers—live in the real world, and we have to work together to make it work. In our industry, the details are such a huge part of the job. The board members who realize that and understand the pressures of the job are usually the ones who are most satisfied with their managers."
For managers, when problems arise with the board, it helps to remember the situation board members are in. "These are people who are doing this as volunteers, and they have lives," Dix says. "Usually, they have the best intentions." People knowing their jobs and doing them well will add up to a successful recipe for building management. "It's a balancing act," Dix says. Keeping that balance will benefit everyone involved.
In the end, it all boils down to dialogue. Keeping those lines of communication open by talking regularly, issuing reports as needed and working together to keep residents informed can be the solution to any potential or existing problem. Maintaining a good balance between boards and managers is akin to keeping the spark alive in any long-term relationship: you've got to talk, talk and then talk some more. Of course, sending a few flowers every now and then probably wouldn't hurt either.
Liz Lent is a freelance writer and a frequent contributor to The Cooperator.