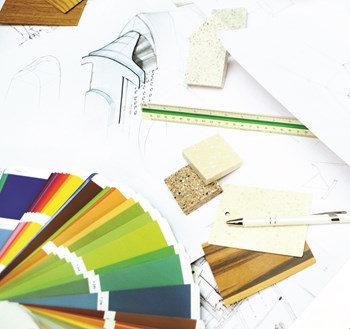 Used, abused, walked all over: Life is tough for flooring. That's why it's so important to plan wisely when the time comes to redo your floors. Given how quickly a poor floor will have to be redone, the right choice is much more than an aesthetic decision - it's also a real investment. On the bright side, a well-chosen, expertly installed floor should yield years of beautiful wear with the proper care.
So where does one begin? These days there's such a dizzying array of methods and materials to choose from, it can be difficult to figure out what will work best with your space. Luckily, we've done much of the legwork to help you understand the basics. Whether you're renovating your lobby, hallways, or your private residence, everything you need to know to get started is right here.
Laying the Groundwork
A good designer can go a long way in helping you plan your project, and you'd be well advised to hire one. However, the more thoroughly you've thought out your needs, the better he or she will be able to assist you - so consider some basic factors before you call in the professionals. Start by thinking about the function of your space. Is it utilitarian, or is it more for show? Should you emphasize durability, or can you use a more delicate material? What kind of traffic do you expect? How important are noise levels? Is it a humid or wet environment? How much maintenance are you prepared to do? What is the "look" of your building or apartment? How much natural light do you get? And don't forget to consider ergonomic factors like heat retention and "give" (the resiliency of flooring.) Remember, floors aren't simply decorative - they are functional objects that you'll be in physical contact with day in and day out. Think of them almost as furniture.
The Bottom Dollar
Once you've got a pretty good idea of what you need, the next big decision is your budget. There's an enormous cost spectrum, depending on what kind of floor you choose, and it's wise to know your spending ceiling from the get-go. According to Rebecca Alston, of Rebecca Alston, Inc., a Manhattan interior/architectural design firm, it's virtually impossible to even make a ballpark estimate on flooring costs without seeing a given space. "There are simply too many variables to give you numbers for a theoretical project," she says. But there are factors you can use as a starting point.
Begin with the basic scope of the project - how large and complex is your space? Are you just refinishing, or completely replacing the floor? Do you need a demolition crew to come in and dispose of old flooring? Will the floor have to be leveled, or is it already in good shape? Next, consider the cost of materials - which can be anything from $1 per-square-foot concrete to $500 per-square-foot gilded glass tiles.
There are plenty of websites, such as www.Fastfloors. com and www.iFloors.com, which offer per-square-foot prices on a wide selection of materials for easy comparison-shopping. Just remember to treat these prices solely as a starting point. "You really have to factor in shipping and labor costs, which rise significantly if you're using complicated patterns or multiple materials," says Alston. For example, consider how much more labor would be required to install a parquet floor versus simple wood slats. With tile, obviously, the smaller the tiles, the more labor required. "You can do all kinds of beautiful herringbone patterns, and things like that, but it will drive up the costs quite a bit. The cut of the stone, the angles, if you want to use, say, several different kinds of materials, instead of one, or if you want elaborate borders - it all impacts the cost," Alston explains. That said, flooring is not the place to skimp on quality. No matter what your budget, you should look for high-quality materials - even if they're not luxury per se. You should also insist on experienced designers and contractors (ask to see samples of their work and/or references). In the end, you may not be able to afford a tile mosaic of the Mona Lisa or rare pink marble quarried by Italian monks, but you can still get an attractive, durable floor if you do your homework.
Who Has the Floor?
Once you've got your budget set, the next step is to hire a good designer to help you choose the best materials and oversee the installation. If you're redoing a common space, limit the number of board members involved in decision-making to no more than three, and choose a point person to work with the designer. Next, figure out your schedule. "You should leave about six to twelve weeks lead time for the design process, getting approvals, waiting for supplies to be delivered, etc. The actual installation time is usually fairly short - a few days to a few weeks at the most. I've even done it in a day for a very small lobby," says Alston. If you're doing your own apartment, you'll need to make arrangements to store your belongings and yourself elsewhere while work is going on. If you're dealing with common space like your lobby, you'll want to put out a notice in advance, and you might want to shoot for late summer when New Yorkers tend to flee. "Remember, you'll have to keep circulation paths open to elevators and so forth, so there are some logistics to work out," says Alston.
Rock Solid
Once you've worked out these details, start thinking about materials. At the top of the luxury end, you have stone floors. Marble and granite are the most expensive, but also the most durable. "I've seen marble floors in some high end lobbies that are 100 years old," says Alston. "The key is good installation. But stone is a great investment if you can afford it." With marble, the price can vary widely depending upon the type. "Marble can cost anywhere from $20 per square foot to $100 per square foot. Granite tends to be in the $30-$40 per square foot range, but there you have big installation issues - if you have to put in a sub-floor, it can double that amount," Alston warns. Both are excellent for lobbies. Granite is fine for kitchens and bathrooms, but marble should stay out of the kitchen because oil can stain it. Maintenance for stone is easy. Simply clean it with ordinary soap and water, and give it a professional buffing every 10 years or so.
Of course, there are other kinds of stone as well. Slate is becoming popular lately among people looking for a matte finish. Sandstone is also a big trend these days. "You can get a very nice, sealed sandstone starting at $15 per square foot, and I'm seeing a lot of it in kitchens and bathrooms. Just be aware that it's very high-maintenance - you'll have to reseal it every few months," Alston advises. Another option is terrazzo, a poured mixture of chipped stone well suited to lobbies. Terrazzo is expensive to put down, but very tough. The one big drawback - it's noisy, which makes it a no-no for hallways and homes.
Wood You?
The old standby for apartments is, of course, wood. Because wood tends to get damaged easily by water, which causes it to shrink and expand, wood is out of the question for lobbies and other common spaces. But in a private home, there's nothing nicer. "These days, the trend is toward wider strips and darker colors," says Alston. "The problem with dark colors is that they tend to show wear more. I saw a black floor recently and it looked awful. You could see every scuff. I'd say don't go any darker than cherry - which, by the way, gets darker naturally with time." Also consider the available light. "In a bright, airy space, you can get away with a darker floor, but without much light, a dark floor can be oppressive," says Alston. Again, the cost of wood greatly varies. The cheapest kind is composite tiles, but solid wood with a tongue and groove system is much sturdier. For maintenance, clean with special wood cleaners only - not water, and expect to refinish every seven years.
For the budget minded, there's also various utilitarian flooring such as concrete, vinyl, and laminate (sometimes called "Pergo," although Pergo is actually a brand name.) But just because these materials are inexpensive doesn't mean they can't be attractive. "Concrete is actually very popular now, even in residential applications," says Alston. "Ever since Calvin Klein did his showroom in a concrete floor, I've been seeing it in some very upscale settings - and not just commercial spaces - Upper East Side residences, lofts in Tribeca. Concrete is cold because it's porous, so it retains moisture. It's also very hard on the back. But it's very durable and it can be stylish, too, when used in the right environment."
The Sound of Silence
Finally, there's carpeting. Soothing to the feet, carpeting has many uses. But for a bustling New York co-op, carpeted hallways are a must for noise reduction - most buildings even have an 80 percent floor-coverage rule built into their governing documents.
For high-traffic areas, James Casella of Starbrite Family Floor Covering Inc. suggests a toned down print to hide dirt and wear. "Choose a print by looking at it from a distance. Close-up, you'll see details that disappear when you're further away. You need to see it the way you'll see it in real life, not just the showroom floor," he says. How much will it cost? According to Casella, you should expect to spend at least $35-$40 per yard, including installation for good quality carpet. "You can get it for less, but you don't want to," he warns. Of course, prices vary depending on the materials, but in this case synthetic may be as good as natural fiber. "Some older, high end buildings really want wool," Casella explains. "And we do have an 80/20 wool/nylon blend. But Dupont now makes a nylon carpet called Tactesse which looks just like wool." To maintain, Casella recommends a cleaning from a certified company once a year, and replacement every seven to 10 years.
Of course, all this is just a starting point. You'll have to work with your designer to figure out what fits your needs and budget - and it can be a lot of work. Just keep reminding yourself that a quality floor is a great investment that can last decades. Once you're done with installation, it's yours to enjoy for years to come.
Alexandra Wolf is a freelance writer based in Brooklyn.