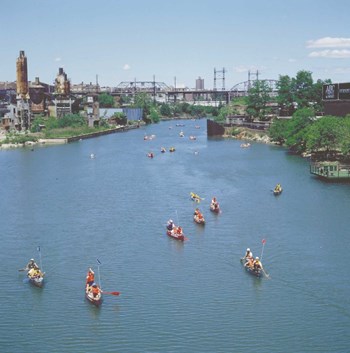 As a neighborhood, the South Bronx has struggled for nearly three decades under the negative connotations of its name as a flash point for violent crime, drugs, and unchecked urban decay. For many of those who live there, life is bounded on all sides by pollution and poverty.
Despite the South Bronx's fearsome reputation—or perhaps because of it—lifelong South Bronx resident Majora Carter decided to take action and do what she could to help repair her neighborhood's image and make it a safer, healthier place to call home. In 2001, Carter created Sustainable South Bronx (SSBx), an environmental justice solutions organization addressing land-use, energy, transportation, water & waste policy, and education to advance the environmental and economic rebirth of the South Bronx, and inspire solutions in areas like it across the nation and around the world.
Starting Out
"When she started this in 2001, she really started it with the mindset that the area needed to be an organization that did stuff from the ground floor," says current SSBx Executive Director Miquela Craytor. "People would point to the South Bronx when discussing examples of urban flight as an example of what we don't want to happen, and she grew frustrated with that. There wasn't much energy being placed on what should happen and she set out to do that."
The mandate from the beginning of the organization was to be proactive in the community and offering counter solutions to standard practice of development.
"They were alternative solutions provided for jobs, green space, healthy environments for the kids," Craytor says. "It's always been about looking for solutions to urban problems, solutions through economically, sustainable, viable projects."