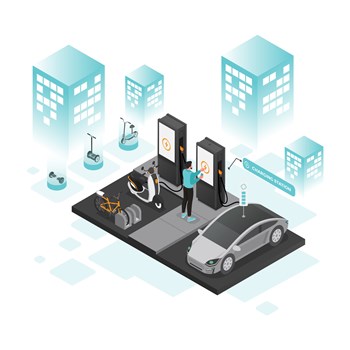 New York Governor Kathy Hochul's Labor Day signing of four pieces of new legislation protecting and supporting workers gave those laws a lot of visibility. (Readers of CooperatorNews can find a summary of one of those four pieces of legislation—addressing the prevailing wage law for co-ops and condos receiving the 421-a tax abatement -- in this week's CooperatorNews Newsletter, and in the Pulse section of our upcoming October issue, along with a more in-depth look at the other, which extends shared work benefits.)
Perhaps less noticed by the state's co-op and condo community was another piece of legislation that Governor Hochul signed a few days later, banning the sale of internal combustion engine passenger cars and light trucks by 2035. On its face, this new law doesn't seem to have much to do with the multifamily housing industry...until you consider the fact that many of the state's residents—and a vast majority of New York City dwellers—live in multifamily apartments, condos, and co-ops. Few of these residents have either the space or the authority to install the charging stations they'll need to power non-internal-combustion vehicles. As laws like these shift the momentum toward an electric vehicle (EV) future, providing ready access to charging is one of the biggest issues facing New Yorkers during the transition.
Happily, New York City may be on the verge of solving that issue. CleanTechnica reports that the nation's most populous city (8.8 million people in 2020) plans to create one of the country's largest electric vehicle charging networks over the next 10 years in an effort to reduce the city's greenhouse gas emissions and combat climate change. The plan was released the day after the governor's announcement about the internal combustion engine ban, and is another important component of the city's goal of carbon neutrality by 2050.
The Plan
Department of Transportation (DOT) head Hank Gutman said in a statement: "With the climate crisis upon us, it's time to plan bigger about how New York City can dramatically accelerate the adoption of electric vehicles. With major federal investments in EV charging on the horizon, our plan lays the groundwork for a network of tens of thousands of public EV chargers equitably distributed across the city, enabling many more car owners to go electric." (It should be noted that the federal investments to which Gutman refers are part of President Joe Biden's $1 trillion bipartisan infrastructure bill that has yet to pass through Congress.)