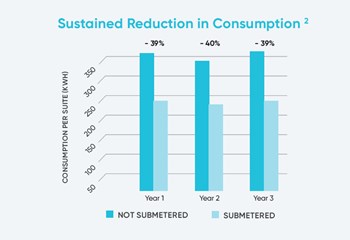 As part of the larger Climate Mobilization Act, the City of New York passed Local Law 97 (LL97) in 2019 to reduce carbon emissions from buildings. This law enforces carbon caps on most buildings larger than 25,000 square feet—including roughly 50,000 residential and commercial properties across NYC. The cap will be implemented starting in 2024, requiring buildings to reduce their emissions by 40% by 2030 and by 80% by 2050.

Buildings that do not meet compliance requirements by 2024 can face hefty fines:
Failure to file a report — $0.50 per building square-foot, per month

Exceeding emissions limits — $268 for each metric ton over the building's established limit

Providing false statements — $500,000
Submetering has been proven to reduce in-suite energy consumption by up to 40%1
There are many initiatives aimed at reducing emissions, such as LED retrofits and others, however none are as effective as submetering. Submeters measure the actual consumption for each unit in a given building, and residents are billed based on their actual consumption - a fairer cost allocation between residents.
This 'User-pay' system is proven to drive down energy consumption and costs, by motivating behavior changes in residents. In fact, submetering individual units has been shown to lower energy consumption by up to 40% in multi-residential buildings, which drives down building emissions by an average of 23%.
Submetering also improves a building's financials by allowing board members and property managers to uncover hidden savings opportunities through enhanced visibility of building utility consumption.
How Can Your Building Achieve Local Law 97 Compliance?
Submetering drives emissions reductions by incentivizing conservation and futureproofing operating expenses against rising utility costs.
In addition to the greater long-term good of reducing emissions and helping stem the tide of climate change, submetering offers residents real, tangible benefits right here and now. For example, through electricity submetering, a 450-suite multifamily building will be able to:
Reduce total emissions by 15% (295 tons of carbon)

Avoid $79K in Local Law 97 fees

CAPEX savings of $150K
Furthermore, with submetering, buildings benefit from a lower utility rate than if metered directly by the local utility. By incentivizing conservation, a user-pay model is a proven means to reduce utility consumption and deliver positive sustainability outcomes for residents, property managers, board members and communities. Submetering reduces GHG emissions which improves Environmental, Social, and Governance (ESG) metrics.
Smart, proactive utility management and submetering solutions can also help you mitigate costly Local Law 97 penalties through reduced greenhouse gas emissions. If you act now, there is plenty of time to put in energy savings practices and processes that will get your building Local Law 97 compliant. Visit Local Law 97 (metergysolutions.com) to learn how you can save significant CAPEX though submetering as a service and how to avoid costly Local Law 97 penalties. You can also visit us at our booth #402 at the upcoming Cooperator Expo New York on October 27th at the Javits Center to learn more!
1. Source: Electricity Consumption and the Potential Economic and Environmental Impact in Ontario, Navigant Consulting Ltd., Jan 8, 2016. 2. Savings calculated by applying Metergy Solutions analysis to Navigant study findings.

Eric Toback is General Manager & Senior Vice President of Sales at Metergy Solutions, one of the largest submetering providers in North America, offering submetering solutions for multifamily, mixed-use and commercial buildings, both retrofits and new construction, for over 40 years.