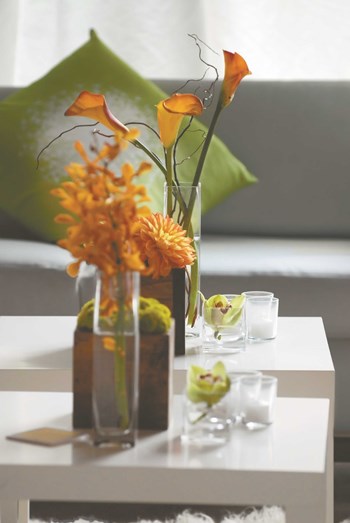 It's time to face the facts. The teal-and-salmon sofa that was purchased for your foyer may not exactly be in style any more. The window treatments that were chosen in the early 1990s no longer grace the pages of every design magazine sold on Broadway; It's time for a change; an overall facelift to the tired common areas that once welcomed residents and their guests into your building. It's time to bring the décor into the 21st century—and that may seem like an overwhelming task if your building, like so many today, are on a shoestring budget.
Keeping Up Appearances
With the unremitting financial crunch, many buildings have to cut costs and strictly prioritize the projects that need to be undertaken within their already tight budgets. Generally, design projects like re-carpeting the common areas or remodeling the lobby get pushed down to the bottom of the list, or get put off indefinitely. However, there are still lots of ways buildings can move forward with these projects successfully, even with an adjusted budget.
Entryways are first impressions for guests and potential buyers, and should reflect the personality of the building and its demographics. "The public spaces of a building have to be maintained," says Jonathon Baron, an interior designer and owner of Baron Design in Manhattan. "Many owners trying to sell their apartments worry about having to compete with the new building across the street, or the building next door that just redid their lobby."
Initial Evaluation
The first step in any remodeling job is deciding what is in the most need of repair, and prioritizing things from there. It's OK to make sacrifices in order to save a few dollars. If the pre-existing carpet is in good condition, your design professional may recommend sprucing up the area by adding new crown moldings or a wall hanging rather than ripping up the carpet and starting from scratch.
That said, however, it's important not to overlook seemingly small or insignificant problems that could become larger problems in the near future.
"Conditions such as peeling lead paint are more than just visually unpleasant," Baron says. Lead paint is also a health hazard—and there are legal problems associated with it too. "Or, if the carpet is a bit torn up in a couple of areas in the lobby," Baron continues, "someone could trip and fall. It's not attractive at all—and it's also dangerous."
Of course, safety should be a concern on any project, including even a minor facelift in a lobby area or hallway. Make sure to take care of the practicalities before the fun stuff—this means making sure that sprinkler systems are in working condition, that electrical wiring is properly routed and insulated, and that the crevices of your building are free of asbestos.
Todd Schwartz, the owner of 13th Floor Design Group in Towaco, New Jersey, says that examining the goals of your design and prioritizing their implementation is the key to beating a tight budget.
"I definitely think there are certain design elements of a longer-term project that can be done out of sequence," Schwartz said. "If you have to delay remodeling your lobby for a couple years, replacing the mats in the lobby or buying some new artwork may buy you a bit of time."
Schwartz also recommends working with the cable and electric companies prior to any alterations in design. If the building is in need of a different cable system or electrical updates, these changes can be done prior to any painting or remodeling and save consumers money down the road with touch-ups.
Keep in mind the budget that you are trying to work with. Many boards have firm regulations on what can and cannot be altered within a facility, specifying what costs they will or will not cover. To this effect, it is important to check these specifics when establishing your goal budgets.
Time Is Money
When money is tight, it is important to examine all options when investing in new materials for a renovation or remodeling project.
First and foremost, work to keep your project on schedule. The longer the designer or contractor is on-site, the higher the fees will pile up at the end of your project.
"Time is money, and that's what costs things," Schwartz says.
Schwartz also mentions the "design-bid-build" model of project management wherein the designer also contracts and executes the entire project, rather than hiring out the various portions of work.
"Design-bid-build contracts have really flourished during this economy," says Schwartz. "You can often hire one entity to design your project, then go out and contract and execute the design. This has definitely given my customers a lot of different flexibility."
The benefits of this process, according to Schwartz, are limitless.
"A design-bid-build expedites the design process. You could actually start building on the portions of the project where the design has been settled, instead of waiting for a complete design for a larger project," said Schwartz. "In certain cases, the design may not be settled, but you still have to prepare. Those portions of the job you take off because you're designing and building—you expedite that process. The overall process moves faster when you're sitting down with the owner and forcing them to make decisions every time you meet. Time is in the making."
This process also appeases many boards, which are concerned with saving money and making sure their design fits within a cost range satisfactory to the current economic state.
"Since the current situation with the economy a lot of the boards are making a major reaction and they are pulling the plug on the progress on some of the existing projects," Schwartz said.
So What If You Like Classics
If the standard designer-to-contractor is the method you prefer, there are still ways to save money by shopping around for bargains. Small alterations to classic components to the lobby, like carpet weight or the color of a wall covering, could change the overall price drastically.
"The weight of the carpet or the construction of the carpet is an important thing to take into consideration," said Schwartz. "You still may be able to achieve the same desired design element and save a substantial amount of money."
And if carpets aren't an issue, maybe smaller pieces of furniture are. But rather than going to a costly design outlet and buying new contrasting pieces, stay more contemporary with lesser-name pieces that still look aesthetically appealing.
"Try going online to find items such as consoles and mirrors," Schwartz said. "There's no reason to spend $600 on a mirror and $2,000 on a console. Go to websites like Bombay or Pier One and find a console and a mirror for a few hundred that will match your lobby's current color scheme and tone and will get you the next couple months or few years," worth of use, he says. Also, you might be able to donate the used furnishings to a worthy cause later on.
Work With The Pieces You Have
Although you may feel like the motif of your design is showing the effects of time, sometimes only one or two things in your entryway or lobby may be outdated.
"In some of these common spaces, you can come across some existing furnishings that were built a while ago, such as stone benches or an original art deco mural that was on canvas that was on the wall," Baron said. "Yet it was damaged, but there were things that we could possibly come up with to restore it."
"Usually there is some beautiful inherent architecture. There are features that have just been ignored and not properly brought out. Like a crown molding detail for example."
In order to keep costs down, put some thought into which pieces you could live with for another few years versus which elements in the space really need updating. Don't forget, sometimes less is more. Although the space may look nice with a small sofa near the elevator, the seating may not be necessary—especially if the space is not desirable for loitering.
"If you were to delay remodeling the lobby for a couple years," said Schwartz. "You may want to replace the mats that are in the lobby—that may buy you a bit of time. Buying some new artwork could also buy you some time. In times like this, we need to know what is the bare minimum we can get away with without jeopardizing the design."
Clearly, redoing any common space is not a simple task. However, if you utilize a selective budget, follow a timely schedule and use a determined and efficient designer, the possibilities for your redesign are limitless. Instead of pushing off a design for a decade—use the resources around you to make the most of what you have. There's no reason to sacrifice your dream design because of expensive pricing. As long as you go into your design with an open mind, then the rest of the process will follow through in good time.
Emily Abbate is a freelance writer and a student at the University of Connecticut majoring in journalism and political science.