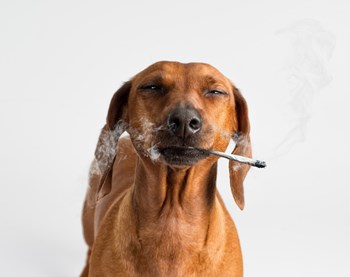 With more and more states legalizing marijuana for both medical and recreational purposes, co-op and condo boards and management are faced with yet another quality-of-life issue; conflict between those who are happy to finally be able to use cannabis openly, and those who still consider it an illicit drug, regardless of its change in legal status. Second-hand tobacco smoke is already a long-standing chronic problem in many - if not most - communities, and many boards are concerned that legal weed will add a whole new dimension to the problem.
Is All smoke...Smoke?
Perhaps the overarching question is whether different kinds of smoke can be treated differently. Are all smokes equal under the law, or are some types more privileged than others? Can a co-op or condo community permit tobacco smoking within apartments - or for that matter in common areas - but forbid consumption of cannabis?
The term 'second-hand smoke' refers to a non smoking person inhaling a smoker's 'first hand' smoke, and being put at risk for illness as a result. It's been known for decades that second-hand cigarette smoke has negative health consequences even for those not consuming it directly - it aggravates existing allergies and conditions like asthma and emphysema, and can lead to heart and respiratory disease, as well as cancer. While marijuana smoke may contain fewer toxins, less is widely known about its possible dangers. Even if smoking was completely harmless, non smokers still have a right to not inadvertently partake every time their neighbor does.
"Even in your own apartment, there is no absolute right to smoke, if doing so creates a nuisance or disturbs your neighbors," says Michelle Quinn, a partner with Gallet Dryer Berkey, a law firm based in New York City. "Most co-op and condo buildings have existing provisions in their proprietary lease and/or house rules that prohibit residents from permitting offensive odors from seeping into their neighbors' apartments, or the common areas of the building. Odor nuisances are not limited to smoking - they can also include smells from cooking, pets, and hoarding.Boards can place restrictions on all kinds of smoking; generally speaking, the limitations on smoking cannabis would be the same as the limitations on smoking tobacco or vaping/electronic cigarettes. It would be extremely difficult to justify permitting one and not the other, since now they are all legal."
The overall picture in New Jersey is a little different at present. "There've been no real regulations adopted yet," says Scott Piekarsky of Philips Nizer, a law firm located in Hackensack. "No marketing of recreational cannabis has begun yet, as the law was effective only since February 2021. Medical marijuana is sold and used, but recreational use hasn't commenced. One co-op client [of ours] is concerned about the second-hand smoke problem, and asked for legal advice. The statute speaks to smoking, vaping and aerosolizing of cannabis. If you're a co-op, you can regulate or prohibit it in both the units or structure of the co-op. Co-op boards have broad powers, but condos can only institute rules if approved by the association and the majority of unit owners. Additionally, condominium associations may be limited to regulating this issue in common areas only. Co-op corporations own everything included in the property, but condominium associations only own pieces of common elements. As a co-op shareholder you really are a renter more than an owner. By nature of that ownership structure, co-op boards have different rights than condos."