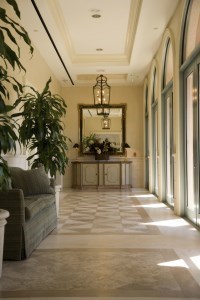 When it's time for your co-op or condo to start discussing replacing the floor coverings for your lobby, staircase or hallways, it's important to look at all the options available, because a lot has changed over the past decade. Where once it seemed like a no-brainer to just put down any old brand of carpet, now the range of materials available are endless, and it might make more sense to go with something less conventional like decorative rugs, tile or leather.
While cost always seems to be a factor, today it seems like more buildings are concerned with aesthetics, as a nicer lobby can add to the total value of the property.
"Whatever you choose, we always suggest that you designate a section of the public hall when testing a new product," says Kim Depole, of Manhattan's Kim Depole Design, Inc. "This is the best way to see how the tenants respond to a small sample prior to investing in an entire building, because mistakes are costly."
Carpet Diem
Despite many new options for floor coverings, carpet still remains the number one option in Manhattan co-ops and condos, according to most of the experts we spoke with.
There's a good chance that if a replacement is necessary in your building, an old carpet that was originally installed is dull and bland. Luckily, today there are so many more choices in terms of color and design when it comes to choosing a new rug or carpet.
"There are so many options now that it's easy to make something look great," Depole says. "Patterns and colors are amazing and diverse."
"Certainly, things have changed in the carpet industry over the years," agrees Mario Vasquez of the American Society of Interior Decorators. "Co-ops that turn to carpet may be installing wall-to-wall carpet in public places because it looks nice and will last a long time."
"Carpeting wall-to-wall makes the area look more expansive," says Lauri Wood, a redecorating expert for Redecorate.com. "Plus, since sound bounces like crazy on a floor, it's just great for soundproofing, which residents really appreciate. And it looks good."
There is also the option of using more expensive area coverings, like Persian or Oriental rugs to cover the floors—but they will need to be replaced more often. These coverings are more elaborate and decorative—and are harder to care for.
Area rugs can also be incorporated into lobbies as it defines and enhances seating and gathering areas. However, there are still many co-ops and condos that favor the more opulent, purely residential look. That's why most experts recommend going with the commercial wall-to-wall carpets.
Of course you don't need to decorate only with carpet. Sometimes a blend with another flooring material can be just the right look your building needs.
"We prefer to mix stone with carpet so the elevator areas are more clearly defined," says Depole. "It is always worth the additional expense to make sure the stone or resilient flooring covers the compactor room and hall entry. It puts less wear on the halls in general. I am more of a modernist in design and prefer the new varieties on resilient flooring. The possibility of dye cuts and mixing patterns and colors is endless."
By mixing carpet and flooring, you can save on cost, and still offer a unique look that using some of the more expensive methods would allow.
Pulling the Rug Out
If a co-op board is dead set against using carpet, or is searching for a different look in these common areas, there are plenty of other options, including customized wood flooring.
Darcy Landsman is a sales executive at Wide Plank International Flooring in New York, and the company offers an array of hand crafted and custom molded wood floors.
"We do a lot of high-end buildings in Manhattan and many use hardwood floors for these areas," Landsman says. "For lobbies a lot of people want walnut, quarterstone or oak—and antique wenge is becoming popular."
Customers choose wood over carpet many times not only for aesthetics, but because of practicality as well, says Landsman.
"It's a much longer lasting material for one," she says. "These woods are 3.4 inch plank and could be there for 150 years. Carpet has a tendency to lose color, fade, it stains, and some things just don't come out of carpet."
Tiles are another option. And while they usually aren't placed in high-traffic areas, there are rare instances when they are used in common spaces.
"People have a love affair with leather and we do leather cuts into tiles for flooring," says John Edelman, owner of Edelman Leather in Connecticut. "They change over time, but don't wear out and they are beautiful."
Since these type of floors are sensitive to salt and ice, Edelman recommends they not be used in lobbies, but says that common spaces in some of the more high-priced buildings may install them for a unique look.
"It's like having a beautiful saddle on your floor," Edelman says. "It's a very high-end look."
Of course, for sheer indestructibility, stone flooring is hard to beat. Marble and granite are some of the most expensive types of flooring, but also the most durable.
"I've seen marble floors in some high end lobbies that are 100 years old," says Rebecca Alston of Rebecca Alston Interiors in Manhattan. "The key is good installation. But stone is a great investment if you can afford it."
Both granite and marble are excellent for lobbies. Maintenance for stone is easy. Simply clean it with ordinary soap and water, and give it a professional buffing every decade or so.
Other types of stone are enjoying new popularity as well. Slate is becoming more en vogue because of its deep, matte finish. Sandstone is also trending upward. With marble, the price can vary widely depending upon the type.
Still another option is terrazzo, a poured mixture of chipped stone well suited to lobbies. Terrazzo is expensive to put down, but very tough. The one big drawback: it's noisy, which makes it a no-no for hallways and individual apartments.
Laying Down the Prices
According to Depole, the cost for carpet can vary from $25 per square yard installed to $100 for custom fabrications. Floor tiles range from about 85 cents to being as costly, if not more than, carpet or stone.
"We suggest the middle road as a rule," Depole says. "The most expensive look doesn't have to be so expensive. It is all about the design and selection of materials and the juxtaposition."
Wood is more expensive, but in many buildings that's not always important.
"Carpet may be a much more cost effective alternative, but I don't think it works in New York as well," Landsman says. "Hardwood is just better to keep the longevity. And the price is well worth it."
Oak can run anywhere from $9–$15 a square foot. Walnut is more like $12–$20, and wenge is $35 and up. Some of the more exotic woods could be even more.
"Marble can cost anywhere from $20 per square foot to $100 per square foot," says Alston. "Granite tends to be in the $30 to $40 per square foot range, but there you have big installation issues—if you have to put in a sub-floor, it can double that amount," she warns. "You can get a very nice, sealed sandstone starting at $15 per square foot, and I'm seeing a lot of it in kitchens and bathrooms. Just be aware that it's very high-maintenance—you'll have to reseal it every few months."
No matter which route you go with the floor coverings, make sure you have a professional do the job, or the real expense will be when you have to redo it because you didn't hire the right installer.
When it comes to tiles especially, the installation should be considered in the overall price, as it is more expensive than the other methods.
"It is all contingent on what prep is required," Depole says. "One important detail is when chemicals are utilized to remove the old tile and glue, a neutralizer needs to be applied otherwise the new tile will not adhere. These are the kind of details that come with experience."
Leather tile prices are a little less than wood prices, although installation may make the two mediums about equal.
Mr. Clean
Another factor to consider when choosing a floor covering is how complicated or expensive cleaning and maintenance is on the product, especially when you are talking about the high-traffic areas near elevators and in hallways.
Cleaning and care are probably the most important things that co-ops and condos have to manage when dealing with floor coverings. Although carpet suppliers and decorators will recommend companies for maintenance and upkeep, it is an extremely rare case for them to do it themselves.
"Never underestimate the importance of the information the manufacturer supplies for maintenance," Depole says. "'One can never skip on maintenance,' is the general rule, or you'll pay for it in the duration of the product."
As far as cleaning carpets goes, most companies offer a variety of maintenance contracts, but a major cleaning is usually only done once or twice a year. Of course Oriental or Persian carpets are more expensive to clean than normal commercial carpet or area rugs because they require special care.
For wood floors, sanding and re-polishing once every two years is usually enough to make it look brand new. According to Landsman, these floors can last a lifetime.
As for the leather tile, it needs to be polished every few months to continue looking top-notch.
Final Thoughts
Since one of the first things that people see when entering a co-op or condo building in New York are common areas, such as the lobby and hallway to the elevators, it makes sense that you would want the floor to stand out. By being smart about a regular cleaning and maintenance schedule, you can make sure that your carpet, wood, granite, marble or tile flooring lasts a very long time.
Keith Loria is a freelance writer and a frequent contributor to The Cooperator.