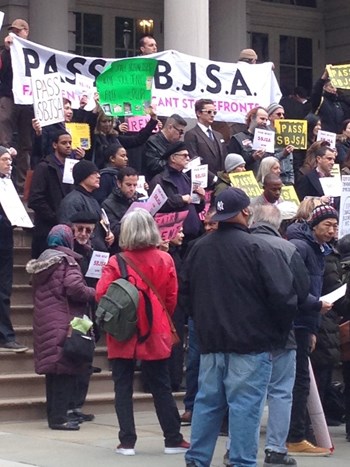 On Monday, the City Council held a public hearing to debate the merits of the Small Business Jobs Survival Act (SBJSA), a bill that proposed to establish a 10-year minimum for leases and right to renew, in order to allow small businesses adequate time in which to establish themselves at a particular location; grant commercial tenants more agency when negotiating renewal by turning landlord/tenant disagreements over to third-party arbitration; and restrict landlords from passing property taxes down to businesses.
The bill's supporters argue that such legislation would prevent rent gouging by landlords, prevent job losses as a result of businesses from going under to excessive rent increases, maintain a level playing field for business owners, and preserve the character of the neighborhood. However, opponents, particularly the real estate industry, characterize it as commercial rent control that would impede neighborhoods' natural evolution--not to mention that the bill itself also raises constitutional questions. In addition to the real estate industry, the de Blasio administration opposed the SBJSA.
Duking It Out
At the hearing, John Banks, the president of the Real Estate Board of New York (REBNY) said, as The Real Deal reported: "This legislation will do nothing to solve the underlying issues behind storefront vacancies, and instead would have a catastrophic impact on our local economy." He also said the SBJSA would kill jobs, "ensure homogenization of retail," and make property owners reluctant to take on new and small businesses. Banks also claimed that the city had no legal authority to pass the bill, and that the industry would challenge it.
City Council Speaker Corey Johnson pushed back on Banks' claim over the city's jurisdiction on the issue. "We have some legal authority. We'll figure out what that authority is," he told Banks at the hearing. He also acknowledged that the bill would not be "a silver bullet," and it has to be presented in a way that doesn't include all commercial businesses, which this current version of the legislation does. "It's not perfect," he said of the bill. "It should not treat a WeWork in the same way as a bodega."
While council members routinely expressed their desire to "do something" about the rising rents on small business and creeping plague of vacant storefronts, what that 'something' should be remained elusive. One of the more notable moments of unity during the hearing stemmed from frustration at the mayor's office, as represented by Gregg Bishop, Commissioner of the Small Business Services (SBS) agency.
Bishop faced withering questions from several council members, few of which he was able to answer definitively. At one point, he even refused to say if the SBS would ever support any restrictions on any landlords. The lengthy inquiry hit a crescendo when City Councilman Brad Lander pressed Bishop as to why his agency could not produce any legitimate data about either vacancies or the general retail problem in the city, despite having discussed gathering that information with the council two years prior. It was a combination of this lack of hard data and a general willingness of both council members and even supporters of the current bill to tweak the legislation going forward in a way that best suits the small businesses everyone had voiced concern for that dominated the hearing.
Deep Divisions
Leading up to Monday's hearing, both sides of the issue made their case either for or against the SBJSA. The Council of New York Cooperatives and Condominiums (CNYC) came out against the proposed legislation – which had been kicking around in one form or another for over 30 years – citing the 1,525 co-op buildings throughout New York City that collectively house 6.5 million square feet of retail space, and rely on the rent coming therefrom to help offset the costs of operating their residential properties.
But Ray Rogers, a director of labor advocacy group Corporate Campaign Inc., decried in an op-ed Daily News, what he saw as REBNY's attempt to "undermine the bill, and to confuse legislators and the public," by referring to it as "commercial rent-control." He went on to advocate for the bill on behalf of small business owners such as himself, claiming that, among other things, it would "end the all-too-common practice of extorting tens of thousands of dollars from small business owners, especially immigrants, just to secure a lease."
Both proponents and opponents of the SBJSA gathered outside City Hall on Monday before the hearing, with advocates holding a rally in front of the building's steps featuring speakers like David Eisenbach, a professor of history at Columbia University and founder of the organization Friends of SBJSA, as well as former Manhattan Borough President Ruth Messinger, who actually introduced the original incarnation of the bill in 1986 when she was an Upper West Side City Council representative. For their part, REBNY representatives and their in opposition to the bill were decked out in blue hats that read "VOTE NO Commercial Rent Control."
Mike Odenthal is a staff writer at The Cooperator.