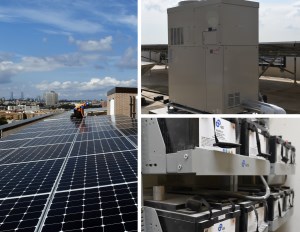 When it comes to energy, conservation is the watchword – not just as pertains to usage (although definitely that!) but also to cost. This may be especially true for New York City's condominium and co-op buildings, in which volunteer boards must take multiple considerations into account when figuring out an energy plan that's right for the property.

As solutions like co-generation and solar paneling begin to overtake less efficient fossil fuels, it can be tough for an association to navigate this growing field. Bright Power, an energy and water management service provider out of New York City and Oakland, California, has shaken things up of late via the introduction of the Resilient Power Hub (RPH) – a micro-grid system that combines co-generation, solar PV, and reserve battery storage.
As the company recently installed the city's first RPH for residential use in The Bronx – with additional ones in Brooklyn and Queens on the way – The Cooperator spoke with James Hannah, VP of Client Services at Bright Power to discuss how this hybrid technology might be utilized by community associations going forward.
The Cooperator: How do you see RPH becoming increasingly viable as an energy option for condo and co-op properties going forward?
James Hannah: "They're likely looking for flexibility, both in terms of physical space constraints and of benefits to be obtained. When we were designing the RPH, we considered the combination of technology that would deliver utility bill savings for the 99.9% of the time when a grid was functional, while also providing backup power in a way that's cost effective. When you think about the tech – solar panels that produce electricity; co-generation, which is basically a small engine in the building that produces electricity and heat that runs on natural gas; and battery storage – you're talking about technologies that are increasingly scaleable in terms of generation and storage capacity."