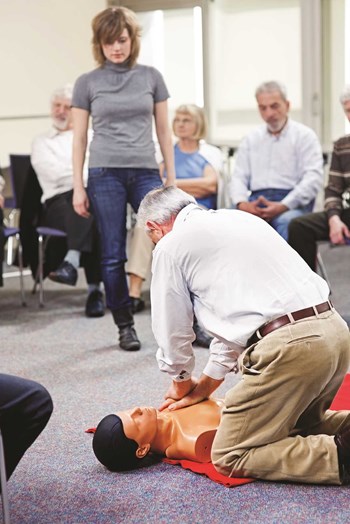 A fire breaks out in an apartment building; A broken water pipe floods several floors; A resident collapses in the lobby with a heart attack; An intruder roams the premises, possibly with criminal intent. In each case, fire rescue and police personnel are summoned, and they rush to the scene. Until professional first responders arrive however, the situation is in the hands of the community's on-premises staff and security providers. How does a concierge, doorman, maintenance worker, security guard or property manager learn to deal with such emergencies?
In New York City, training is available from many sources. Trade unions are a big one, and local emergency-management agencies also train building staff and interested residents for free through their Community Emergency Response Team (CERT) programs. Some property-management companies have training programs for their client buildings' staff members. Other sources include non-profit organizations and for-profit companies that sell training classes, printed materials, and videos.
Union Courses
SEIU 32BJ, the Service Employees International Union Local 32BJ, is a key source of training for an array of multifamily building employees. The 32BJ headquarters features 22 brand new, state-of-the-art classrooms for union members' use. All rooms feature innovative SmartBoards allowing instructors and students to enjoy a more interactive classroom experience. In addition, the classrooms are specialized for the training they provide. The union through its Thomas Shortman Training Fund offers free courses to its members, including:
Security Awareness: Created after 9/11, this course makes residential building workers more aware of their surroundings, using observation skills. They also learn that in an emergency they should report, call for help, and communicate, but not personally respond.
Security:Bomb Threat Awareness. This course teaches how to handle a telephone threat, search for a bomb or other improvised explosive device (IED), and deal with a suicide bomber. It explains a bomb's components, construction, and function, and describes the damages bombs can inflict.