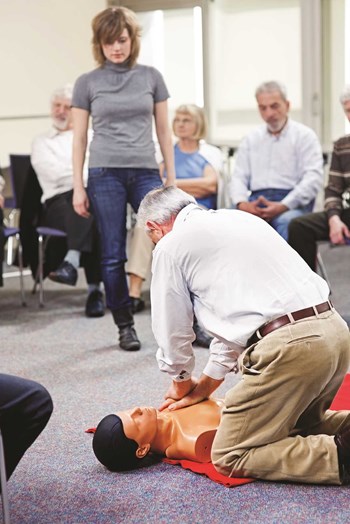 A fire breaks out in an apartment building; A broken water pipe floods several floors; A resident collapses in the lobby with a heart attack; An intruder roams the premises, possibly with criminal intent. In each case, fire rescue and police personnel are summoned, and they rush to the scene. Until professional first responders arrive however, the situation is in the hands of the community's on-premises staff and security providers. How does a concierge, doorman, maintenance worker, security guard or property manager learn to deal with such emergencies?
In New York City, training is available from many sources. Trade unions are a big one, and local emergency-management agencies also train building staff and interested residents for free through their Community Emergency Response Team (CERT) programs. Some property-management companies have training programs for their client buildings' staff members. Other sources include non-profit organizations and for-profit companies that sell training classes, printed materials, and videos.
Union Courses
SEIU 32BJ, the Service Employees International Union Local 32BJ, is a key source of training for an array of multifamily building employees. The 32BJ headquarters features 22 brand new, state-of-the-art classrooms for union members' use. All rooms feature innovative SmartBoards allowing instructors and students to enjoy a more interactive classroom experience. In addition, the classrooms are specialized for the training they provide. The union through its Thomas Shortman Training Fund offers free courses to its members, including:
Security Awareness: Created after 9/11, this course makes residential building workers more aware of their surroundings, using observation skills. They also learn that in an emergency they should report, call for help, and communicate, but not personally respond.
Security:Bomb Threat Awareness. This course teaches how to handle a telephone threat, search for a bomb or other improvised explosive device (IED), and deal with a suicide bomber. It explains a bomb's components, construction, and function, and describes the damages bombs can inflict.
Disaster Preparedness:Created after Hurricane Sandy in collaboration with the Federal Emergency Management Agency (FEMA) and the New York City Office of Emergency Management (OEM), this course includes guidance on working with older adults, people with disabilities, and pets.
Emergency Response and Crisis Management: This course teaches prevention and response to emergency situations, and Homeland Security's National Incident Management System.
Fire Safety for Residential Buildings: Participants learn to conduct fire safety inspections and how to comply with applicable codes and standards.
Crisis Prevention and Management:This course teaches how to respond to and manage emergency and crisis situations and become familiar with methodology on crisis prevention. Participants learn tips on how to recognize and resolve issues before they turn into a crisis.
OSHA: This course deals with hazard communications; slips, trips and falls; electrical safety, and other issues within the purview of the U.S. Occupational Safety and Health Administration.
CPR:This course includes cardiopulmonary resuscitation techniques and how to use an automated external defibrillator (AED).
SEIU classes are scheduled at locations throughout New York City, as well as in New Jersey and Connecticut, and some are also available online. Certain classes can even be presented on-site if a building or management company has 10 or more interested, eligible participants. The union offers 150 different courses at 40 locations throughout the Northeast and Florida.
The budget for this program comes from employers who have agreed as part of their contract with the union to pay a specified amount into a training fund for each union member they employ. Some classes lead to certification by agencies such as OSHA or the health department; others fit into career tracks giving employees opportunities to advance at work.
For a catalog of SEIU courses, visit: http://training.32bjfunds.com/Portals/0/Courses/Full%20Catalog.pdf.
CERT Training
The union also offers CERT training, with participation open to anyone who lives and/or works in New York City. Offered in partnership with the OEM, CERT puts participants through an intensive program that raises awareness about emergencies and disasters and teaches basic response skills for fire safety, light search and rescue for trapped people, disaster medical operations, and traffic control. After graduating, teams support their local communities by assisting with emergency education and response.
CERT training is also available elsewhere in the metropolitan area. Statewide, New York has 36 CERT programs, including the City of Yonkers and countywide programs in Nassau and Suffolk counties. Connecticut has 77 CERT programs, and New Jersey has 196. For a state-by-state list, visit www.citizencorps.fema.gov/cc/CertIndex.do?submitByState.
According to the pros, the impetus for CERT training was the major earthquake that struck Mexico City in 1985. Untrained would-be rescuers went into unstable structures and saved 800 people, but 100 of the rescuers were killed when aftershocks caused further damage. That prompted the Los Angeles fire department to start training people not to become victims themselves. FEMA accepted the concept, took it nationwide, and expanded it to apply to all kinds of emergencies and hazards.
Other Courses
New York City's Department of Housing Preservation & Development (HPD) offers a free course called Introduction to Property Management, to meet the needs of property owners and prospective managers of smaller multifamily residential properties. It includes a discussion of preventive management—how to avoid housing-code violations, comply with lead-based paint regulations, and enhance building security.
The American Heart Association offers courses in first aid, CPR, and the use of an AED. They are available in a classroom setting in multiple locations, or online, for a fee. For information, visit www.heart.org and search the courses menu.
The American Red Cross offers courses in administering emergency oxygen, bloodborne pathogens training, emergency medical response, first aid, and CPR/AED at multiple locations in and around New York City, for a fee. For information, visit www.redcross .org/ny/new-york/take-a-class.
Security Guards
All security guards must complete an eight-hour pre-assignment training course from a school approved by the New York State Division of Criminal Justice Services before applying to the Department of State for a security-guard registration card. Then they must complete a 16-hour on-the-job training course within 90 days after becoming employed as a security guard, and each year they must complete an eight-hour refresher course. A number of private schools offer security-guard training, which can give building staff members who are not security guards a useful skill set and credential. For information, visit www.criminaljustice.ny.gov/ops/ sgtraining.
For SEIU members with current security-guard registration, the union offers the eight-hour annual refresher course, and also a 40-hour course that combines the annual refresher with a discussion of access control, communication, terrorism, and coordination with emergency responders, plus a "quick course" in CPR/AED use for adults and children. SEIU also offers initial and renewal certification of security officers in New Jersey.
How Management Companies Train
Some management companies also offer formal training programs based on both their own operations manuals and those acquired from outside vendors.
"We train the on-site superintendents on our manuals," says Abdullah Fersen, CEO of Newgent Management in Manhattan. "When we take over management of a building, they become part of our staff. They learn our procedures and how to report back to us. Initially we bring in the training manuals and meet with staff and the board of directors to go over emergencies and security. Then the managers review the manuals with [staff members] once a year."
Through an outside company, Newgent offers staff training in dealing with heart attacks and drowning, and mails a procedure manual covering these topics to staff members and residents. "The supers and staff are well-equipped to follow detailed procedures," Fersen says.
Large management firms like FirstService Residential have their own training programs on-site and have a management training center at the company's New York headquarters. The Learning Center features a variety of sample building components, such as plumbing, heating and cooling cross sections, to help users become knowledgeable about the equipment and systems commonly found in their buildings. Board members and residents are welcome to visit the Learning Center whenever they wish. FSR also has its own School of Professional Development. All FSR associates receive state-of-the-art education and skills training through the school, one of the leading associate training program in the industry. The program offers a broad array of online courses and live, instructor-led webinars, designed to help team members advance their skills, improve their service delivery and achieve their personal career goals.
Other firms take a less formal, though still hands-on approach to training. Jorge Rodriguez, a manager with Brooklyn-based Alvic Property Management, says that every Thursday, he makes the rounds to all of the buildings he manages. "I speak to the staff about what situations they have been in, and I give them specific instructions to follow. I train them on what they need to do to protect themselves and the company. On Fridays, the managers have lunch and a one-hour meeting to explain what they're working on, so we can educate ourselves from past and present experiences." Both managers' companies send their client buildings' superintendents to outside vendors to earn required certifications for dealing with particular pieces of equipment or procedures.
Protecting Residents from Themselves
Sometimes the residents of a condominium or cooperative apartment building are their own worst enemies with respect to safety and security, challenging the best efforts of management and staff to protect them from themselves and each other.
"Superintendents, porters, and doormen all must deal with residents who don't like to follow the rules and regulations," says Fersen. "They tend to break the smaller rules, such as moving in and out without proper authorization, and not putting up padding. They have dogs without management authorization. They let friends stay for a few days, and we don't know who is there. We don't have control."
Rodriguez tells of an unknown man sprawled unconscious on the lobby floor of a Brooklyn condominium building. The residents who found him called the management company, which called police. An ambulance crew arrived and took him away. Later the manager and residents learned that the man was a guest who had rented an apartment in the building via an online 'homeshare' website for a couple of days while its owners were away. During his stay, he overdosed on drugs. Fortunately, he survived but the situation was jarring for all involved, and could have been far worse, had staff not known what to do and who to call.
George Leposky is a freelance writer and is a frequent contributor to The Cooperator.