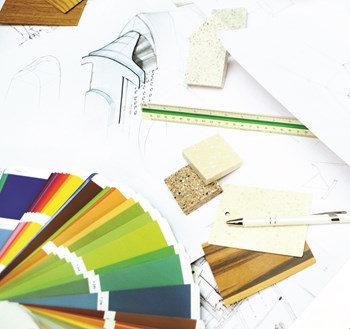 "I was living on 93rd and 3rd in a railroad apartment, and I described it to my father as 'straight through with a bathtub in the kitchen,' and he thought I was joking. He said, 'Where's the toilet?' And I said, 'Out in the hall. I can take a bath and talk with Luce at the same time she's cooking.' And then he began to realize I was really telling the truth." -Spalding Gray
The classic "New York apartment" with the bathtub in the kitchen and a Murphy bed folding out from one wall may not be as common these days as it was a few decades ago, but the fact is that unless they're among the fabulously wealthy, space is at a premium for nearly all New Yorkers-especially Manhattanites. Whether it's a lack of storage, no room for guests, or a microscopic bathroom, practically everybody has at least one space-related complaint. Frustrating as it can be to try to jam one more Rubbermaid storage tub under the bed or find a place to put the ski equipment, there are ways to make the most of small living quarters-it's a combination of illusion and organization.
One of the first elements to consider when trying to maximize a minimum of space is light. Along with color, lighting can have profound effects on how spacious (or claustrophobic) a room appears to be. According to Phillip Finkelstein, vice president of Illuminations, a specialty lighting company in Rockville Center, New York, light can be trained onto the ceiling to diffuse it throughout the room, giving a lofty aspect to the space. The higher the ceiling, the higher the wattage should be. Wattage plays a part in this because it is what gives the light its tone-the higher the wattage, the brighter the light, and vice-versa. "The wattage is dependent on the size of the room and how much light output is needed to carry out the room's functions," says Finkelstein. To create a crisp, airy atmosphere that will show off bright colors to best effect, consider using bright-white light bulbs, or some of the new fluorescents or halogens. (According to Finkelstein, fluorescent lighting for the home is worlds away from the buzzing, flickering old-school bulbs used in offices and other institutional places.) For a warmer, cozier look that works well with darker wood and rich textures, go with light-pink bulbs, or even amber-colored accent lights in sconces.
The kitchen-which, next to the bathroom, should be the best-lit room in the apartment-can be made to appear larger by placing fluorescent lights on top of the cabinets, pointing upwards toward the ceiling. Light will bounce off the ceiling and diffuse downward, explains David Brooks of Superior Light & Fan in Manhattan. Torch and socket lights can be used to create the same effect in the living and dining rooms. In the bathroom, lighting is more purely functional, so the tricks that can be played to maximize space have to conform to that purpose.
Along with lighting, color is another powerful tool in the war against claustrophobia. Interior decorators swear by the tricks that can be played with clever warm/cold, bright/dark, and color quantity contrasts.
To create the impression that a room is larger than it is, you can paint it a pale or cool color. Pale tones give an impression of lightness and airiness, while color-theory canon holds that darker hues tend to close space down-a nice, cozying effect in a large, cavernous room, but perhaps not so desirable in a living room roughly the size of a shoebox.
The light-good/dark-bad rule isn't carved in stone, however. "While dark colors may have a crowding effect on a space, it's not always the case," says Rebecca Alston of Rebecca Alston, Inc., a Manhattan-based interior design firm. According to Alston, the amount of natural light in the apartment dictates how much a decorator can play with darker hues.
"Natural light, tall ceilings, and a dark room color may work really well in a space with well-scaled dimensions," says Alston. "But when you have an eight-foot-wide loft space with 10-foot ceilings, it's going to make for an awkward feeling-even if you put a molding on the ceiling to make it appear lowered."
And of course, some people just don't like stark white walls. A trick that's especially useful for those apartment owners is the use of brighter or deeper colors as accents or enriching elements. According to interior design columnist Kate Kemp, adding a few drops of a favorite color to a gallon of white paint can tint it ever so slightly and make the room seem less sterile. Other ways around stark white include using pale beige or very light gray instead of straight white, or substituting yellow. Painting the wall behind your sofa or headboard a deeper color than the rest of the room can make the wall recede, giving the illusion of more space.
Another useful-if somewhat controversial-tool is the humble mirror. Some designers feel that mirrors can open up spaces, add interest, and even pose as windows where there are none.
"By positioning mirrors in the right places," says Kemp, "you have the power to make any room appear larger. You can place [mirrors] across from a source of light, a favorite painting, or a window. If you are living in a loft, you probably have pillars throughout the space. Mirror them, and they'll seem to disappear. If you want a hallway or stairway to appear wider, stagger mirrors on either side, and if you want it to appear longer, putting a mirror at the end will double its length."
Others disagree. Marjorie Hilton, owner and designer of Marjorie Hilton Designs in Manhattan, thinks mirrors-as-design-elements are "from the age of dinosaurs" and should only be used in specific design contexts-like Asian-inspired Feng-Shui decorating, for example.
In limited spaces, Hilton's tactic is to accentuate the positive. "If you have good floors," she says, "use them. There's no need to delineate different rooms in a small open space by putting down rugs in one area and keeping hardwood in another. If the floors are bad, use carpet throughout-It can be that simple."
As to the do's-and-don'ts of furnishing a diminutive apartment, Hilton says that while there are some tried-and-true methods, there aren't any strict rules. "Follow your tastes," advises Hilton. "I happen to feel that in a small space you can do huge vertical stripes on the walls. There is no reason to not use big, overstuffed furniture in a small space. Create the character of the room, so that people don't have to guess what you are going for."
Making dual use of your furniture is also a plus in smaller dwellings. Whether that means drawers in your dining table, dining tables that double as computer stations, or computer stations that become vanities, duality is key in making the most of your space.
"Try to find dual use equipment," says Alston, "whether it's stereo equipment, kitchen appliances, or attractive storage containers, the less you have the easier it is to organize." When living space is limited that can only mean one thing: storage space is in even shorter supply. This is where being smart about what you keep and don't keep makes all the difference.
While it may seem like an exciting project to totally redo your apartment to give yourself more space and less clutter, there's one major step to take before you make any drastic changes: if you're like most people, you need to reassess your stuff.
"The biggest problem is that we all have too much excess clutter," says Sheila Delson, a productivity consultant for Freedomain Concepts, a personal organization company based in Poughkeepsie, New York. "About 80 percent of clutter is the result of disorganization-not always because of a lack of space. We don't have enough space for our clutter, so we need to reconsider some of the things we own. Even selling off some larger pieces of furniture and replacing them with smaller pieces can enlarge a room, for example."
Alston agrees. "Organization and simplicity," are the keys to small dwelling spaces. Aesthetic success lies in what you don't have, rather than what you do.
"Take a look at things you haven't worn or used in the last couple of years," suggests Hilton, and either "donate them, sell them, junk them, or keep them if they're really important."
If your bedroom is the storage area for everything that doesn't fit anyplace else, it may be time to consider some alternative storage options. Consider a platform bed that has extra shelves on the side and under the bed. For children, platform beds are also great space savers. Make good use of the storage area under the bed and use closed storage boxes, or pull-out wire baskets on casters. Make sure all have tops to prevent a dusty nightmare.
For apartments that combine living and sleeping space, there's Inova, an innovative furniture company that offers transformable furniture. One item is called the Inova TableBed, and it transforms from a dining, meeting or general use table to a platform bed in seconds. It's great for ultra-small apartments.
Smart, space-saving design doesn't just stop with furniture, however. Appliance manufacturers are addressing city-dwellers space shortages as well. Laundry appliance technology is just one good example. Today's washer-dryer machines are not only space-efficient but water-efficient as well. Howard Herman of Wascomat Laundry Equipment in Inwood points out that saving water volume can control costs three different ways. First, you have to pay less for buying the water, heating the water, and disposing of the water, so therefore, these new machines save both water and space. And, newer laundry equipment is more compact, with sleek new models that simply stack the dryer and washer atop one another, taking up half the floor space as before.
It's also possible to sink heating elements into kitchen countertops to remove the need for a large, separate cooking range, and to install hanging racks to get clutter off the countertops.
While throwing out long-held items and reconsidering how you make use of your space isn't always easy, the results can be remarkable. At the end of the day, you may not be able to afford that 6,500 square-foot palace in the sky overlooking Central Park, but with some planning, professional input, and cleverness, you can make your own patch of New York City a pleasant and comfortable place to be.
David Garry is a freelance writer living in New York City.
For a sidebar story on attacking clutter, click here.