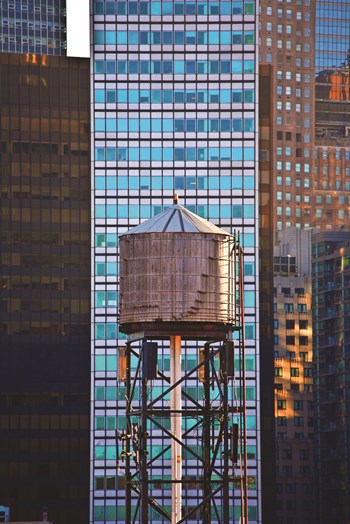 Rooftop water tanks are such a common sight atop New York City's residential buildings that they often blend right into the cityscape. But these overlooked structures are an essential part of many buildings' plumbing systems, providing water not only for daily use, but also for fire-suppressing sprinkler systems.
Tanks for the Memories
Around the turn of the 20th Century, builders in New York City wanted to build structures larger and higher, but the municipal water lines at the time did not have enough pressure to get water up more than five or six stories. It wasn't until a series of disastrous sweatshop fires killed scores of people working in the city's garment industry that city officials cracked down on builders and building owners, mandating stricter fire safety systems in commercial and residential buildings. Among the changes was the city's requirement that buildings install and maintain sprinkler systems. The new safety codes made the issue of weak water pressure above the fifth floor more than just an issue of comfort and convenience; it became a matter of life and death, and was a key driver in the development and spread of rooftop water tanks.
There are very few companies in the city that handle the maintenance and construction of these mini-reservoirs, and all of the players know each other, and in some cases are blood relatives. In fact, depending on who you talk to in the roof tank business in New York City, you just may be talking to a direct descendant of one of the city's original roof tank builders.
"I guess my great-great-grandfather, Harris Rosenwach, had the brilliant idea of putting a water tank on the roof," says Henry Rosenwach, vice-president of Rosenwach Tank Co. Inc., based in Long Island City. "He bought a wine barrel company for $55 and it turned into Rosenwach."
Wood or Metal?
While all roof tanks are similar, they are not all the same. There are two basic types: those that are made of wooden planks, and those made of sheet metal. Both types of tank are generally built on-site, though often, some prefabrication is done in the tank company's shop.
In the case of wood tanks, planks for the tank are measured and cut in the shop according to specifications for that particular client building. Those pre-cut planks are then sent along with all of the other components of the tank to the job site, where the tank company's crew assembles the structure like a giant jigsaw puzzle.
Components for metal tanks are handled much the same; pre-cut sheet metal segments are sent to the job site for assembly. Once there, the roof tank's superstructure is assembled and the metal sheets are welded together by workers.
Wood or metal, "It all just fits together with the joints and the hoops, and then you put the cover atop it," Rosenwach says. Even with a century or so of time to perfect the construction of rooftop tanks, surprisingly little has changed in how these water systems are built. The reason for this boils down to 'if it ain't broke, don't fix it.' There simply hasn't been much in the way of basic tank-building innovation because it hasn't been needed.
"The design of a water tank, whether it is made of steel or wood, hasn't changed much," says Steven Silver, a third-generation owner of Long Island City-based American Pipe and Tank Lining Company. "But the size of the tanks are getting larger, because of new codes requiring buildings to have sprinkler systems throughout the building."
Along with scale, another thing that has shifted is the nature of some of the materials used in today's tanks. For example, while wooden tanks built 50 or more years ago were often made of redwood, that tree has since been declared endangered, and using redwood for new tanks is illegal. For many years, most wooden tanks have been constructed with cedar wood.
Experts say cedar doesn't last as long as redwood (indeed, some of the city's old redwood tanks are still going strong to this day), but it is still an excellent wood for the purpose.
While both wooden and steel tanks are regularly constructed for new buildings, wood tanks (which of course do not rust) are more well-suited to be situated outdoors, while steel tanks fare better indoors. Another difference between the two types of tanks is that steel tanks often are more expensive to build—but when correctly positioned and maintained, they can last much longer than wood tanks in some cases. "Steel deteriorates fast outdoors, while lumber lasts better," Silver says.
The Inner Workings
But how do these systems work? Very simply, actually.
Roof tanks work based upon two fundamental forces: gravity, and electricity. Gravity takes the water from the roof tank down into the building as needed. Electricity, in the form of an electric pump in the basement and sometimes an additional sensor within the tank itself, ensures that the water level in the tank stays high enough. This happens when the sensor registers that the tank needs more water and sends a message to the pump to deliver more water to the tank.
In some roof tank systems, it's even simpler: the job of monitoring the water level in the tank is handled by a floating balloon, similar to the ones found in residential toilet tanks.
"The beauty of water tanks is that gravity is free," Silver says.
Wear & Tear
With regular care and maintenance, wooden water tanks will last 20 to 25 years, even if they're situated outdoors. According to the pros, an indoor steel water tank could last forever, if it is maintained properly.
And there's more to maintaining a tank than just checking for rust or other exterior issues. According to New York City law, rooftop water tanks must be emptied, scrubbed down with a chlorine solution, and flushed out several times before being refilled, at least once a year. After this process, a sample of the water from tanks that are for daily use, or a combo of daily use/fire suppression must be certified as safe and potable by a qualified laboratory.
The annual inspection and cleaning of a tank for a residential building costs roughly $1,000 or so per tank. Aside from this annual cleaning and testing, not a whole lot of other maintenance is needed, unless a problem arises.
Last year, in the wake of the Legionnaire's disease outbreak in the Bronx that occurred in cooling tower HVAC systems, the New York City Health Department passed a new building code regulation requiring building owners to register their cooling towers and have them inspected. Rooftank water towers are also required to have annual inspections and file proof of an annual cleaning with the Health Department. Tank maintenance companies in the city usually handle that paperwork for owners. But not doing so could cost a building owner or board a fine of $2,000—so it's best to check with your tank company to make certain this base is covered.
Tank pros strongly advise that building administrators not have their own superintendents or handypersons attempt to perform maintenance on roof tanks. Some professionals aren't opposed to supers doing a periodic visual inspection of a tank if it is safe and practical to do so, but for the most part, tank maintenance should really be done by a specialist.
A building super could do a walk around the tank to inspect for signs of wear and tear, such as rust or corrosion on water pipes. He or she could also make sure that any door to the roof tank is secured and locked. In cold weather, the New York City Fire Department requires that the temperature of the water in roof tanks be periodically checked. Generally, roof tanks don't have a problem with freezing, running dry or overflowing, unless an electrical problem prevents the system from operating properly.
Some of the common signs that a rooftop water tank needs to be repaired or replaced are rather obvious, such as leaks coming from the tank, or exterior mold growth or sponginess in a wooden tank, both of which are signs of leakage. All of these signs indicate a problem, as does any rusting of pieces of the tank's superstructure. Given the large amount of weight being carried by that superstructure, rust should not be ignored. Failure of that structure could be catastrophic.
Bigger & Greener
Roof tanks generally range in size from 7,500 gallons to 20,000 gallons, though as time has gone on, both the size and number of tanks being installed on NYC rooftops have increased. Some of the increase in the size of tanks is related to environmental and conservation concerns.
"Lately, with buildings going green, the size of the tanks has changed," says David Hochhauser, vice president of Isseks Brothers, another roof tank company. "We routinely put up 30,000-gallon tanks, where a 20,000-gallon used to be the norm. Now we also put up multiple tanks at the same time on the same building. Tanks are being used to catch storm water, and for fire prevention, cooling tower purposes, and for irrigation purposes."
According to industry experts, building and installing a brand-new 20,000-gallon roof tank costs between $40,000 to $65,000—a heavy financial outlay for just about any building to face every couple of decades. Given the cost of replacing a tank, it definitely pays to take care of the one you already have in order to maximize its useful life and avoid a full replacement for as long as is prudent. One way to keep track of that maintenance is by keeping records of it. Such records should include information such as the year the tank was installed; the fire-rated reserve capacity; the number of annual cleanings and bacteria testing, and how frequently the pipe is replaced.
With competent installation, proactive maintenance, and regular inspections, your building's roof tank should be a part of the cityscape for many years to come.
Jonathan Barnes is a freelance writer and a frequent contributor to The Cooperator and other publications.