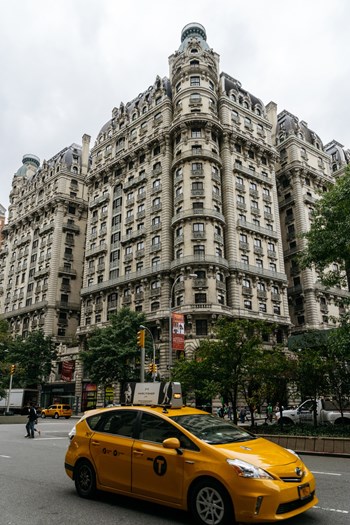 Your home defines you. It's where you spend most of your time. It's where you hang your hat. It's where you make precious memories with friends and family. And what your home looks like – whether it's made of glass and steel or brownstone and brick, and what era it's from – speaks volumes about you as a person.
In cities with rich cultural and architectural histories like New York, the mix of old and new is something to behold. Many architectural styles are represented across town, from brownstones and clapboard rowhouses to single-family homes to sleek towers and ornate prewar co-op buildings. And while New York City grows and new developments break ground, the city also protects and preserves architectural reminders of the past through the city's Landmarks Preservation Commission (LPC). Those include historical sites, parks and buildings, both commercial and residential.
Residential buildings in landmark districts are highly desirable properties. The buildings are historic reminders of the past, feature vintage charm that can't be replicated, and the resale value of units within them can often be extremely high. But living in a historic property or building also comes with its own set of potential headaches. If you want to fix something, it's not always a simple process. Many maintenance and restoration projects – especially on the facade of a building – must be approved by the LPC.
History and How it Works
The New York City Landmarks Commission was created in 1965 via legislation signed by then-Mayor Robert F. Wagner after several notable historic landmarks – the original, richly ornamented Pennsylvania Station in particular – were demolished. According to the Commission's website, the purpose of the Landmarks Law was to safeguard buildings and places in the city but also "to stabilize and improve property values, foster civic pride, protect and enhance the city's attraction to tourists, strengthen the economy of the city and promote the use of historic districts, landmarks, interior landmarks and scenic landmarks for the education, pleasure and welfare of the people of the city."
Today, the LPC is made up of 11 commissioners who are appointed by the mayor, and oversees more than 36,000 landmark properties. Most are situated within 141 historic districts across all five boroughs. There are also 1,398 individual landmarks (among them the Woolworth Building, and the iconic Cyclone rollercoaster in Coney Island), 119 interior landmarks (including the Empire State Building lobby and Grand Central Terminal's grand concourse), and 10 scenic landmarks (including both Prospect and Central Park).
The historic districts with the largest number of landmark properties and sites are the Park Slope Historic District (with 2,855) the Greenwich Village Historic District (with 2,484) and the Upper West Side/Central Park West Historic District (with 1,875), according to Damaris Olivo, director of communications at the LPC.
To be considered for landmark status, the Commission's designation criteria for buildings includes (among other elements) that the building or site be at least 30 years old and have a "sense of place" or "a special character or special historical or aesthetic interest or value."
The process for designation begins with the Commission – or even everyday New Yorkers – recommending that a building, site or district be surveyed and researched. A seven-step process then follows:
• First, the Commission assesses the property(ies), considering agency priorities, location in the city, and resources
• Next is 'calendaring,' which is the first formal step in the designation process. The full Commission votes at a public hearing whether to schedule another public hearing on the potential landmark. A majority is required.
• While the site is considered by the Commission, the LPC's Research Department compiles a report about the property(ies). Owners are mailed a copy for review and comment, and then the Commission reviews it, as well as public testimony.
• The public hearing is next. Anyone may testify for or against designation.
• Next, the Commission votes, again at a public meeting. A majority (six) is required to approve or deny the designation. By law, the Commission's vote then makes the designation effective. The City Council, City Planning Commission, site owners, and the City Clerk's office are all sent copies of the final report.
• The City Planning Commission then reviews the designation and sends to the City Council a report on potential impacts of the designation on zoning and other development plans. If the designation is for a district, the City Planning Commission first holds a public hearing before it votes.
• Lastly, the City Council either modifies or disapproves the designation, for which a majority vote is required. Council approval is not required for the designation to be valid. The mayor can veto the Council vote, and the Council can then override the mayor's veto by a two-thirds vote.
The Permitting Process
Once a site is designated as a landmark, certain exterior (and sometimes even interior) renovations and maintenance projects require a permit from the LPC. The permit application process is intended to help homeowners and boards ensure that work on a landmarked building does not substantively alter the property.
According to the permit application guidelines published by the Commission, "We do not prevent owners from making changes, but rather work with them to ensure that planned changes are appropriate to the character and style of the building." Permits are required for "any restoration, alteration, reconstruction, demolition or new construction that affects the exterior of an individual landmark or a building in a historic district."
For interior work, permits are required if the project will affect the exterior, if the interior space is designated as an interior landmark, or if the projects requires a permit from the Department of Buildings. This process can sometimes turn a project into a more time-consuming endeavor. If you live in a landmark property or building and have work that needs to be done, the advice of experts is to give yourself plenty of time.
"I can't tell you how many times I'm cornered at cocktail parties and people tell me their nightmarish situations," says Wayne Bellet, president of Bellet Construction Inc. in New York City. "The Landmarks Commission works at its own pace. You have to plan in advance."
Depending on the project, a contractor, architect, engineer or building owner or board typically brings the plans for the restoration or maintenance to the Commission for review and approval.
"Usually it's the building themselves that files the permit" says Lina Gottesman, the owner and president of Altus Metal, Marble and Wood which restores metal, wood and marble interiors and exteriors in the tri-state area. Engineers and contractors are typically hired by the building owner.
Delicate, Detailed...and Costly
When restoring – rather than replacing outright – exterior or interior elements in a landmarked property, more often than not the work requires a close eye and constant monitoring. Gottesman says working on a landmarked property is all about "care, and time." She has worked on both residential and public landmarks, including the New York Public Library.
"To take a Scotch pad and scrape off some exterior debris on a piece of metal is a lot easier than using a tiny little hand-held steam thing with a cotton cloth and wiping it and wiping it and wiping it," she says. If a property is landmarked, "You can't strip the old historic coating that's on that metal," Gottesman continues. "[You] can't restore brass to shiny brass ...You just clean the surface debris off the metal, but don't go into the deeper layers of the patina that's developed over the years."
For John Tsampas, president at Skyline Restoration Inc. in Long Island City, the job isn't so different on a landmarked property than a regular one. If you know what you're doing, you know what you're doing, he says. "We just do what the project requires," he says.
But there can be challenges. "Let's say there's a gargoyle that needs to be reproduced," Tsampas continues. "That's a bit of a challenge, because you have to bring in artisans," he says.
"It's about finesse and experience," adds Bellet. "They say god's in the details – and you have to pay attention to the details. When you get into custom-made design of building materials and cornices … anything that has great detail but isn't readily available, it's typically custom fabricated. And if it's not done right, it has to go back. It's a bit of an art."
Tsampas says the year-long restoration project Skyline completed at the Plaza Hotel (which is also home to condo residences alongside its luxury hotel rooms) is an example of how restoration jobs can take time and lots of effort. They had to restore parts of the exterior of the building using limestone and terracotta that had to be specially sourced; the limestone was transported from quarries in Indiana, and the terracotta from upstate New York.
As one might imagine, trucking limestone into the city from several states away, cleaning metal with tiny, delicate tools, or reproducing ornamental cornices not commercially available since the last century can get pricey. "It is more expensive," says Tsampas. "Non-landmarked buildings will replace their stones with a pre-cast material, a concrete replica, whereas Landmarks would require you to use actual limestone. So you'd have to go to a quarry," he says. "It's also heavier, and takes more manpower."
Gottesman agrees. "[It's] much more time-consuming," she says. "And time is money."
Bellet takes a wide-angle look at how much a project costs. "Cost is so important," he acknowledges. "We all want to save money, but when you go to a heart surgeon, you don't want to save money. When it comes to a landmarked property, there's no such thing as a 'bargain.'"
Who to Hire?
Highly-detailed design, construction, and craftsmanship of the kind performed on historic buildings often requires special training and certifications.
"... A certain skill set [is required]," says Bellet. "Material manufacturers don't want to have a bad name, so they set up classrooms in their warehouses and they train the applicators. Any high-end material that we use usually has a certification that we're asked to comply with."
While the Landmarks Commission does not stipulate who can be hired to perform work on historic buildings, the non-governmental advocacy group New York Landmarks Conservancy maintains a list of members in their "Professional Circle." (The Conservancy notes being on the list does not constitute an endorsement. You can read more at www.nylandmarks.org.)
Labors of love
Just as some homeowners and shareholders are willing to put up the potential delays, costs and other headaches related to restoring their landmarked dwellings, contractors and workers as well consider the work a labor of love.
"I like to fix buildings the way they were built, with the intention of the builder," says Bellet. "It's more creative, and it's nice not to deface buildings."
For more information about the Landmarks Commission and the application process on work for designated landmarks and districts, visit www1.nyc.gov/site/lpc/index.page.
Georgia Kral is a staff writer for The Cooperator.