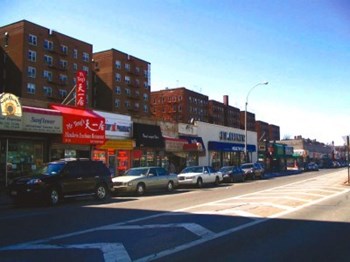 Rego Park, Queens is a neighborhood that has seen many changes over the years. Once considered the suburbs, it is now a bustling community home to many families, a diverse population of immigrants from all over the world and a large number of senior citizens. Residents like Rego Park's convenient location for its proximity to other areas of the city, as well as local offerings. As the population has grown and the face of the area has changed, the community has adapted to reflect the changing, diverse residents and their needs.
From Farms to the City
Located in central Queens, Rego Park is bordered by Elmhurst and Corona to its north, Forest Hills to its southeast, and Middle Village to the west. Interestingly, its name is derived from REal GOod Construction Company, which began developing the neighborhood in the 1920s.
"Rego Park has been a thriving community for a long time, and has undergone a number of changes. It used to be farms and swamps," says Robert Silver, co-chair of the Historic Preservation Committee of Queens Community Board 6.
"Fifty years ago, the stores tended to be smaller. You had a lot of mom-and-pop stores and a lot of single-family homes where you now have multifamily dwellings. It was a smaller, more tight-knit community. After the war, people were returning and starting families. Back then it was considered the suburbs," says Silver.
The mid 1980s saw co-ops enter the market in large numbers. The abundance of single-family homes in Rego Park began to dwindle as more co-ops were built, or apartments were converted. The area, however, is still marked by many single-family homes.