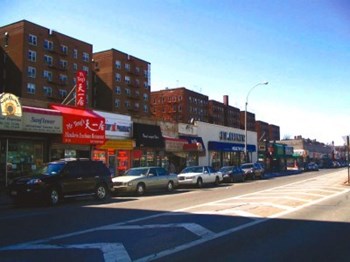 Rego Park, Queens is a neighborhood that has seen many changes over the years. Once considered the suburbs, it is now a bustling community home to many families, a diverse population of immigrants from all over the world and a large number of senior citizens. Residents like Rego Park's convenient location for its proximity to other areas of the city, as well as local offerings. As the population has grown and the face of the area has changed, the community has adapted to reflect the changing, diverse residents and their needs.
From Farms to the City
Located in central Queens, Rego Park is bordered by Elmhurst and Corona to its north, Forest Hills to its southeast, and Middle Village to the west. Interestingly, its name is derived from REal GOod Construction Company, which began developing the neighborhood in the 1920s.
"Rego Park has been a thriving community for a long time, and has undergone a number of changes. It used to be farms and swamps," says Robert Silver, co-chair of the Historic Preservation Committee of Queens Community Board 6.
"Fifty years ago, the stores tended to be smaller. You had a lot of mom-and-pop stores and a lot of single-family homes where you now have multifamily dwellings. It was a smaller, more tight-knit community. After the war, people were returning and starting families. Back then it was considered the suburbs," says Silver.
The mid 1980s saw co-ops enter the market in large numbers. The abundance of single-family homes in Rego Park began to dwindle as more co-ops were built, or apartments were converted. The area, however, is still marked by many single-family homes.
"If we go back 25 years, the co-op craze began in Rego Park and Forest Hills. That's when apartment buildings began to be converted. Also, throughout the 1980s and 1990s, we had one of the largest senior citizen populations. This was due to people who had moved out here in the '50s or '60s and stayed," says Silver.
The population of the area, like much of New York City, has grown a great deal over the past 50 years. Today, just a short subway ride from Manhattan, Rego Park offers residents and visitors easy access to other areas of the city. The E, G, R and V lines of the New York City subway system stop at 63rd Drive and Queens Boulevard. But locals have plenty to do in the immediate area.
"One of the main reasons people move to Rego Park is that there is a mix of cultures, green space and good architecture. There's no reason you wouldn't want to move to the area. Shopping is convenient, there's plenty of entertainment in the area, and if you want to go to Manhattan, you can," says Romiel Daniel, president of the Rego Park Jewish Center, and a Rego Park resident for 13 years.
"There are green spaces nearby. Flushing Meadows Corona Park is huge and only a few minutes away. There are also gardens right in the Rego Park area as well as Forest Hills," says Daniel.
"The area is safe and clean, and if you want to go out in the evening in the summer, the community offers events during the summer that are free," says Daniel.
"It's a great place to live and there are a lot of different things to see and experience. Residents can take the bus to Rockaway, and the train to Shea Stadium, area museums, the Hall of Science, Flushing Meadows Zoo," says Silver.
The Face of the Neighborhood
Over the years, the population of Rego Park has increased. Today, many different people call this diverse neighborhood home.
"It's mainly immigrant families here. Most are from Russia, making the area a little more Orthodox Jewish, even compared to five years ago," says Daniel. "It's also home to older Polish, Hungarian and German immigrants. The people who are living there today are families, and of course, the elderly."
The area's convenient location and public transportation options have not gone unnoticed. These strengths continue to attract a number of immigrants, native New Yorkers and transplants from other parts of the U.S. The face of the neighborhood has been influenced by new construction as well, as buyers take advantage of the area's lower priced homes, co-ops and condos.
"The area is dominated by people from Ubezekistan, who are also known as Bukharian (Jewish), but it has been changing as more new condos are built and people from other areas of Queens and Manhattan are attracted by its transportation. Also, the area has been an alternative to Forest Hills," says Adriano Hultmann, a real estate agent with the Corcoran Group.
"Rego Park has every kind of person you can imagine. At one time it was heavily Jewish, but now you have a lot of Indians, Russians, Hispanics and Asians. There's been a tremendous influx of different people from different areas. There are so many different tongues being spoken here, and it's a reminder of what the melting pot means. That's the beauty of New York, and of Rego Park. It's had the ability to change and remain a great place to live," says Silver.
Crime has also decreased in the Rego Park area, making it more attractive to potential residents.
"It's very safe," notes Daniel, adding that police vigilance has made quite a difference in the area in reducing crime.
The Rego Park Growing Population
"Brand new condos in Rego Park range from $500 to $650 per square foot, based on the asking price, not actual sales. In Astoria, it's a solid $600 to $700 per square foot. Prices in Long Island City are $700 and above, per square foot, and in Manhattan they're around $1,250 to $1,800 per square foot," Hultmann. "Overall prices are steady, but they are on the rise in the area of Rego Park that borders Forest Hills."
"There are two major projects going on. NOVO 64 is a modern, Manhattan-style condo community being sold pre-construction. This is located in Rego Park, but it is being marketed as Forest Hills. Units are priced at $600 per square foot," says Hultmann. "There's also Sunrise Manor, which is right on the border at 99th Street and 66th Avenue. It includes large two bedrooms around 1,250 square feet being sold from $600,000 to $800,000. These have more traditional finishes and the building is expected to start closing in winter of '07 and the beginning of '08."
Rentals are also comparatively cheaper in Rego Park, and offer an attractive option to renters who are priced out of Manhattan or other more expensive areas of the city.
"Typical rental rates vary. You'd pay about $1,200 to $1,500 for a one bedroom, and $2,000 to $2,500 for a two-bedroom apartment," says Daniel. "In Rego Park, compared to the rest of the city, there's quite a big difference. And compared to Manhattan, it's far less."
In addition to co-ops, condos and rentals, many residents live in single-family homes.
"There are many single-family homes, but they're not as popular as multi-family dwellings or apartment buildings. But single-family homes do maintain the character of the neighborhood," says Silver.
With a growing population, Community Board 6 faces the challenge of maintaining a balance between the residents and their housing needs within the community.
"It's gotten denser, and every time they take down a house and put multiple units in its place, it increases the burden on services. It's put a great strain on the area because it's crowded. When you put 12 units up where one existed, there's a strain on sanitation, and it starts to overwhelm the sewers," says Silver.
"A dollar will go further in Queens than it does in Manhattan, and that's part of the reason we fight so hard to maintain the integrity of the neighborhood. People tear down a single-family home and put up a six-unit building, right on the property line, blocking windows, without any real guidelines. We want people to be able to enjoy the neighborhood, for schools to have the proper facilities without overcrowding, and to avoid congestion from traffic," says Silver.
"We're making sure that the neighborhood is still workable. The minute you destroy people-friendliness, you have people looking to move elsewhere. It's a fine dance, and we have to keep on top of things. We have people on the board who are experts in zoning and can work out what needs to be zoned and how. We want to maintain the quality of life for residents. That's what we're here to do: Make sure quality of life is not diminished by progress," he says.
As the number of residents continues to increase, the community will certainly face issues of congestion and stress on local utilities and services. But if the past is any indication of Rego Park's response to change, the area will continue to grow and thrive, as many cultures come together to make up the face of the community.
Stephanie Mannino is a freelance writer and published author living in Hoboken, New Jersey.