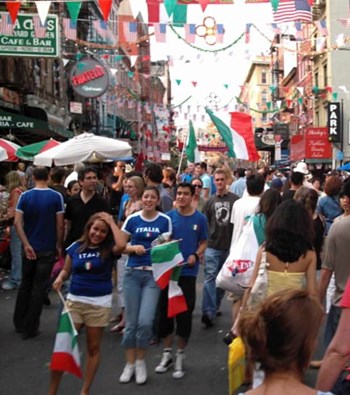 New York City has long been defined by the wide array of ingredients and seasonings thrown into its cultural pot. Though the flavor of the Big Apple has changed and evolved constantly over the years, at the city's center are the deep-rooted ethnic neighborhoods that make New York the diverse place it's always been. And of those neighborhoods, Little Italy has always held a special place in the city's history.
A Little History
The neighborhood just north of Chinatown that became known as Little Italy— loosely bordered by Houston Street to the north, the Bowery on the east, Canal Street to the south, and Lafayette on the west—was formed in the late 1800s when Italians from all over the old country first settled in Manhattan. The area quickly became home for thousands of new immigrants.
Mulberry Street (named for the mulberry trees that once speckled Mulberry Bend) became a prime destination for those arriving in New York City from Naples. The 1860s brought a much larger group of Neapolitan professionals—largely those who could afford the costly travel and risky relocation. By the 1880s, Sicilian farmers, peasants, skilled and unskilled laborers were also en route. New arrivals from Calabria found their way to Mott Street, and those from Bari were led to Broome Street.
By the 1890s, these "little colonies" as they were called by those who established their communities there, formed what Italian Americans now consider "the original footprint." By 1910, an estimated 545,000 Italian immigrants lived in the whole of New York City. By 1920, nearly 200,000 of those immigrants lived in Little Italy, and the neighborhood had expanded its boundaries to stretch from Broadway to Bleecker to Bowery.
Today, that footprint has shrunk, going only as far south as modern day Worth Street and as far north as Canal Street. William Medici, of The Medici Foundation in Manhattan, a group working to preserve and honor Italian American history and the distinctive nature of Little Italy, estimates that today only about 1,500 Italian-American descendants live in the neighborhood.
Married to It
According to local neighborhood historian and tour guide Alfred Pommer, residents of Little Italy experienced relative stability and an enviable quality of life from the 1920s through the 1950s. It wasn't all positive, however. From the beginning there was a strong current of anti-Italian sentiment among native New Yorkers, and in the decades after Prohibition, life in the neighborhood was marked by the now infamous emergence of La Cosa Nostra: the new American Mafia.
While organized crime in New York City was certainly not entirely confined to Little Italy, the neighborhood served as an incubator for many of the mob's more notorious figures, from Lucky Luciano and Frank Costello in the 1930s to modern-day mobsters John Gotti and Sammy "The Bull" Gravano.
According to Pommer, many poor Italian immigrants embraced the Mafia as a possible way of gaining power and rising out of the poverty and anti-Italianism they experienced in America.
Ignazio Saietta was one such new arrival. Born in the Mafia stronghold of Corleone, Sicily, he fled to New York—and Little Italy—in 1889 at the not-so-tender age of 12, after killing a man back home. Saietta worked his way through his new neighborhood's criminal underworld, organizing extortion rackets and petty thievery throughout his teens. By the time he was 20, he was Little Italy's most feared Mafia boss, running larger extortion operations, and supplementing that with other unsavory business, including robberies, loan-sharking, and ultimately, murder.
By the start of the 20th century, Saietta merged his Mafia faction with other underworld concerns in the South Bronx and East Harlem to form the Morello crime family, which became the leading Mafia family in New York City. From his headquarters in Little Italy, Saietta's reach extended throughout the city. According to historians, by the time he was finally caught and incarcerated in the mid-1930s, the Mafioso's reputation was so fearsome that it was common for Italian immigrants to cross themselves at the mention of his name.
Of course, despite the nefarious activities of some of the neighborhood's denizens, Pommer notes that the overwhelming majority of Little Italy's inhabitants were hardworking and thoroughly removed from the area's swelling crime wave. By the mid-1950s, many Italian families began to migrate to the suburbs, leaving Little Italy to the rebel racketeers—and the Feds who shadowed them for the next several years.
Preserving the Shrinking Footprint
Today, Little Italy is a typical New York City hodgepodge of ethnic and social diversity, with students and Old Guard rent-stabilized tenants breaking bread within arms length of multimillionaires and benefactors of the city's dwindling real estate explosion. The area's retail profile is a patchwork as well, with a smattering of art galleries wedged in among Asian boutiques, mom-and-pop restaurants, and corner bodegas.
Chinatown has been a close neighbor and contributing factor to Little Italy's diminished borders over the years, largely due to fewer Italians remaining in the area in the last three or four decades, coupled with successive waves of Asian immigrants into Chinatown since the 1960s. These days, visitors to the area are more likely to see signage and storefronts adorned with Chinese characters than old Italian men sitting outside the tenements, drinking limoncello and shooting the breeze.
While New York City's neighborhoods inevitably change over time, William Medici and The Medici Foundation are endeavoring to preserve at least something of the neighborhood's original history and cultural spirit.
"We're working in conjunction with Chinatown to make [Little Italy] an historic landmark," says Medici, "and we're not doing it through the Landmarks Preservation [Commission], which would make it a city landmark, because then there's all kinds of constrictions with that. This would be more honorific, defined by the National Register [of Historic Places]."
Another factor in the erosion of Little Italy was the splintering off of NoLita, the area just north of the neighborhood, which within the past 20 years has come into its own as a hotspot for artists, models, actors, and boutique retailers of everything from shoes to antiques.
Living in Little Italy
Darren Kearns, a vice president and associate broker with The Corcoran Group in Manhattan, noted that most properties—roughly 90 percent, in fact—in Little Italy are rentals and walk-up tenements. Condominiums in the area make up about 80 percent of the neighborhood's new construction.
Studios are very few in the neighborhood, as there are fewer being built in the area, says Kearns. One-bedroom condos can average around $1.8 million, and two-bedroom co-ops and condos, can range anywhere from $2.5 million to $4 million, depending on amenities and the age of the building. One-bedroom rentals typically are offered between $3,000 to $3,500 per month; two-bedrooms can command as much as $5,000.
Despite the current financial and real estate crisis, Kearns says he feels confident that property values in Little Italy will remain strong over the course of the next five or 10 years—perhaps even more so than neighboring areas.
"Little Italy has a quaintness and quietness that is appealing," Kearns notes. As well, residents who have lived in the area for nearly eight to 10 years tend to remain attracted to the neighborhood for the slew of popular restaurants found on Mott, Elizabeth and Mulberry Streets. With an average of just 40 apartments available on the market in Little Italy at any given time, Kearns says the demand for properties remains high.
And that demand will likely remain strong as preservation efforts continue to hold onto the fundamental Italian-ness of the neighborhood. Adding to Medici's mission to maintain the original accents and culture of the neighborhood is the new Italian American museum, located in the former Banca Stabile building on the southwest corner of Mulberry and Grand Streets.
Like so many of New York City's great neighborhoods, Little Italy has changed and evolved throughout its history—transforming itself over the years while holding fast to many aspects of its character that make it unique. While its actual geography may have been reduced over time, the neighborhood's original spirit lives on, not only in its streets and storefronts, but in the hearts and minds of generations of immigrants and their descendents.
Imani Milliner is a freelance writer, residential assistant research manager and editor at Yale Robbins, Inc.