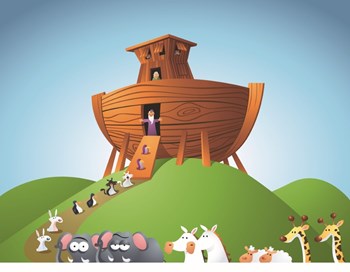 Aniello DeGuida is the resident manager of The Cocoa Exchange condo building in Manhattan's Financial District just a stone's throw from Ground Zero, so he's very aware of the importance of having an emergency plan in place for his residents. According to DeGuida however, it doesn't matter what the emergency is—fire, electrical outage, blackout, or terrorism—he's as ready as he can be. "You have to have a plan in place for everything," he says. "Without a plan, people panic, and that can make things worse."
The most common emergencies are blackouts, severe weather, gas leaks, sickness, and fire, but you should plan for anything—even the pandemic flu. Believe it or not, planning for a natural disaster such as a hurricane is actually a little easier because most such events provide at least a little warning. But you should also plan for less predictable emergencies as well, such as floods or sewer backups that might occur in a basement, to name one very common (and unpleasant) example.
Nobody wants to think about any of these emergency situations and their aftermath, but it's better to talk about it and know what you're going to do before a tragedy strikes that could have been prevented. "The most important part of any plan is communication," says Joshua Salon of The Salon Realty Corporation in Manhattan. "You have to have something in place so everyone knows what they are supposed to do and who they are supposed to call. This doesn't have to be complicated. It can be as simple as having a list at the desk."
Tailored Emergency Plans
Although an emergency can strike any building at any time, the reality is that an emergency plan is a not a one-size fits all solution. The Salon Realty manages more than 50 buildings, from five units to hundreds. "While some of the buildings can get a standard emergency plan, it really should be tailored to each building and its size and needs to be specific," Salon says.
The good news, say the experts, is that a simple straightforward, bulleted plan may be more than enough in most cases. This type of "all-hazard" planning is the most efficient solution for dealing with disaster, according to officials from the Federal Emergency Management Agency (FEMA).
"We always push the all-hazards plan," explains FEMA's Rob Pesapane, "but it's important to know the hazards in your area. For instance, if your condo association is in a flood zone, you should have some kind of understanding of preparedness issues and dealing with floods. But the plan should be flexible, because you never know what emergency may occur."
For example, Salon manages one 300-unit condo in downtown that has a 24-hour doorman, a live-in porter and a staff of five who are on the premises at all times. He also has a five-unit building with a visiting super who stops by only to take care of the garbage and other maintenance tasks. Surprisingly, Salon says that it's the smaller building that's harder when it comes to emergencies.
"With the larger staffed building, there are more sophisticated systems and more can go wrong, even if you have a full-time staff, but it's actually harder to handle a smaller building, since no super is there to deal with an emergency right away and it depends on the residents to take care of situations like that."
So in this particular case, it's the smaller building that needs a different kind of emergency plan. But what should that plan include? First, to make sure you are completely protected, think of the worst-case scenarios that could happen to your building and plan for it, just in case. For example, what would you do if a gunman entered your building? A major paparazzi fight broke out in your lobby because George Clooney suddenly darted in? A crane or runaway taxi crashed into the side of it? They sound crazy, but every one of those scenarios can happen and if you're prepared, you'll know what to do if they do.
Gumley-Haft's Dan Wollman knows crisis management first-hand. A few years ago he dealt with two incidents at his buildings: a tragic plane crash into an apartment, and a townhouse building explosion.
Wollman says the first step is to set up a command center, a central location whereby managers, building staff, residents and emergency personnel can gather to coordinate the situation.
One important point is communication. Be sure to have all of the following demographic information on hand: names, phone numbers, apartment numbers of all residents; names of any elderly or infirm residents in the building who might need help getting out; a list of all children and pets; a list of any resident who works from home. This information should be stored both on the premises and at the manager's office in case there is damage to the on-site office. It's also a good idea to choose a "rally point," a place where officials and residents can meet off-site in the event of an emergency. There information can be disseminated and plans put into place to make sure everyone stays safe during the crisis.
According to Stephen R. Barber, CPM in Community Associations, a Guide to Successful Management, from the Institute of Real Estate Management (IREM), your plan should include knowledge of fire alarm systems, the ability to operate emergency generators, and access to lifesaving equipment, storm warnings, and emergency procedures with detailed plans for evacuation facilitate the ability to handle a serious situation properly.
"The most important things that should be addressed are that all residents should be aware of the closes egress points available to them," says Linda G. Nelson, director of the Thomas Shortman Training, Scholarship and Safety Fund of SEIU-32BJ, the building service workers' union. "They should be alerted to avoid elevators for most emergencies and a list of those residents or tenants requiring special attention should be available at the security/concierge desk. Staff or resident helpers should be assigned in advance to certain areas to ensure smooth evacuations. Residents and staff should also be taught how to 'shelter–in–place' or take shelter on site in case the emergency is outside the building."
When a resident comes in to one of Salon's buildings, there are forms to fill out to let the management know if the tenant has anyone in the apartment who has special needs. "We work with the emergency teams during a crisis and can tell a fire or police department if there's a tenant that needs specific help," he says.
Nelson also explains that if management is struggling with starting the safety talk or putting together a plan, the NYPD can send someone to your building to discuss security and safety concerns and make recommendations. Local 32BJ also offers "Safe and Secure" training classes to most building's service workers at the union's Thomas Shortman Training Center. "As part of this training, we can come to the building and advise staff on things to be aware of," says Nelson.
Understanding the Message
Communication is key in even the most day-to-day building business, but in an emergency, being able to understand and be understood can become a matter of life and death. Given that New York City is such a melting pot of ethnicities and languages, how can you be sure that your message gets across when it really counts? DeGuida says that all of his residents speak English, even if they do speak another language, so communication is not an issue. Salon says that his building is chock filled with a myriad of languages. "I know that almost all of our residents speak English, even if it's just a little," he says. "But you can't post every plan in every language. You have to do what you can. If there is an overwhelming population that speaks one particular language, you might want to hire a super who speaks that language."
At some point, you may need to evacuate the building. And although each resident is truly responsible for her own evacuation, managers and staff should be the guiding force to make sure it goes smoothly. Your residents are going to want to know what's going on and where they should go. DeGuida knows that if the building needs to evacuate, he knows how to do it. "We go floor by floor to make sure all the residents are out," he says. Practice this evacuation plan regularly with your residents and your staff and make sure your escape plan is labeled and have a backup plan in case your first option is blocked. If there is an emergency, make sure you stay calm and contact your local authorities immediately, and in the proper order. DeGuida says that he calls 911 first, and then his management company.
An Ounce of Prevention
Benjamin Franklin might have had it right when he said that an ounce of prevention is worth a pound of cure. A good emergency plan doesn't just address the emergency, but also has tips to prevent the emergency from occurring. Have your residents prepared for an emergency by maintaining "go bags" so that they can grab and run. All tenants should also have an emergency kit, which includes drinking water, flashlights, fresh batteries, a water-resistant battery operated AM-FM radio and a mylar emergency blanket. They should also have an evacuation kit that includes medical supplies, flashlights, batteries, first aid kit, and change of clothes, important phone numbers, car keys and house keys.
Another preventative tip is to make sure that your entire building is up to code and your emergency equipment, sprinklers and fire extinguishers for example, are in working order. Sprinkler systems and fire extinguishers save lives. If you have a building communication system, test it regularly to make sure it reaches all of the residential tenants. Check all smoke and heat detectors and any automated external defibrillators (machines that restore heart rhythm). Make sure your emergency lighting is always working as well.
"Once you get the staff and residents thinking about safety and security in general, the precautions you take should help address these situations as well," says Nelson. "For example, knowing how to recognize the signs and symptoms of a bioterrorist attack or chemical accident can help prevent (your residents) from mistakenly rushing into a dangerous area or situation."
The Boy Scout motto of "Be Prepared" rings true in any situation. It's a team effort with you, your staff and residents doing their respective jobs and staying safe.
Lisa Iannucci is a freelance writer and author living in Poughkeepsie, New York.