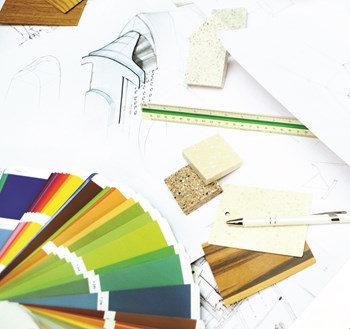 There are five main rules that must always be considered when designing apartment building lobbies. Each project has its own set of circumstances and goals. And these goals must also coincide with the aesthetics, the inherent building style, furnishings, fixtures, and existing interiors of the building.
Rule Number One: Lighting and Energy Efficiency
Energy efficient lighting is necessary for any building running 24 hours a day. This is one of the main ways a building can reduce its energy costs. There should be no reason to be using lighting other than new compact fluorescent lamps (light bulbs) or fluorescent tubes -- and in rare instances, the use of incandescent and low voltage lighting. The last two burn the most energy/watts and require re-lamping (replacing the light bulbs) more often. A stock of bulbs will also need to be purchased and stored. Compact fluorescent bulbs cost more than most regular incandescent bulbs, but they burn much longer and therefore require less maintenance. This can also be an important factor if there are very high ceilings that require high ladders to get to the fixtures.
Compact fluorescent bulbs can be found in many recessed fixtures or uniquely designed wall sconces. They come in "triple" or "quad" sizes, but remember, the bigger the bulb, the more footcandles (brighter light). They come in 13, 26 or 32 watts, which is very low compared to any 100-watt or higher incandescent bulb.
Compact fluorescent recessed fixtures or surface mounted fixtures that are evenly spaced in a lobby design can provide a broad ambient illumination and sense of spaciousness for a professionally designed space. The fixtures come in a variety of sizes and finish details.
Most electric companies offer a rebate if you change your light fixtures to a more energy efficient type.
Rule Number Two: Space Planning
An important step in any design project is appropriately planning the space, including all the furniture, fixtures and equipment. At this juncture, you also determine the proper traffic flow, security and functions of the lobby. Sometimes the solutions are easy, depending on the architectural design of the space. But sometimes it requires different solutions to create a new traffic flow or security system or to change the lobby function; i.e.: a dry cleaning storage area, a package room, a doorman, night security guard or improved mailbox area.
Some lobbies require a seating area and some don't, depending on the building's population and lobby requirements. Unattended lobbies can inappropriately become children's playrooms or social rooms. They can also be great ways to express a building's elegance and style and if designed handsomely, can improve the overall value of the property. A lobby can also serve as a waiting area for early arriving guests or as a brief meeting place. A lobby should also be planned as a transitory place with limited comfort and maximum function so that it can be shared by all tenants.
Rule Number Three: Floor Finishes
Easy cleanable materials for floors and walls are a must. These areas of the building naturally get the most foot traffic from tenants and delivery people. The wear-and-tear caused by baby strollers, hand trucks and shopping carts also must be considered. Hard surfaces such as stone, tile, and terrazzo are usually the most common. Commercial grade wall-to-wall carpeting can also be used effectively with rain mats and doormats. Rain mats and doormats are a must for a building lobby, no matter what the surface. They come in a variety of sizes and can be custom cut to any configuration.
Each floor finish presents its own characteristics and set of circumstances. While carpet is not slippery, it does not possess the same maintenance problems as stone or tile and it does not hold up as long. Stone and tile require more maintenance to stay clean and polished, but they are inevitably the most resistant to dirt and wear over the course of time.
Rule Number Four: Wall Finishes
Walls can be painted or covered in vinyl wall covering. Each has its own maintenance issues. One example of a durable brand is Benjamin Moore flat finish washable paint. Extra paint can be stacked on to cover a problem area that desperately needs touching up. My experience is to use semi-gloss on only doors and trim. The problem with using it elsewhere is that it cannot be touched up without it looking very bad. The finish will never dry to match the old paint.
Vinyl wall covering is another excellent finish for walls. It comes in many different weights that are made specifically for commercial use. For example, 15-ounce weight or above is considered commercial grade wall covering and it can be purchased in a variety of patterns, textures and colors. You should remember to buy what is called "attic stock," which is extra material that is kept in a clean and dry storage space at the building. This "attic stock" is used whenever a panel of wall covering is damaged. It comes from the same dye and will match the damaged panel.
Rule Number Five: Design and Style
The design and style of any lobby should try to reflect the architect's original style of the building, although it is very common for post war buildings to have prewar interior decoration. This might come off as a bit non-authentic but the look can be achieved if done properly. My own professional theory is simply, if a building is modern, the interior should be modern, if a building is traditional, the interior should be traditional. Although "transitional" and "fusion" design can be very effective, the design scheme needs to be handled carefully to reflect the proper usage.
Jonathan Baron is a licensed New York State interior designer and design consultant based in Manhattan.